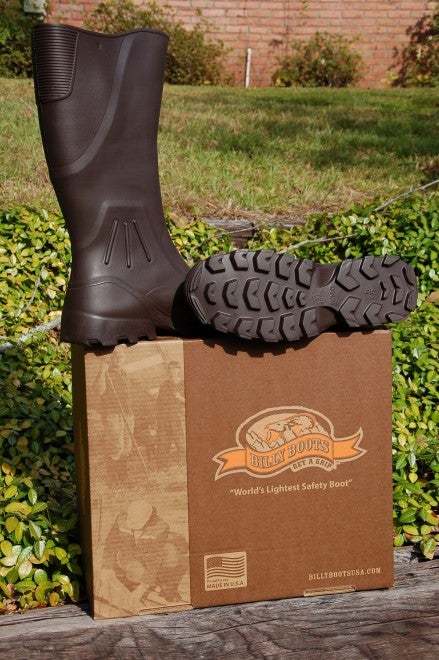 Okay, I cannot imagine any company naming their line of boots "Billy Boots," but I am sure they had a good reason for it. I would have just stuck with the nickname of The Cruiser, as this aptly defines this unique multi-use boot.
When you first see this boot, you are likely to think as I did–wow, what a heavy duty looking mud, muck, wet terrain, and all use work and outdoors boot. You would be right of course in most regards. That is until you pick them up. These boots are 60% lighter than any other 16-inch high boot on the market. They only weigh 2.1 pounds per pair. They are featherweight.
To test this, I wore them in the house until my wife asked what was up with the boots. I took one off and said, "Check out these heavy duty outdoor boots." Then I handed her one. As I did, she expected the boot to be heavy, so taking it quickly in hand her arms dropped thinking it was going to be real heavy, but then the smile came and the wow. "These are so light!" Exactly.
These boots are manufactured by Billy Boots and are stocked by ESI Supply in Richland, Mississippi. This is a relatively new product line for them, but they are catching on fast for multiple use applications.
When I first inspected the Billy Boots Cruiser model at an outdoor wildlife show recently, my first thought was, "What a great boot for deer camp, prepper bug out camps, wet environment use, gardening, yard work, and general outdoors wear." Then finding out how light and comfortable they were, that sold me.
The Cruiser is an eco-friendly EVA compound that is feather light but of durable construction. They are 100 percent waterproof. The toes are even rated as composite safety toe. They are built for comfort and fatigue reducing. They are slip resistant, shock absorbing, with self-cleaning soles. The soles are of a cleat type for gripping in wet and muddy terrain. These boots are super easy off and on, too.
The Cruisers are 16-inches high and come in brown, black, and white for marine/fishing applications. They are manufactured in the USA and come in sizes from 4-13. If you need a light, waterproof boot, check out the Billy Boots Cruiser.