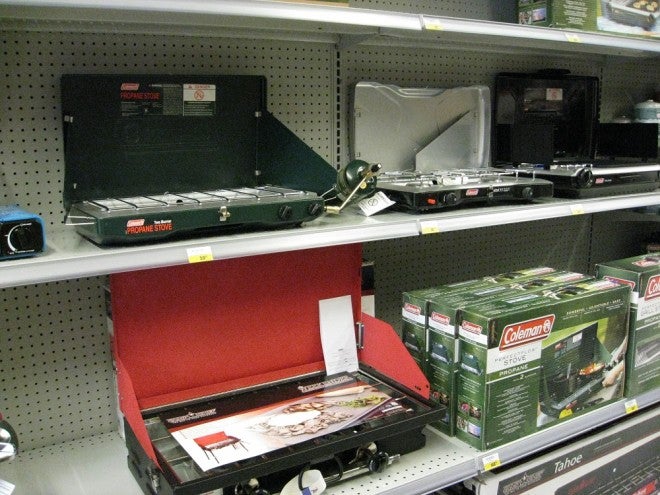 How do you plan to cook food during a bug out? Will you just be heating a can of soup over a backpack fuel camp stove or perhaps plan for some full course meals? Is your cooking mode over a wood camp fire in an iron pot or something more sophisticated? As you work your prep plan devising food menus and what to eat, consider also the variable ways to heat it up.
If you really want to blow your mind, then visit multiple, well stocked camping supply stores to check out the overkill on the availability of camping stoves. There is virtually everything from the little aluminum folding stoves that use a canned heat source, to full bore camp stoves with two or three propane gas burners set up on a sturdy stand with side panels to keep winds from blowing the stove burner flames. Then there are many stoves in between these types.
The quintessential Coleman stoves powered with by liquid white gas, or 16-ounce disposable propane cylinders can make fine cooking stoves for a bug out scenario. These usually offer two gas burners so you can put a coffee pot on one and eggs in a skillet on the other.
These types of camp stoves are as easy to set up and operate as they are to pack up and move in a relative hurry. Stands can be bought to put the stoves up to working level, but these flat based stoves can be set up on a truck bed tailgate, or just as easily on a log stump for that matter. They will generate plenty of cooking heat to pan fry a steak, heat up veggies, or cook other food stuffs.
Now, many campers and preppers simply like the idea of cooking over an open fire with the appropriate gear, and that is certainly fine for the experienced. Using Dutch ovens is another way to slow cook good meals.
You might consider building a block fireplace or stacking up big stones to form a cooking area braced against the wind. A tarp or rain cover could also be set up to prepare meals under adverse weather conditions. This all depends on just how primitive you care to operate your bug out camp. One recommendation might be to buy a small propane powered stove to have as a backup.
But we want to turn the question over to you guys: what's your plan for bug-out cooking? Share in the comments because we love finding out about new options.