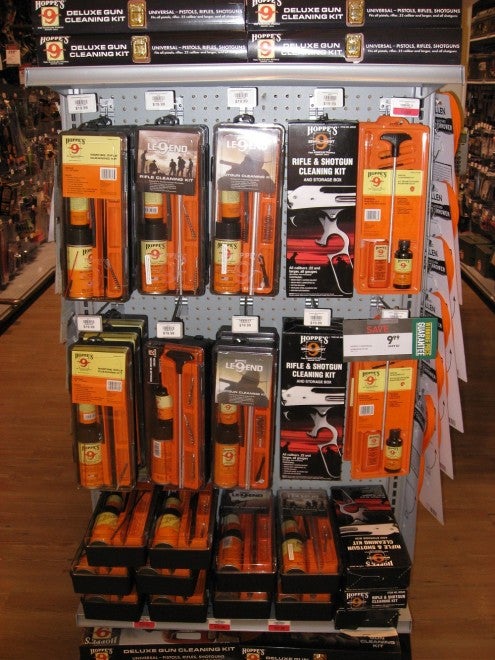 Sometimes short cuts are not always a bad thing. I mean it is easier, quicker, and more efficient to buy a box of Hamburger Helper than try to assemble all the ingredients yourself. The same argument could be pitched for the purchase of a pre-packaged gun cleaning kit. I mean, grab one off the shelf, and you're good to go.
A recent trip to the shooting and hunting department of a national big box store to investigate gun cleaning kits was quite a revelation. It had been years since I bought a complete universal packaged gun maintenance set. I was amazed at how many options there were.
Most packaged gun cleaning kits will contain virtually everything you need. Some of the kits are broken down for handguns, pistols, rifles, and shotguns. These are tool specific to the type of gun having all the proper gun cleaning supplies to complete the job. There are many brands available and a fairly wide range of prices. Quality of the included supplies varies widely, too.
Other gun cleaning kits are more universal. This means a balance of the tools and components to basically clean any type of gun. These kits may contain one or more cleaning rods, multiple slotted tips, and all caliber and gauge sizes of cleaning brushes. These kits have all the parts and pieces contained in one box, or plastic sleeve with a slip on cover.
I saw one kit at Bass Pro Shops called their RangeMaxx Universal Flex gun cleaning kit. This kit was one soft cover zippered bag that when opened revealed three lift out foam trays, each marked and containing supplies for pistol, rifle, and shotgun. A fourth tray contained extra tools like a bore light, a pull cleaning cable T-handle, and adaptors for the 5 pull-through flexible rods. This one kit will clean guns from .17 caliber up to 12 gauge shotguns. It retails for only $35, so I'd say for a self-contained "everything" kit that is a quick, neat way to have all your gun cleaning needs in one tool kit. Add some solvent and oil and you're ready to go.
Pre-packaged gun cleaning kits come in aluminum hinged framed carry cases and all types of zippered bags with multiple inside pockets and loops for holding plastic containers storing brushes, slotted tips, and other components.
For some preppers the idea of a grab and go self-contained gun cleaning kit is the simple way to go. Sometimes simple is best.