Some Thoughts for Newbies on Choosing a SHTF AR-15
Dr. John Woods 08.27.15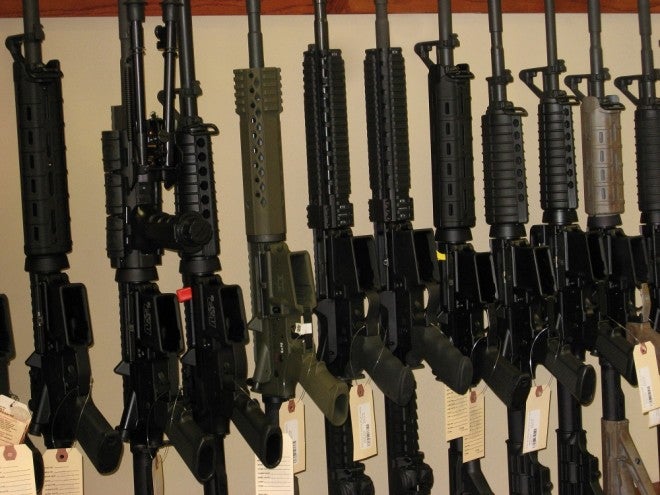 Remind me again how many flavors of ice cream there are at Baskin-Robbins? Looking at all those tubs of ice cream reminds me of checking out the well-stocked rifle racks at a big gun store for AR rifles. New peppers or survivalists getting into the gun game must be overwhelmed by all the choices, not to mention the toppings.
Budget considerations come first. I called my bud at Brandon Arms this morning just to get an update on the price range of AR rifles at his shop. His go from a low of $769 to right at $1,500 on the top end. If you do any shopping for ARs, attend gun shows, or read magazines like Firepower, you would be shocked that some ARs are priced up over $3,000.
Personally, I think that is ridiculous and absolutely unnecessary for the average pepper or survivalist. You can do much better with some dedicated and judicious shopping around, and a high quality, little used, pre-owned AR should not be out of the realm either.
Now I can hear you guys in the comment section saying right off the bat that you can build an AR from your shoebox of parts for under $500. Good for you. But I am talking about the average AR rifle buyer for prepping, hunting, or just fun time shooting. These folks are not gunsmiths, don't have the tools or skills, and probably never will.
At last research there are over 100 manufacturers of AR rifles. Every time I pick up a shooting magazine, I see a new AR rifle by a maker I never heard of. This can be problematic, too, so beware. Buy an AR rifle (or any other product for that matter) from a known entity with an established reputation for quality, delivery, and continued product service.
A quick Google by any brand name can get you reviews by real users to at least provide a benchmark of comparison between rifles. I use this method all the time to see what others think of a certain rifle, optic, ammo, accessory, or whatever. This goes for household stuff, too, as well as any prepping gear or supplies. None of us have money to just throw away on junk.
Brands and Features
What brands of ARs are good and worth checking into further? Sure, I have my own biases, but there are some AR rifles that I trust are good quality and have enough reliability to warrant their consideration for an investment. Any omission of a brand on my part does not automatically mean I would not buy the rifle. Frankly as mentioned, there are too many to keep up with.
For a heart and soul AR, I can recommend LMT rifles, Colt, Smith and Wesson, Ruger, Stag Arms, Rock River, Alexander Arms, Anderson Mfg., Daniel Defense, Les Baer, and Yankee Hill. Certainly there are other companies making good ARs, I just have not inspected or used them personally. If any maker of an AR would like us to field test their rifles, then they can offer one up for us to use. We certainly cannot afford to buy them all.
So, what do you shop for, and what features do you need in an AR rifle? I think you can still get a really bare bones AR rifle new for $600-700. I would plan on at least spending $1,000-1,500 for a decent rifle, optics, and some accessories you might wish to add, even later on.
A basic AR would be a black rifle in .223/5.56 with a 16.5-18-inch barrel with flash hider. It would be a flat top, optics ready model with an installed Picatinny rail on top or maybe a full rail system on all four sides of the barrel. Ideally it would have good BUIS (back up iron sights) on it. The rifle should be aluminum or alloy, not polymer even in a lower unit (personal bias there).
It can have a fixed stock, but in my user opinion, a 6-position M-4 type stock has much more utility. There should be several optional sling attachment points or fixtures from standard metal sling loops to plug in holes for push-button sling attachments. A forward assist bolt plunger and shell casing deflector are nice, as well as an ejection port dust cover.
Prime accessories to consider later might be extra Magpul magazines. I use exclusively Hogue soft feel grips. Maybe add a quick detach or folding forward vertical battle grip or a forward hand stop. You'll want rail covers to protect your hand from the sharp rail edges. You might want a bipod later. Maybe add a flashlight. Get a good discreet gun case for low profile and rifle protection.
Scopes, optics, electronic holographic sights, red dots, and such will be covered later. Ditto on mounting systems for these. Know that these can easily cost more than the rifle investment.
So, pick out a good, basic AR and learn to shoot and maintain it. Add all the neat accessories as you need and can afford them. We saved up a long time to get our fender skirts back in the 60s. We were just tickled to death to have wheels back in those days.