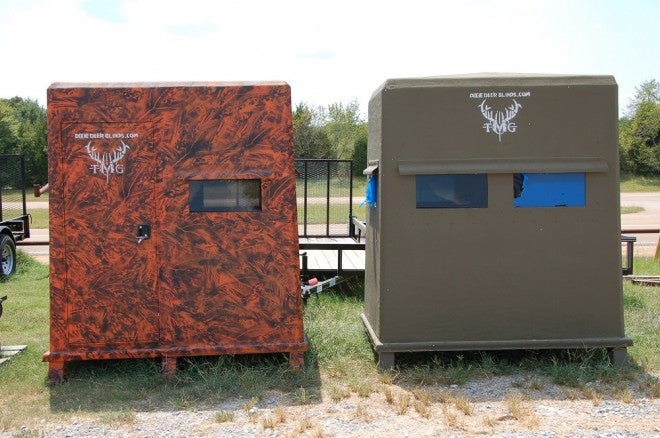 For decades now self-contained deer hunting blinds have been all the rage. What more comfortable way to deer hunt than sitting inside an enclosed molded blind completely protected from the elements. Certainly, the older I get the more apt I am to go to the shooting house rather than a ladder stand for deer hunting.
Among all these types of hunting blinds on the market today one of the best made is the Dixie Deer Blinds out of Pearl, Mississippi. These blinds are extremely well made, well finished, and offer all the amenities that most deer hunters are looking for whether you bow hunt or use a firearm.
The standard blind features includes seamless Marine grade fiberglass construction, carpeted floors, composite shelving on all interior walls, welded steel base with support receivers, and insulated aluminum door with lock. Smoked plexiglass ¼-inch thick windows are included.
Blind options include door placement orientation on the end or side, door window, custom camo colors, even team colors, carpeted walls below the shelves, or all walls and the ceiling. A 36-inch wide door is available for physically challenged hunters.
Several models are available, including a 4×6 foot blind with 6'2" height, a 7-foot hexagon bow style blind with vertical shooting windows, and a 7-foot hexagon gun style blind with regular windows. Window sills above are standard to keep rain channeled away from the window.
All Dixie Deer Blinds are built on a platform with steel receivers that accept 4×4 posts for elevating the stands. Various designs can be built for ladder and stairs access to the entry door.
The inside of these stands are very cozy and can easily accommodate two stand deluxe tripod or arm chairs for long term comfortable sitting. With the carpeted floor and walls, hunters can move around inside without worry of banging against a hard wall or floor making unwanted noises out in the field.
The built in shelving along the walls can easily hold a set of binoculars, coffee cups, drinks, nabs, boxes of ammo, and game calls or other gear items for quick access. During super cold weather a small propane heater can keep the inside of the blind toasty to the point that some hunters will want to put down a window for temperature control. These blinds can easily be hunted in all day long. Check them out on their web site.