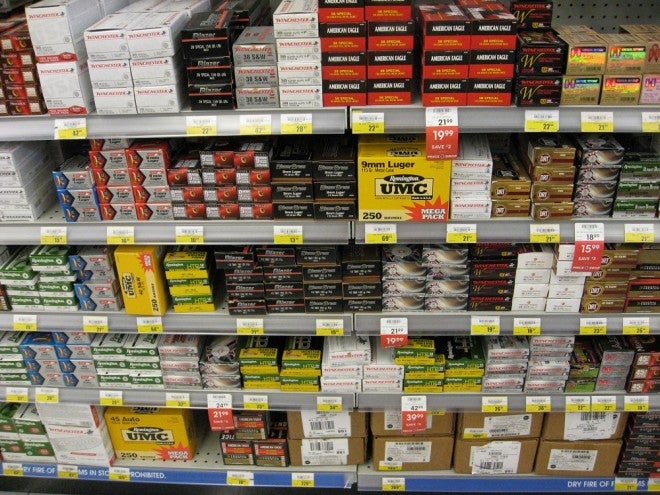 At AllOutdoor we have hit on and around this subject several times in the past, but some recent changes in the marketplace have encouraged me to discuss some new developments. This in turn has created some new ammo buying strategies to consider.
One of my hobbies (if you want to call it) that is to work the local monthly gun shows with a friend of mine that is a Glock armorer. While he works on Glocks, I sell accessories, and during the slow times I cruise the 400+ display tables to gauge the gun selling market, look for new models coming in for sale, and monitor things like ammo supplies and costs. This is all information I hope to incorporate into materials for AO readers.
After the last "crisis" of sorts when the Feds were going to stop production of green tip 5.56 ammo, the usual results occurred. First of all, the prices per box and case lots shot back up 20-30+ percent nearly to where it was after Potus was elected the second term.
The crowds at the show were lined up a hundred yards deep a half hour before the show opened. Panic-stricken buyers rushed the tables that had ample supplies of ammo. For two hours I watched buyers toting by cases of 9mm, 40 S&W, .45 ACP, .223/5.56, and .308 ammunition.
The best branded stuff naturally went first. Ammo buyers and shooters still know what the good stuff is and still want to buy it at virtually any cost. Dealers quickly sold out of PMC, Federal, Remington, and Winchester ammo. The crap ammo went next and the real trash sold a little, especially in 7.62×39 for the AKs.
Gun shows are still a good place to buy cheap(er) ammo. Wait until the panic is over. Always peruse big box stores for sales items on the shelf that are not advertised. I just saw 30-06 Remington Hog Hammer ammo for $20 a box. This is not just for hog hunting.
Stop in to the smaller mom and pop gun shops and flash some cash for a discount. Buy ammo in case lots to get a better deal. Even some of the internet sporting goods sites are now offering free shipping and better prices to generate business. Buy all you can.
Ammo is never going to really be cheap. It can be more affordable if you shop around and are prepared to buy when the deals are good, or at least reasonable.