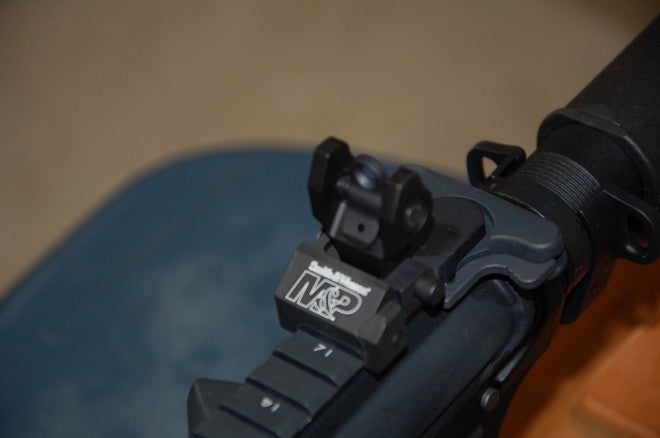 My dad was huge with the idea of redundancy. He had two or three of everything, so if something broke or got lost, he had one or likely more backups. I suppose this is why I have three complete sets of screwdrivers: one in the garage, one in the storage room, and one in a grab bag tool box. I feel the same way about having more than one kind of sight installed on my ARs.
Before the world went crazy on building and supplying the consumer with AR rifles (the real fever started prior to electing the current POTUS), some may recall the standard issue AR came with some kind of open sights installed. From the original carry handle type Colt ARs, there was an adjustable rear sight and a front sight post adjustable for height. There were some early Colt 3x optical scopes that sort of crudely mounted in the upper groove of those carry handles. Those set ups were pretty odd looking and not the best for optical sighting.
As the AR market evolved and new production options began to appear, the carry handle tops went by the wayside for the most part in favor of OTR (optical ready) flattops and now all types of Picatinny rail systems. While many AR models continued to be offered from the factory with various kinds of open sights, these have become very highly evolved and improved, too.
Today, many current production ARs come with no iron sights at all. One can only assume this is done under the guise of offering the rifle owner their own options for iron sights or a cost cutting move to save money for the manufacturers. Thus, many ARs come with empty Picatinny rails.
The language for open sights on ARs has evolved, too. Now they are known as BUIS or Back Up Iron Sights. Most of the good ones are highly adjustable as well as offering a fold down feature both front and rear so they don't obstruct the use of a scope or electronic sight.
In my opinion it is a good idea to install and maintain a set of quality BUIS on your AR. This would be particularly critical for survivalists, preppers, law enforcement, and such. If a scope or electronic sight should fail, then the backup sights are there to get you out of the fray.
Now for the specific recommendations. BUIS from Troy or Magpul are generally popular and will get the job done, but if you really want to go all-out, and we're talking expensive Swiss watch type overkill, you can't beat the KAC front and rear folding sights. A set of these will run you as much as a decent red dot (around $370 street), which is a ton of money for something you're probably never going to use. But if you want to have the best, those are it.