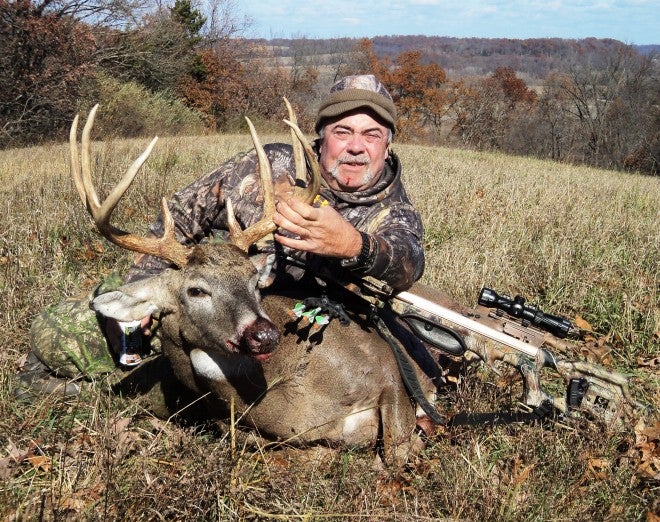 Having needed accessory gear with you in the woods makes for more enjoyable bowhunting and increases the odds for success. Now is the time to get your pack cleaned and loaded with necessary items that you'll need.
One of the best moves an archer can make to keep his important archery items together is to have a quality backpack used exclusively for bowhunting. My small backpack or daypack has items added to it and taken out through the course of a season as needs arise or diminish. But there are certain essentials that never leave the pack because of their vital tree stand role. For example, my small, folding, super-sharp saw is always included for trimming tree branches to make open shooting lanes where I expect to see deer.
Other "must have" pack items include an accurate, rugged compass, grunt call, safety harness, folding lock-back knife, trail marking tape or ribbon, toilet paper (placed in a plastic bag to waterproof), insect repellent, and pull-up cord a full 30-feet long. The cord also has clips at each end for easy attachment to a bow and to my belt or tree stand. A screw-in tree step is a necessity, too, even if a climbing or ladder stand is employed. A tree step can be used for many "in stand" uses, such as a bow hanger, or even to hang a day pack, especially on pine trees that often lack low branches for hanging gear.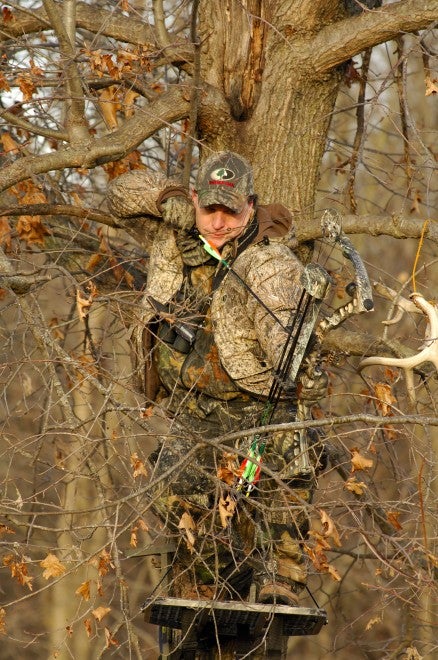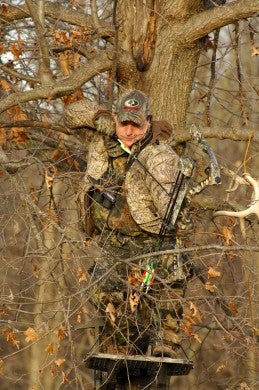 I've made it a pack habit to have two sets of camouflage face masks and gloves and two sets of arm guards and release aids. These items are an absolute necessity, and should one become misplaced (common during the confusion of a multi-day hunt), a back-up is immediately at hand in the pack. Another plus for carrying two arm guards/release aids and two face masks/gloves is if you drop one while putting them on up in the tree tops, it's not necessary to climb all the way down to the ground to retrieve them.
In my pack I also carry a "bow holster," which attaches to my waist belt and is used to help hold a bow (by it's lower wheel) while preparing for a shot at a deer. I keep a bottle or two of deer scent in the pack, always a fox urine cover scent for my boots, and (depending on time of year) doe in heat or some other attractant scent.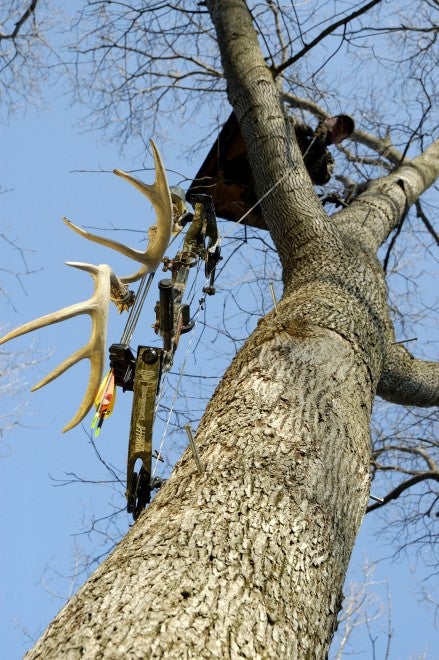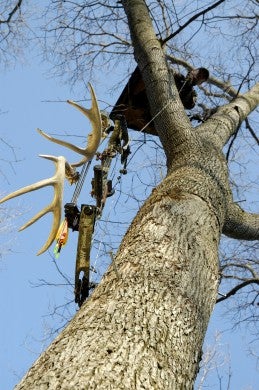 Small, lightweight binoculars, camera, a GPS unit, range finder, even rattling horns are also included for some hunts. A jacket of some type usually comes along. Early in the season when it's hot I use a net mesh jacket that camouflages exposed arms in short-sleeve shirts and wards off insects. In cool weather, a jacket of some type is placed in the pack or a quality Gor-Tex rain jacket that not only keeps me and/or pack contents dry, but also helps fight bugs and evening chill. Sometimes chemical-packet hand warmers are included, which keeps a bowhunter warm during a damp dawn.
How accessory gear is toted to and from the woods is the prerogative of a bowman. Some hunters prefer fanny packs, others simply stuff items into large cargo pants pockets. I've done that, but for me a lightweight, fleece-covered daypack having two or three zippered compartments is ideal.
The pack has a center, top hanging loop to hang it in the stand vertically, which is important for easy access. The zippered compartments can be left half open (at their tops), so one-hand access into them is easy while the pack is hanging on its loop.    Another plus for a lightweight daypack devoted expressly to bowhunting is you always know what's inside, so it's ready to go when you are. And carried on your back with padded straps, it's no strain walking even long distances over rugged terrain. I've come to rely on my pack and its ever-ready contents just as much as I depend on a quality bow, arrows, broadheads, tree stands, and other important hunting gear.
So what's in your day pack? Any suggestions?