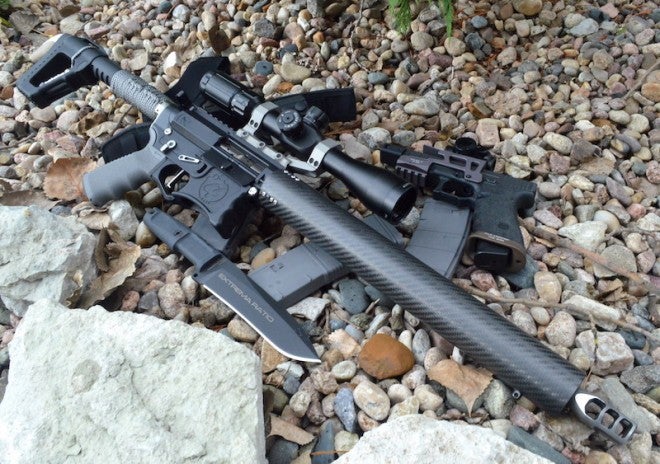 After a multitude of custom AR15 builds for either good stories or good causes, I really was dying to do something similar those builds I donated for auction to the Mercury One and The Lone Survivor foundations. This is not my most expensive build. I did do an extremely expensive $4,200 build, but none of the parts were custom finished by me–they were just really really expensive. One of the manufacturers I worked with closely for both the Lone Survivor builds and one of the Mercury One builds was Area 53. Area 53 creates gorgeous billet AR15 and AR308 uppers, lowers, and even complete rifles.
After working together to do some charitable good, Area 53's owner Charles did something surprising: he reached out to me to offer me a one-off custom billet El Jefe AR15 upper and lower receiver set as a thank you for, in his words, "my hard work with the charities." I was blown away.
Charles at Area 53 had a simple request; "Do something very special with them for yourself." So I did. How about $2,500 worth of custom one-off "special." I wanted something that as you looked at it, you would just keep seeing more and more custom. When I interviewed the legendary Jesse James, he emphasized layering the custom details and that the eye should never really be able to take in all the custom elements at once. Although I doubt I will ever achieve Jesse's level of custom, my goal was to give it a try on this build with a multitude of hand finished parts.
The theme I tried to carry through was a "Four" theme in shades of grey from polished silver to black. The result was a beautiful use of carbon fiber, anodized billet aluminum, synthetics, titanium, and stainless steel delivering a feathery 8.5lb rifle, including the full sized 4-14 Primary Arms FFP Mildot optic.
AREA 53 Custom Billet Matched Receiver Set ($399)
The latest generation Area 53 matched receiver set they supplied was custom deep milled with my personal "4" logo you that may have seen on a few other of my custom builds. Also custom was a personalized serial number. This build will definitely be special.
The Area 53 AR15 receivers are quite unique, and now they also offer .308 receiver sets as well. Features on both models include extremely rigid billet design, enlarged magwell funnel area to provide a forward grip, heavily flared magwell funnel, ambi-bolt release, integrated and extended trigger guard, lower receiver parts compatibility with standard milspec parts kits, aftermarket triggers, and rounded KNS Anti-Rotate pins.
Although I didn't need to use the upper tensioning screw or trigger overtravel adjustment screws, Area 53 includes those upgrades. There are also all those little nuances of design that have been tuned and tweaked since its original design. Of course there is also the amazing style of the Area 53 receivers, which screams crazy insane custom along with my own custom logo and serial number.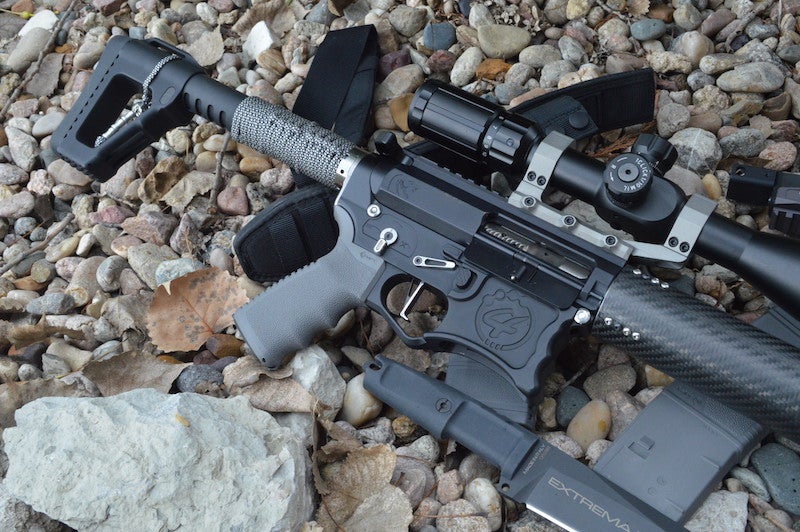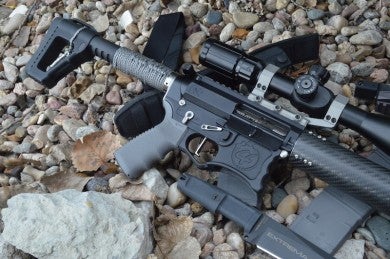 Feddersen Blank – Artisan Arms AR15 16.25″ Single Edge Polygonal Rifled Barrel ($250)
This was a completely one off custom barrel based on a then newly introduced production prototype rifled barrel blank from Feddersen and finished by Artisan Arms/Micro MOA.
Feddersen, as you may remember, produced the magically exceptionally accurate sub-1/4″ 50-yard grouping barrels I have featured on many 10/22 builds. Now they are offering .223 barrel blanks as well. My blanks were shipped to Artisan Arms to finish into a mountable barrel with a FailZero barrel extension, and Artisan delivered a beautiful fluted lightweight barrel.
Artisan also now also creates the Feddersen blanked barrels for MicroMOA, but mine was one of the first to be produced and reflected their unique taper profile delivering both stiffness and lightweight. The accuracy delivered from this barrel exceeds that of most bull barrels, but more on that later.
Precision Reflex Industries Adjustable Gas Block ($85) & Stainless Gas Tube ($10)
I really like the simplicity of the PRI adjustable gas block and the impeccable quality it delivers at a fair price. One of their stainless gas tubes was hand polished to a mirror finish to add a custom touch to the gas system.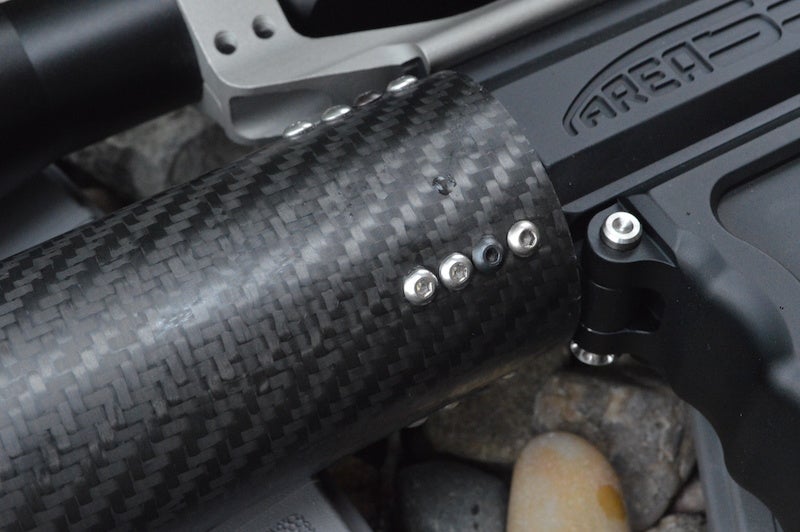 Failzero M16 Bolt Carrier Group and Barrel Extension ($179 + $30)
The EXO finish does provide rust and corrosion protection, but to a much more significant degree. The UCT EXO coating is also significantly different in a number of ways.
EXO coating is 40% harder than chrome, bonds at a molecular level to the metal, never rubs off, chips, thins, or builds up. EXO also coats non-line of sight surfaces, which means inside all the holes, nooks, and crevices and provides a finish that delivers an ultra-hard micro-pore finish that works in tandem with high tech nano-lubricants. The end result is one of the hardest and longest wearing BCGs made, and it happens to match right up to the FailZero barrel extension on the Feddersen barrel.
Shooting Innovations LLC Recoil Reduction System ($150)
To take even more bites out of the very little recoil left, I opted for SI's Captured Buffer Spring, which touts a significant recoil reduction. Combining this with the adjustable gas block and giant brake netted a rifle that felt like shooting an electric stapler with a bit less recoil than my 10/22s.
The solution did work extremely well; it smoothed out the recoil impulse and also took the "boing" spring sound away. This is a very similar concept to the JP Rifles captured buffer spring, but it adds a set of additional springs, which adds extra damping to the recoil cycle.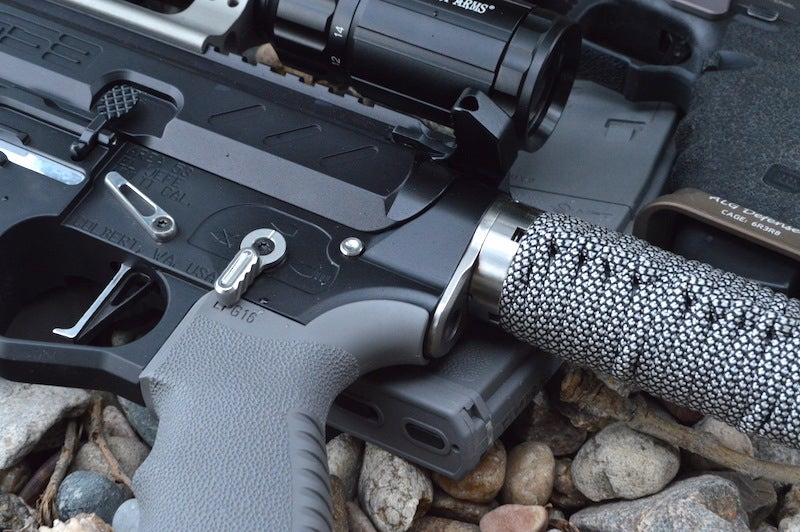 V7 Ultra Light AR15 Components
V7 is a newer entrant into the AR15 parts space, but their design and quality is absolutely top tier. I chose to add several components, including their Ultra-Light Mag Catch for $28, which I hand polished to a mirror finish, Titanium Buffer Retainer for $7, Ultralight S7 Bolt Catch for $27, Titanium Castle Nut & Titanium Back Plate for $45, and Flat Billet Aluminum Ejection Port Door for $38. Each and every one of these parts are severely trick but I especially love the flat billet ejection port door. The titanium Castle Nut and Back Plates were polished to a near mirror finish. If you have polished titanium, you know this sucked big time.
Aero Precision Custom Cerakote 30mm One-Piece Scope Base and Rings ($60)
I have tested a lot of rings and scope bases for AR15s, but the AP One-Piece Scope base is the most elegant looking solution available, Plus it's really light. It melds so well into the upper that it looks like the scope base is actually part of the upper receiver. So for $60 you have a high strength, one piece, base-ring design that is beautiful, available in either 30mm or 1" sizes, and if you give AP a wink, you can even get one of the last silver cerakoted units in inventory.
Primary Arms 4-14 FFP First Focal Plane Scope ($229)
Beyond the "4"-14 magnification with a standard mildot reticle with four sets of four mildots carrying through the four theme, I was so impressed with this FFP (First Focal Plane) scope that I added it to one of the most expensive AR15 builds I have ever done. The optic is only $229 and delivers a clarity and FFP feature that most scope three times its price don't. Hopefully that gives you an idea on my perspective of the value and performance of this scope to add it to a build of this caliber. If I would have splurged for a expensive optic, this build could have easily been over $3500, but this optic delivered everything I wanted.
Clark Custom AR15 Carbon Fiber Handguard ($135 + $25 custom cut fee)
No one had the perfect handguard length, but Clark cuts any handguard to whatever length you want. The result is the lightest forend available, but I didn't stop there. I wanted to carry over the "FOUR" theme to the handguard. After install with Devcon 2-ton epoxy, I added four sets of four hand cut and polished machine screws around the handguard in set of four black and stainless machine screws representing "Four" in both numeric and binary code. I also hand polished the barrel nut to a mirror finish. Little touches to take it over the edge.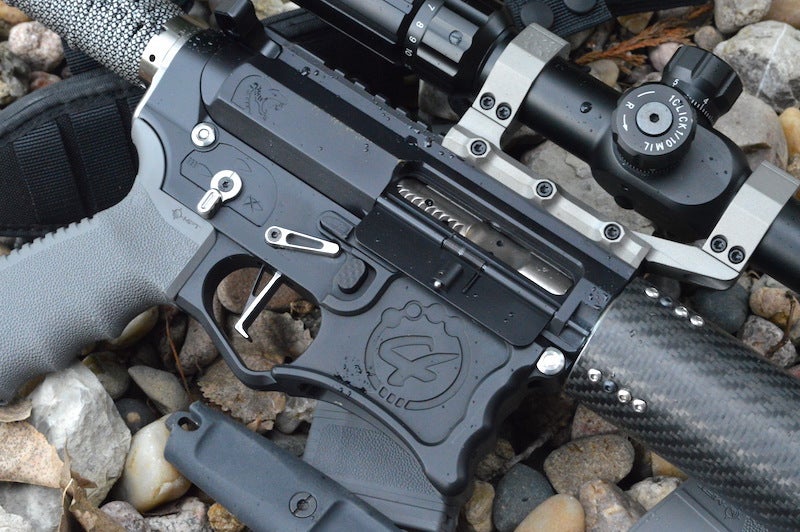 KNS Precision Repl Custom JJ (Jesse James) Limited Run Stainless Anti-Rotate Pins ($22)
Since Jesse was a bit of an inspiration for all those custom ARs I created for charity, I had to include something that he influenced the design on. I was the first person to ever interview Jesse James, and he said many times that he would never offer customer parts. But each and every time we talk, I keep telling him I will buy some upgrade parts when he has them.
So these were a very limited run of Jesse James Stainless Steel Anti-Rotate pins from KNS. I hand polished them to a mirror finish to carry through my polished, satin, and flat black theme. Also added were KNS Precision Stainless Detents ($10).
Battle Arms Development: Enhanced Titanium Takedown Pins ($37) & Ambi Stainless Safety Selector Switch ($79)
Carrying through the polished titanium theme, these BAD pins and selectors I sourced from Brownells were also hand polished to a near mirror polish. Hours, I tell you. Hours of polishing.
Precision Armament MII Severe Duty Stainless Brake ($105)
This giant oversized brake I found on Brownells was perfect with a square "four" sized style. I could not leave well enough alone and spent three nights hand polishing select areas of this beautiful brake to a mirror finish. The result is a truly amazing looking brake unlike any other, which also removes every trace of muzzle movement.
Doublestar M4 Socom Ace Stock ($199)
In order to get the V7 Titanium back plate and castle nut, I had to turn the stock tube down a little on the lathe just to provide enough clearance for the special parts. Such is the price for a true custom build.
Custom Paracord.com Wrapped Stock ($30)
You may have seen me add this custom paracord wrap before on other builds, and I like the look compared to ugly foam on the buffer tube. I found a limited release hex grey/white paracord to complement the build  and then added a skull stock fob with three spacer beads plus a skull bead for four beads total–just because I thought it looked cool.
Mega Arms Slide-Lock Charging Handle ($57)
My perspective is that this is the best charging handle made. It is stunningly made and the only charging handle that features a patented latchless design. It had to go on this build.
CMC Flat Blade 2lb Trigger ($199.99)
The look of the CMC Flat Blade trigger was the look I wanted, and it delivers a stunningly amazing trigger feel. I did hand polish each side of the trigger to get that black and mirror polished look.
CMC triggers are one of my top favorite triggers with a very crisp single-stage break.
MFT AR15 Grey Grip ($19.99)
This remains my favorite grip on the market and delivered a simple bolt-on option among a build where every other part which required tuning, polishing, or fitting.
FINAL THOUGHTS
All these parts may seem like a headache to find, but Brownells was an easy source for many of components. Many of the other components took quite a while to pull together. Start to finish this build has taken over 10 months, including waiting on parts and finding time to do all the polishing and custom touches.
So how about performance? Well, my first time out with the rifle I delivered a 1.5" group at 200-yards with PMC Brass FMJ ammo, which most would notice is not match grade ammo. It was also a delight to shoot with virtually a complete absence of recoil thanks to the giant muzzle brake and adjustable gas system and SI buffer.
Feddersen does note that accuracy will continue to improve until about the 400-600-round mark, but I was still able to manage two three-round .43" and .39" groups with 68gr and 75gr BTHP Match ammo from Hornady.
This build is a tack driver considering how light the overall build is. Despite everything custom about this rifle, it is still designed to be run hard, but it just happens to look better and perform better in the process. I hope Area53 will be happy with how their very generous gift led to a stunning custom project that has become one of my best shooting and most accurate AR15s.
Sources