Quick Look: Primary Arms 1-8x FFP scope
Oleg Volk 10.26.15


Up to now, high quality 1-8x scopes have been extremely expensive. For example, Leupold Mark 8 CQBSS first focal plane scope, retails for about $3K. That's about what Trijicon's excellent 1-6x FFP VCOG runs as well. At lower prices, either scalable reticle or higher end magnification or optical quality usually go away. But there's nothing usual about this Primary Arms 1-8×24 FFP scope. Designed from the ground up to be their flagship option, the first entry into the truly high end sighting, this optic is also the first for PA to be produced in Japan alongside of other premium brands.

The scope is compact but feels dense, adding 26.5oz to the weapon. With a mount, call it an even two pounds. It hits my checklist for a serious optic perfectly:
Bright and sharp glass that doesn't flare in back light
Forgiving eye box, even at 8x
Simple but informative illuminated range-finding reticle
Night vision compatibility with two settings
True 1x at the wide end with sufficient illumination to be used as a red dot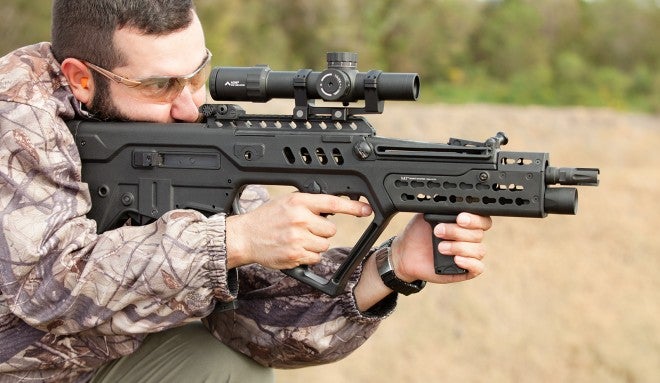 The reticle, shown in detail on Primary Arms 1-8x page, provides for accurate drop compensation from 100 to 800 yards. It also shows windage and sideways target movement compensation. Front focal plane reticle means that the measurements are the same at all magnifications. Since this is a hunting scope, the rangefinder scale is predicated on the standard 5'10" deer standing upright and carrying a lit Molotov.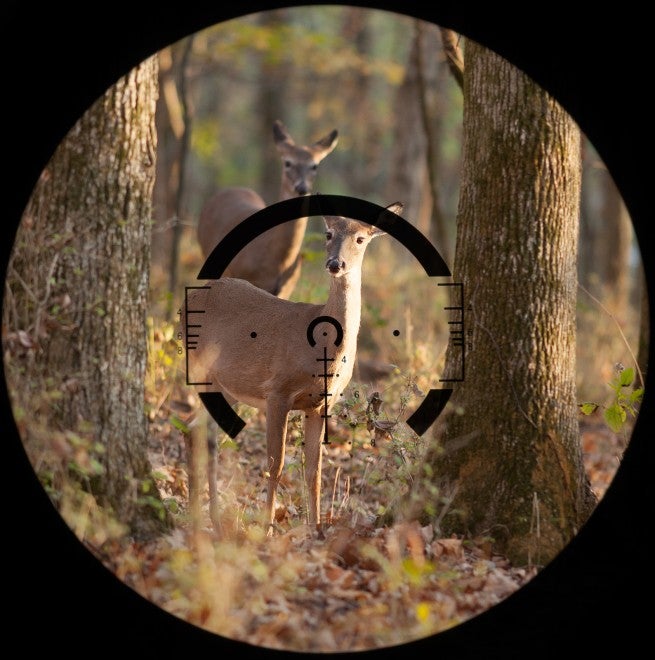 It can also be used for harvesting horizontal deer for food. With targets of unknown size, a laser rangefinder may be used to figure out the distance before making aiming adjustments (though unnecessary with most calibers at distances under about 200 yards).
Since the exit pupil of a 24mm scope is a limitation in low light, the true 1x with illumination comes in very handy for defensive use. Due to the high quality of the optic, the image it projects is far brighter than I expected for the size. This scope also works very well for three-gun competition, giving rapid sighting for close-in targets and fine detail for the more distant steel plates. Since the reticle is marked .223/5.45mm/.308, I asked how that works and discovered that 5.45x39mm and 7.62x51mm ball trajectories match almost exactly at 800 yards, and so do 5.56x45mm 69 grain match loads. The actual trajectory will vary slightly based on the barrel length, specific load, and atmospheric conditions, but the BDC will help get that bullet onto a goblin-sized target pretty far out. The greatest variation at that point would be the group size and the de-centering of that group due to wind.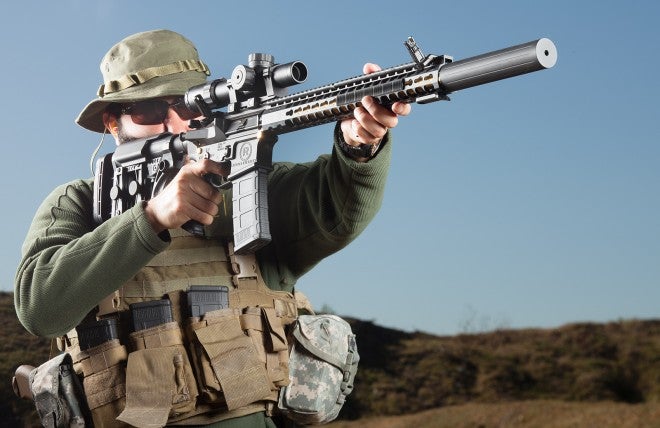 While I have not done destructive testing of this optic, Primary Arms have. They built a desktop rig simulating the recoil of a .338 Lapua Mag bolt action over and over again. This optic survived the ordeal just fine. Overall, I was quite impressed. It's a relatively affordable ($1,299) high quality optic, priced pretty much at the minimum Primary Arms could afford to sell it in order to get into the new to them market segment. The scope comes with flip-up covers, and I would recommend adding a cat-tail lever for quicker zooming. Aside from that one accessory, the 1-8x is ready to go straight out of the box and represents a substantial upgrade over any similarly priced glass.