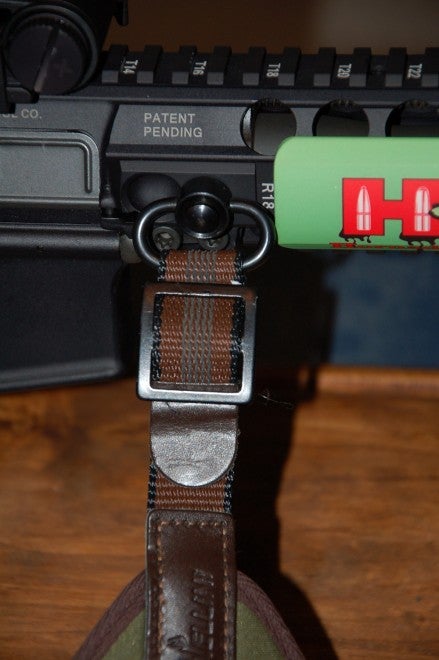 AR rifles can be carried by a sling in a wide variety of configurations. There are one, two, and three point sling attachment variations depending on what the rifle user wants and what is most comfortable for their modes of use.
As with the huge variety of factory and aftermarket accessories, there are also multiple options for attaching a sling to an AR rifle. Many ARs come from the factory with more than one way to strap a sling to the rifle, but aftermarket accessories have really broadened the choices.
The typical sling attachment set up on a basic AR is a front sling loop attached via a screw/bolt under the front forearm. The rear sling loop is a metal part that projects down from the butt stock. A common cotton or nylon one-inch sling is simply looped through these two attachment points, looped through a metal sling adjustment slide, and adjusted to length properly for shoulder or cross chest carry. This is essentially a 2-point attachment.
With the use of various attachment accessory parts via GG&G, Midwest Industries, Blackhawk, Troy, Daniel Defense, and other's parts installed behind the rifle action on the receiver extension tube, slings can be looped in, snap locked on a ring, or connected via push button QD swivels. This option becomes single point attachment.
These allows the sling to be hung over the shoulder, across the chest, or other modes that allows the rifle to hang free, suspended down basically under the arm for quick deployment. A rifle carried this way also permits the rifle to be quickly "dropped" for a quick draw of a sidearm.
The push button attachment points sometimes come stock on factory rifles and are very popular. I have converted nearly all of my ARs and like rifles to the push button releases QD swivels. They are quick to snap in or release and are very secure so long as you make sure the buttons are firmly locked into the female insert. These can also be configured for two-point attachments as well.
Three point attachments are more complicated and seem designed for law enforcement or military in a patrol mode where the rifle is held strapped across the chest. I have tried these once and found them more difficult to rig up and especially hard to adjust quickly.
So, when you get ready to sling up your AR, be sure to check out all the options.