Over-Under: The Ins and Outs of an Outdoors Success Story
Bob McNally 11.05.15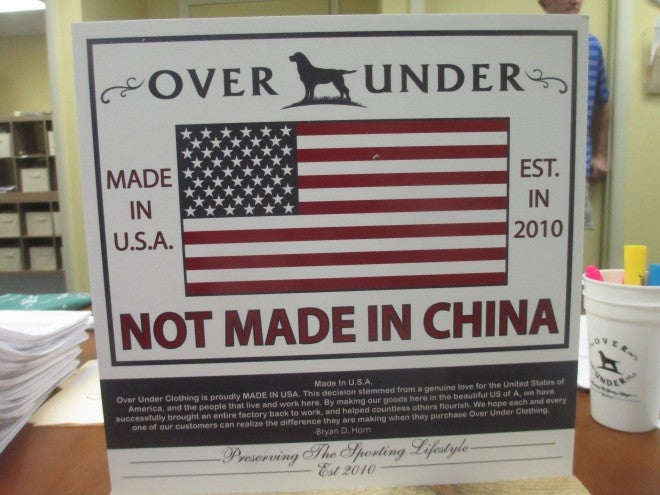 The high-quality "leasure" products of a company named "Over Under" have come on strong in recent years.
The company has become an important benefactor to a litany of well-respected and important outdoor groups, including Ducks Unlimited (DU), the National Rifle Association, Trout Unlimited, and the Coastal Conservation Association.
Over Under donates its goods to such groups (plus veterans organizations) that auction or raffle them at banquets, the proceeds going to help waterfowl, turkeys, marine conservation, and other outdoor causes funded by such non-profit associations.
It's a good way to help fish, game, and conservation, and it also allows sportsmen to become acquainted with the products sold by Over Under.
At a recent Florida DU banquet, several gun dogs calmly walked around inside an auditorium. Eager to be scratched and coddled by several hundred attendees, the sporting dogs making the raffle-table rounds included two very laid back and affectionate Labrador retrievers: Nellie (a yellow Lab) and Lottie (a large chocolate Lab).
Little did most of those people present realize that Lottie is a celebrity. Her high-profile likeness is silhouetted in the very well recognized logo for Over Under, which is seen by countless numbers of people far and wide.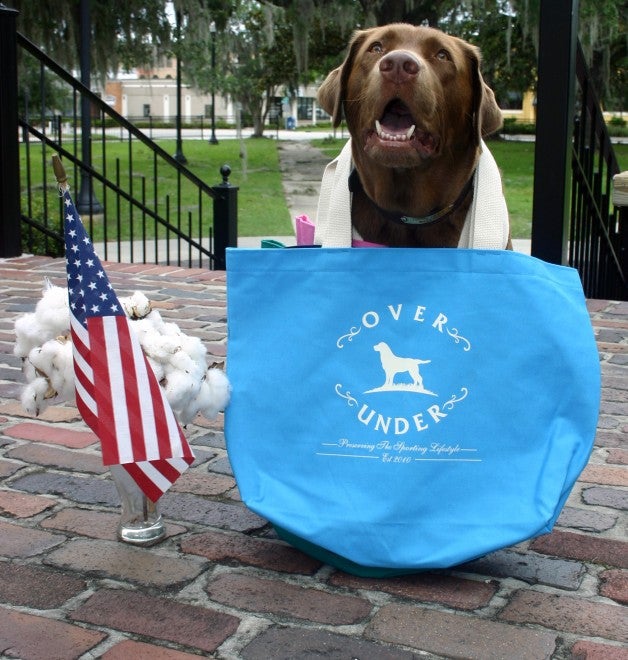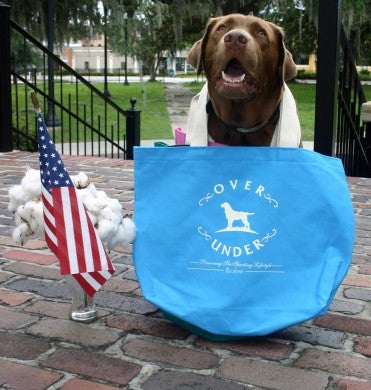 "I got the idea for our company logo one day some years ago when I was still working for a roofing company in Florida," says Over Under founder and owner Bryan Horn, age 36. "The housing industry was headed for a big crash, and we all knew it. I wanted to start an outdoor accessory company, and knew I needed a great logo to set our products apart from all the others.
"That day on the roof Lottie was standing near the work site looking regal and strong like so many working gun dogs do. Right then I realized she would be the perfect logo for my company."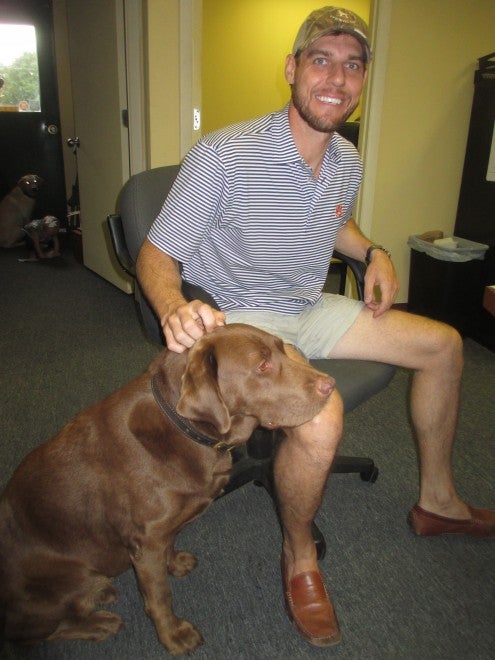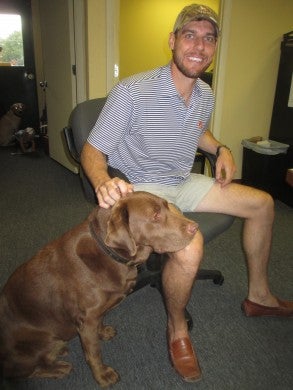 Lottie's likeness is the center point of the company Logo, with the words "Over Under" above and below the dog silhouette. Beneath the logo is the company slogan, "Preserving The Sporting Lifestyle."
The company name may befuddle those who don't know the sporting world, but Over Under is an apt description for over-under double-barrel shotguns. For most of Horn's life he wanted a high-dollar over-under firearm, but couldn't afford one.
"I was in Athens, going to the University of Georgia and was broke like so many other students," says Horn. "I told my dad I just had to have an over-under shotgun for hunting. He told me to work and save and I could afford one."
And that's what Horn did. But the bigger lesson learned then from his father was if you have a dream and want it fulfilled, you have to work for it, and work hard.
And that's what Horn has done to grow Over Under into a prominent player in the up-scale outdoor leisure industry.
In the last weeks of work before Horn was let go by the construction company (now out of business), he poured his heart and soul into starting Over Under. He labored nights and long weekends without much sleep, creating products in a small room of his 800-square foot home.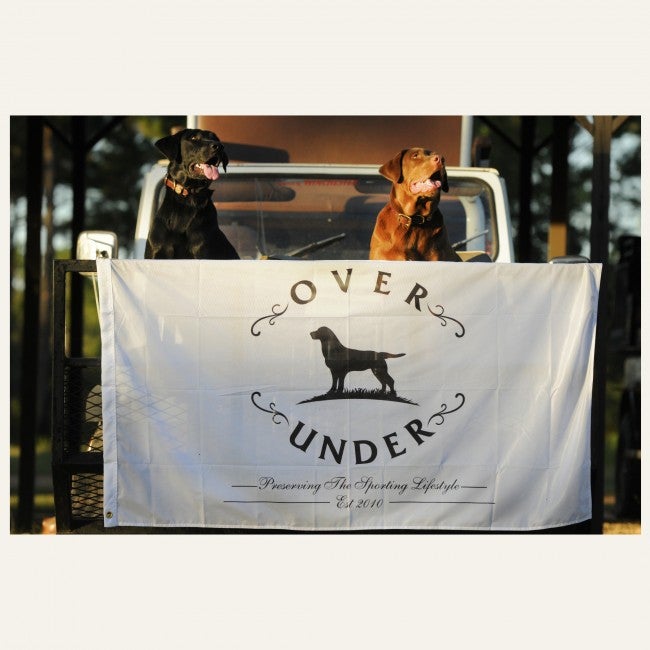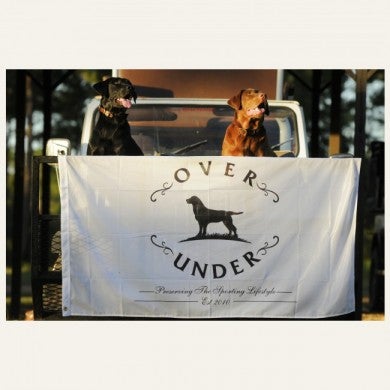 He had four leather products for sale, all hand-made in America: a leather belt, a dog collar, and two styles of wallets.
He started selling goods via the internet, chiefly through Facebook.
One day just before he was let go by the construction company, Horn checked his Facebook page and Pay Pal account and was stunned to learn he'd sold $700 worth of Over Under products in only an hour.
"A construction work buddy was sitting next to me, and I told him how much money I'd just made," Horn recalls. "He looked at me and said, 'Why are you working here?'"
"That's when I realized Over Under was the future for my family and me."
Finally, Horn was out of work, having been let go by the construction company. Fortunately his wife, Haley, worked at a plumbing supply company, so there still was money coming into the family. But he needed capital to launch Over Under properly.
Horn knew no bank would fund his business idea, so he borrowed from family and started making his products by hand.
That first year's sales were good, bringing in $268,000. Second year was better, producing $998,000. Third year sales hit $1.8 million, and Horn believes this year will reach $2.5 million.
The company's product line has now grown to over 200 outdoor accessory items–everything from $30 tee-shirts to hand-made, custom-ordered $1,000 bison-leather duffel bags.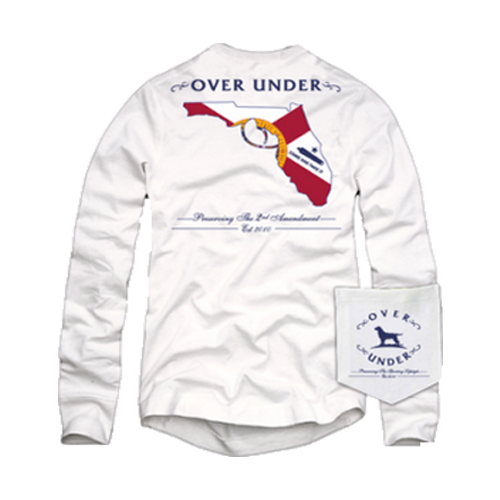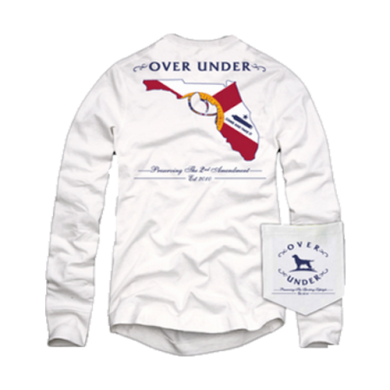 Over Under employs eight people today, and the company just moved into a 4,000-square foot warehouse.
It's been a skyrocket ride, but Horn has remained grounded, true to his Southern hunting roots, and steadfast to only sell made-in-America products of superior quality.
"I have lots of ideas for a wide range of products," he says. "The challenge is to find American craftsmen who can produce items I know will sell."
His all-leather, heavy-duty sporting men's belts are a good example. They're made by Amish craftsmen in Pennsylvania.
Why Amish?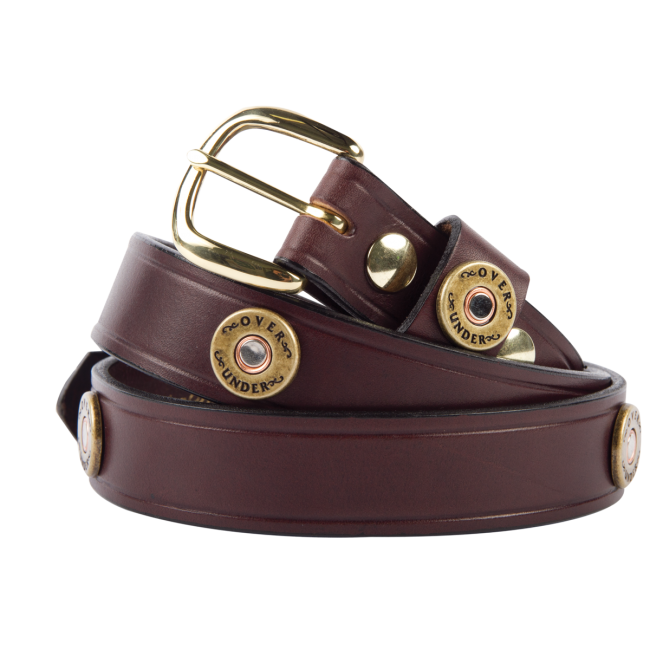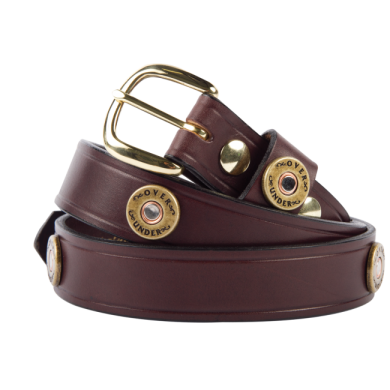 "Because the Amish have been leather-work artisans for generations, producing superb saddles and other leather tack," explains Horn. "The belts they make for us are of the best leather, stitching, and workmanship available, and they last forever. That's the kind of product we want to sell, and it's made in America."
Resting atop a desk inside Over Under world headquarters is a small product display sign used in some of the 200 retail outlets that sell company goods.
It reads: "Not Made In China."