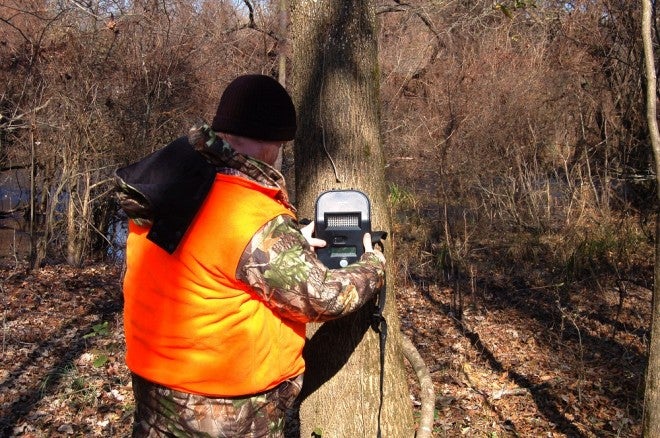 Trail cameras have been the biggest white-tailed deer hunting buzz for many years now. It seems every hunter uses them. However, the biggest fallacy of using these cameras is putting too much reliance on photos of bucks leading to the actual harvest of that deer. There is a huge gap between the two.
I have been monitoring the behavior of a deer hunting friend of mine as he monitors his bucks on camera all summer long. He has sent me two dozen or more photos of big bucks gathered around his corn piles overlooked by cameras. Sometimes there were 3-5 bucks in the photos.
In my estimation they age out about 3 years. They are too young to shoot yet. One is a ten point. The other is a good 8-point. They might score upper 130s according to a biologist scoring friend of mine that looked at the photos. However, the landowner is frothing at the mouth to kill them as early as bow season opens to prevent anybody else from killing them first. You are already posing all the assumptions this hunter is making.
The gathering together or bunching up of bucks during the summer and early fall is typical whitetail behaviors. This is nothing unusual. What is probably going to highly disappoint this hunter is the likelihood that he will never see any of these bucks during the hunting season. He might, but he probably won't.
At some point this buck club will disperse. They will each go their separate ways and begin to mark their territories. Eventually they will take notice of the does and then at a later date the rut will kick in. Then the gloves are off.
Once this hunter starts making treks to the woods, regardless of how he masks his scent or controls his entry or exit from his hunting stands, the deer will know it immediately. Some of them will go nocturnal or just disappear. Deer do that.
All of a sudden these bucks will no longer appear on the cameras and the hunter will wonder what happened. If he is really lucky, one of them will mess up during the rut and he might tag him. That is, if all the conditions are right and he is able to make the bow shot. Having captured a buck on a camera early on is no guarantee he'll make it to the skinning rack.