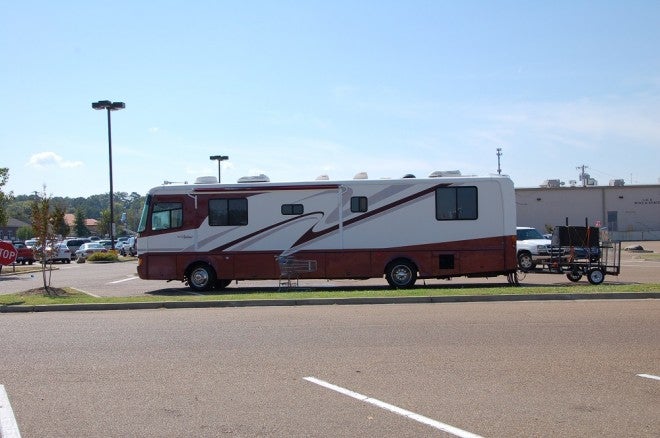 What better way to bug out than in a recreational vehicle? This option is basically a fully functional home on wheels ready to be moved at any time and parked for extended periods of time for a self-sustainability strategy.
When I was home in the summers from college, I spent two months flying from Missouri to a California-based manufacturer of motor homes. I would arrive at the factory, work on the paperwork for the dealer, then drive the unit back to Missouri. I got a firsthand experience in maneuvering these large beasts on the highway and the utility of living in them as well. An RV like this would make an excellent SHTF escape vehicle.
On the plus side, the RV is totally self-contained. There are sleeping quarters, living areas, and fully stocked kitchens with sink, stove, oven, and microwave. These units are plumbed with full bathrooms, showers, and toilets. They have water holding tanks to allow the unit to operate independent of external resources, at least for a while. RVs have full power electric generators for lights, air conditioning, and full vehicle operations.
The downsides are they can be a bit tricky to drive and get around in tight spaces. Windy days on the highway can test your driving skills. There is some set up work to be done at the destination, but this is not difficult. There will be maintenance issues. Once in place, you'll want an alternative vehicle like even a scooter or bicycles to get around. The small spaces might seem confining, but compared to a tent, who's complaining?
RVs are pretty stable once set up. Some units can be top heavy so winds play havoc on them. They are not secure like a wood frame or brick home, but then these are RVs after all, built on wheels. I think there is an adjustment period for some folks, but most I talk to at camping areas and RV parks are very happy with them overall.
As a SHTF bug out housing option, there are more pluses than minuses. The thing is these units are expensive, but their use is flexible. They are no more expensive than buying a house out in an isolated rural area. RVs are certainly an option worth exploring to compare expenses and the flexibility and freedom of use.
If you decide to explore this option, be sure to check the used RV listings. It's a lot cheaper to buy an RV used than it is to shell out for a new one.
I also recommend renting an RV first, just to see if it's something you like and can get into. If you rent one and hate the experience, then it doesn't make a lot of sense to drop a ton of money on one solely for SHTF reasons. There are far better ways to spend a giant bundle of cash on preps than buying an RV. But if after renting an RV you do think that you'd be likely to use it at least semi-regularly, then it's a great option.