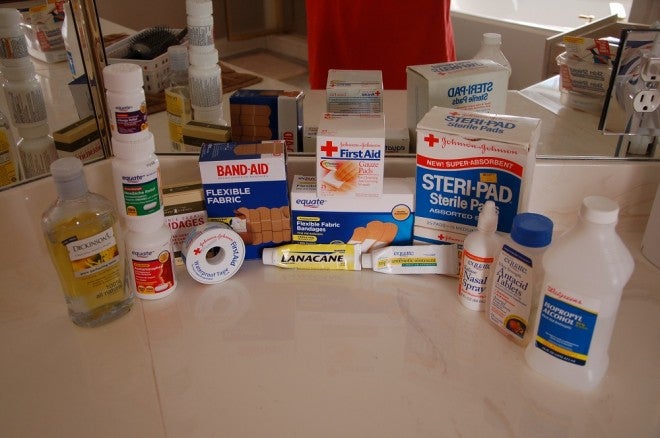 After a recent research review of pre-packaged first aid kits, I have decided that survivalists, preppers, campers, hunters, and all other outdoors people can probably just as well create their own. Now, not that there is anything at all wrong with buying a ready to go first aid kit, but some of them are pretty pricy. So, why not make up your own?
What would you put in a first aid kit? The easiest thing to do is to go to a well-stocked pharmacy or big box store that has a good supply of all the essential ingredients to put into a first class first aid kit. Just shop the aisle and pick what you need. Here are my ideas. What would you add?
First, get yourself a good kit or bag to organize the first aid supplies in. It needs to be a rugged bag with a secure closure, and waterproof. It should have a grab handle as well as a shoulder carry strap. Make it a bright color that everyone can identify as the first aid kit.
Any basic first aid kit needs at least two levels of supplies contained. First are items to care for simple cuts, abrasions, burns, sticks, scrapes, bumps, and bruises. This would include Band-Aids of all kinds, shapes, and sizes. Add to that tube of common antibiotic ointment. Some cleansing wipes are good for cleaning out wounds, and cuts, too.
The next step above a band aid is a selection of gauze pads, rolls, and appropriate first aid tape to secure a wrap over the injury. These are for minor situations, not major cuts that might require stitches. Those are better left to medical personnel.
Get a couple of crush ice packs and heat packs for various types of sprains or twisted whatever. Some elastic wraps are needed for twisted ankles, elbows, and such. Splint type materials and wraps may be needed for short term immobilization of broken bones, arms, or legs.
Medication wise, the barn door is open. A bottle of aspirin is rarely wasted nor are antacids, eye drops, cough drops, saline solution, allergy meds, alcohol, and other common OTC medications as you deem necessary.
These are just the basic components of a first aid kit. Add to it as you build your own.