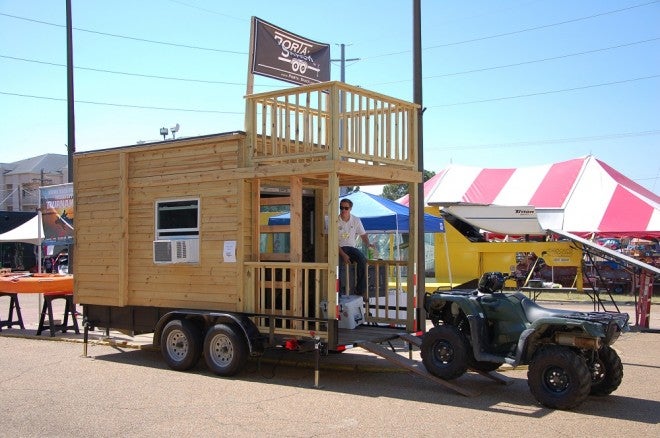 Bug out housing can be an issue when a SHTF event develops. Many preppers spend time creating different kinds of solutions to the getaway issue. Some elect to go the rough camping route, while others buy rural lands with a house or barn or even build a dwelling. Others go the RV route that they can drive and park to ride out the storm.
Another viable option I inspected recently is the Porta-Shack cabin on a portable trailer. The whole rig is compact but actually offers a surprising number of amenities, making it extremely useful for bug out housing, hunting camps, or other recreational situations.
The Porta-Shack permanently sits on a 16 foot by 6 foot trailer with electric brakes installed. The camp house or cabin has 70 square feet of interior space that includes three twin bunks built into the far wall. The "living" space also doubles as a garage for an all-terrain vehicle that can be driven up a ramp through the integral 54-inch roll-up garage door.
The exterior of the shack is a wooden slat construction with two single hung aluminum windows installed that are 36 x 36 inches. With one window on each side of the opposing walls, when open the cross breeze can create a comfortable environment. A window air conditioning unit can be added to one of the windows in warm climates.
Forward of the roll up garage type door is a front porch space as well. One side of the porch is supplied with a ladder to access an upper deck porch with guard rails all around. This space could be used to sleep additional people outside, plus it creates a lounging area or a high up post for observation or even some storage. The Porta-Shack comes with a 5-point leveling system to shore up the trailer and cabin for a perfect level on uneven ground.
Once the ATV, golf cart, motorcycles, or bicycles are wheeled out, the interior space can be easily configured for living space, a dining table, or other optional set ups. A table, chairs, workbench or clothes racks or other utility cabinets can be set in place.
You really have to see the Porta-Shack on line at www.Porta-Shack.com to fully appreciate the compactness and design features of this unit. It would make a perfect SHTF option for preppers, campers, or hunters.