Springfield XD Mod.2 4" Service
Doc Rader 01.15.16

Over the past month I have had the opportunity to get hands on with several of Springfield Armory's new 2016 models (as well as some that have been in inventory for a while which the Mod.2 4" Service falls into). In general, I have not been a fan of the Mod.2 line solely based on the fact that they just don't feel good in my hand.
When I found out I would be reviewing another Mod.2 during the pre-SHOT push, I'll admit my initial reaction was "Ugh, not another one." This opinion is nothing on the design or operation of the weapon. That said, I think Springfield is finally wearing me down, and I'm starting to appreciate the Mod.2 more. Or maybe it is just Stockholm Syndrome. 🙂
Construction
Like every XD I have handled, it is pretty well constructed with the components tight and well fitting. The design is very smooth and snag free, especially the low profile rear sight.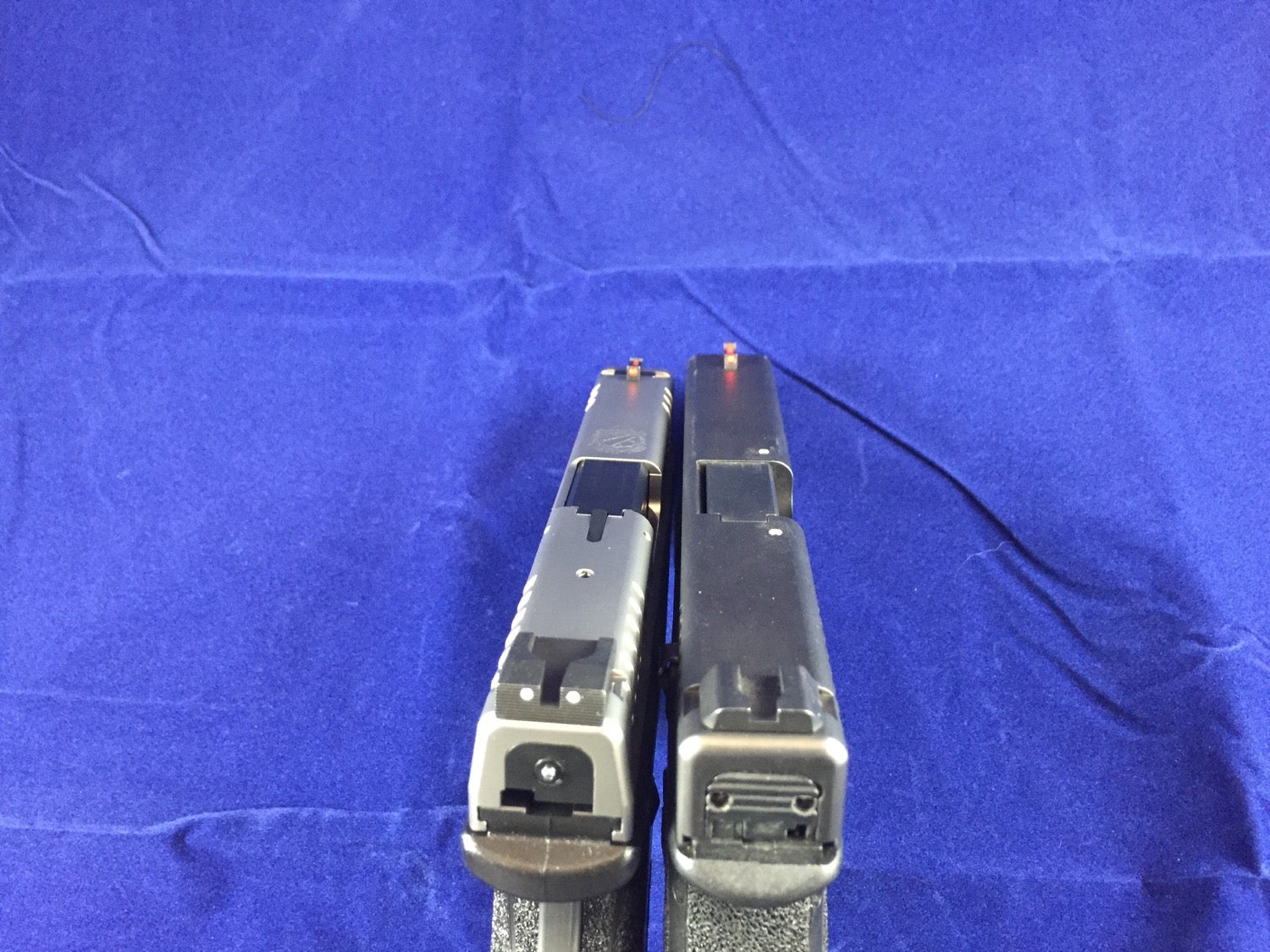 I'm a big fan of fiber optic sights, which this gun has.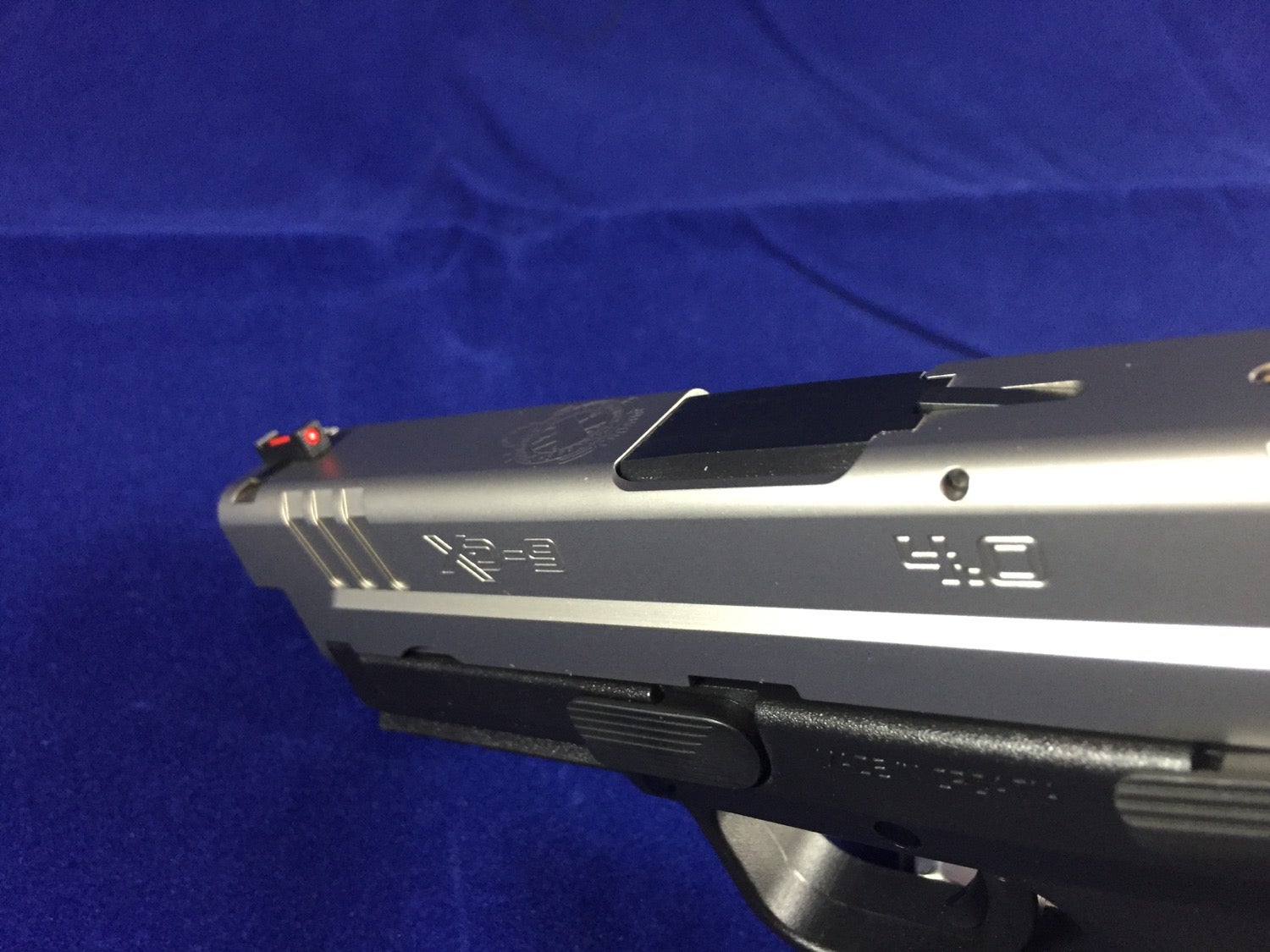 Overall the gun has a pretty narrow profile, which should make it easier to carry concealed. The slide itself has nice aggressive serrations for a more positive grip when racking it.
The grip is patterned in their "Grip Zone," which I do like. As I have had done on my XDs, I had BMC Tactical stipple my XDs, effectively making a Grip Zone (though without the over bearing branding). It has a short rail for whatever you want to mount there.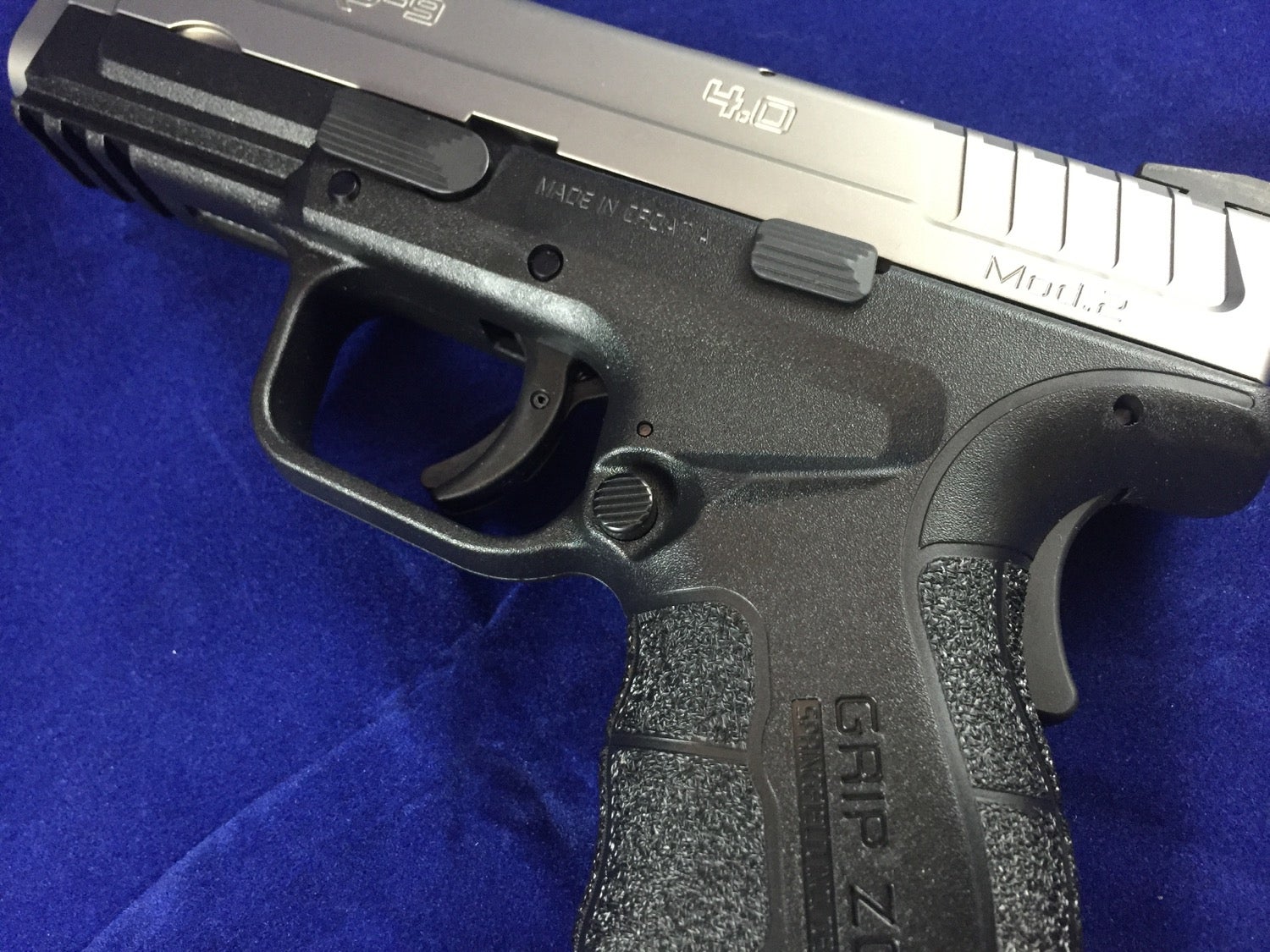 The trigger is pretty smooth and crisp and not at all gritty, though it has a bit longer pull than I would like—though that is really a personal thing. It just felt like the take up and reset was longer than I was accustom to with the other XD pistols I've handled. Front of the trigger guard is smooth and without a "horn."
Just like the other Mod.2s, it has the Glock-style trigger safety along with the grip safety, both of which must be depressed to disengage the third internal safety—the striker block safety. It also has the striker status indicator that the gun is cocked and a loaded chamber indicator on top of the weapon that raises up from the center of the slide when a round is in the chamber.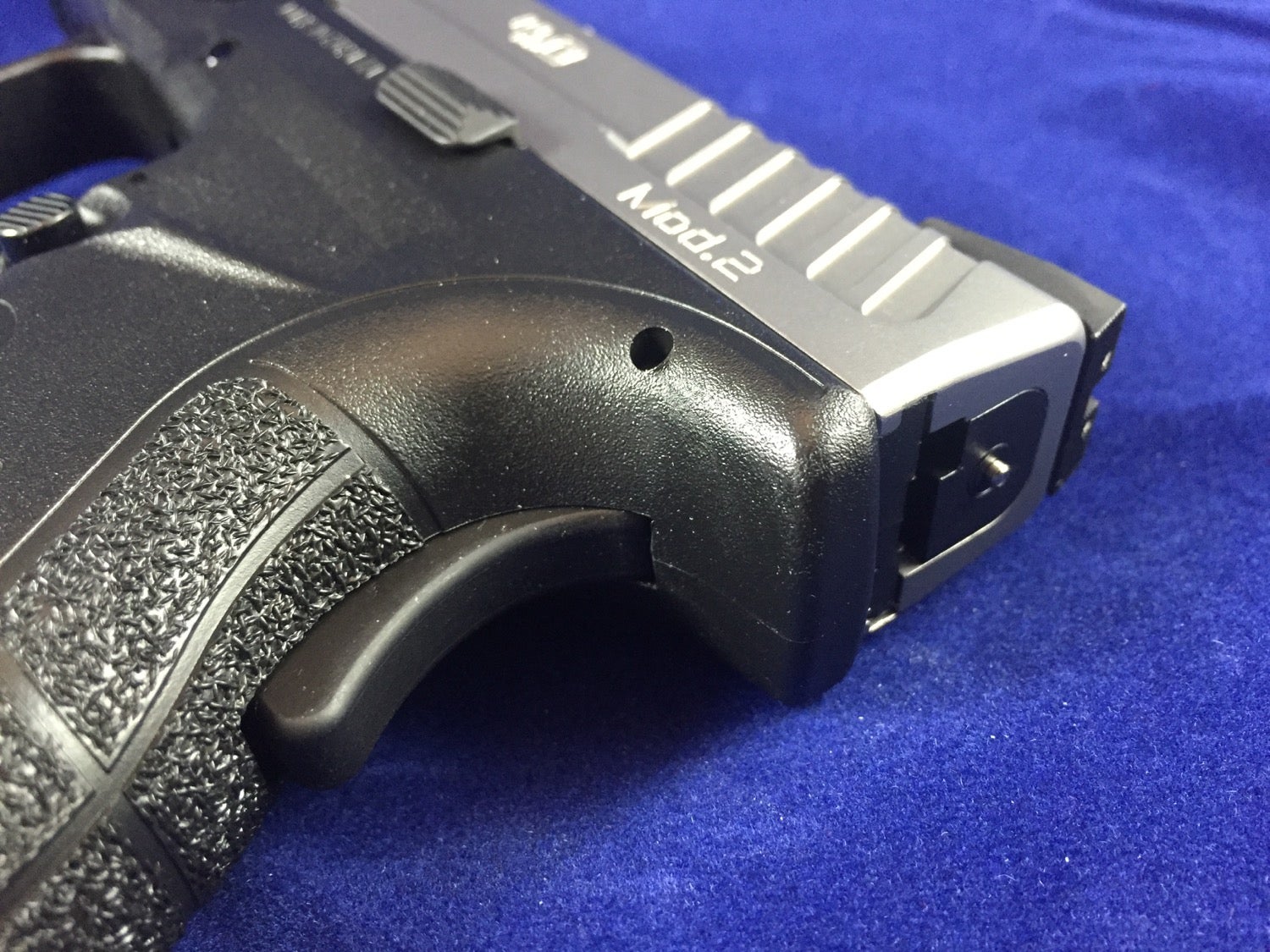 Technical Specifications
Caliber: 9 x 19mm
Magazines: 2 – 16 Round (stainless steel construction)
Barrel: 4 inches, Hammer Forged, Steel, Melonite® Finish with a 1:10 Twist
Sights: Fiber Optic Front and Low Profile Combat Rear
Frame: Black Polymer with Grip Zone
Slide: Forged Stainless Steel
Recoil System: Dual Spring with a Full Length Guide Rod
Length: 7.3 inches
Grip Width: 1.2 inches
Height: 5.5 inches
Weight (with empty magazine): 27.5 ounces
Observations
This gun was a little different from the other pistols in the XD line that I have fired. As I mentioned, overall I'm not a huge fan of the Mod.2 line (over the XDs and now XDM) because none of them have been comfortable in my hand when shooting. I had, up until this Mod.2 Service model, attributed the dislike to the width of the grip, but shooting this one felt different for some reason. It was more comfortable to shoot. The grip width is exactly the same as the others, so there is clearly some slight difference in another area. Maybe I am just getting used to them, or less picky. I still love my XDs, and I am really digging my XDM, but I will begrudgingly give this one a nod.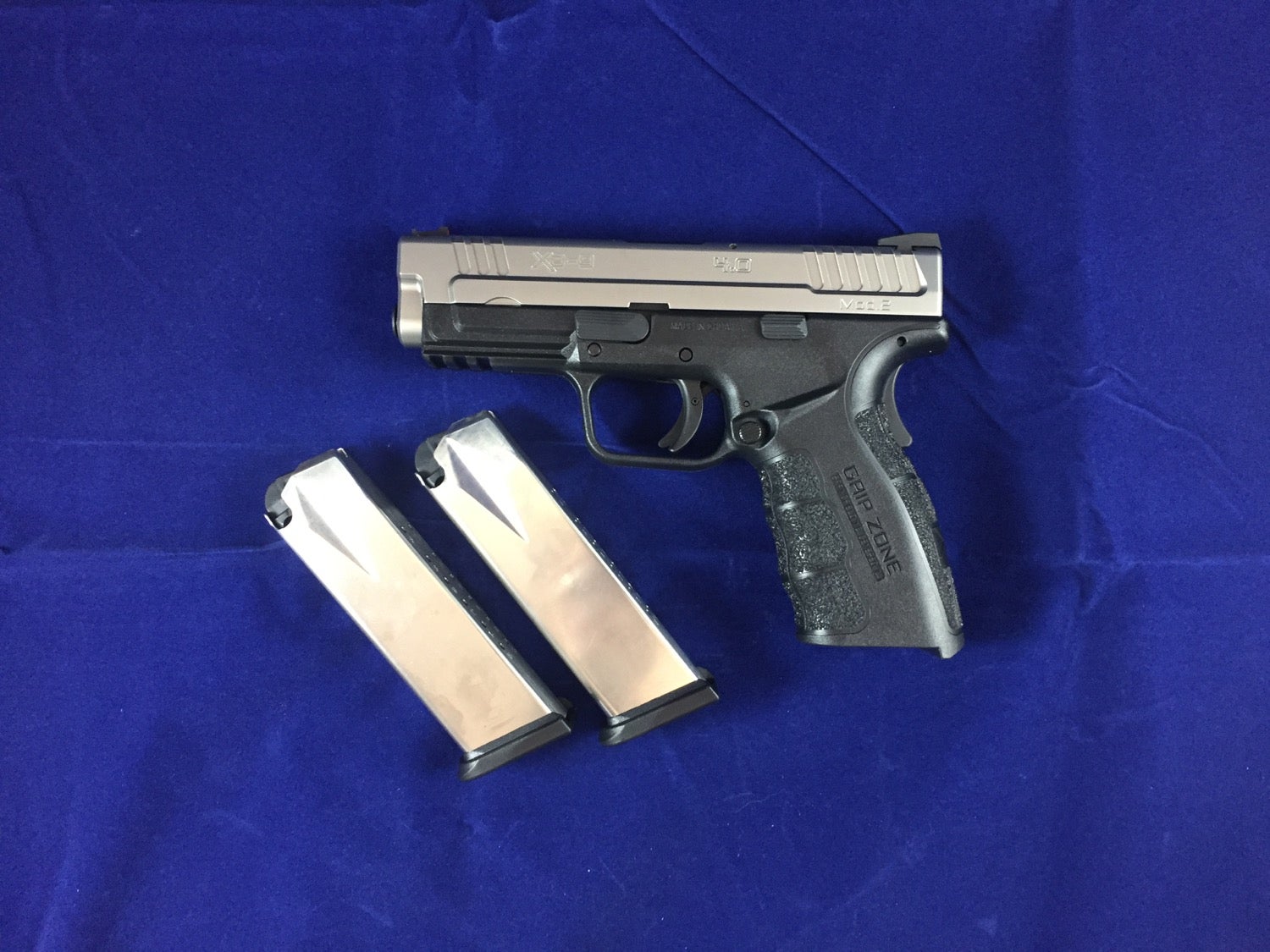 As far as the coloring, I'm not currently a fan of the two-tone with a stainless slide. It is just not my thing, but color has nothing to do with function to me, and functionally it performed well. I did not fire a ton of rounds through it, but it never failed to fire and it cycled appropriately. I was no more or less accurate with it than any other XD I have fired, but again, I didn't really burn a ton of rounds through it.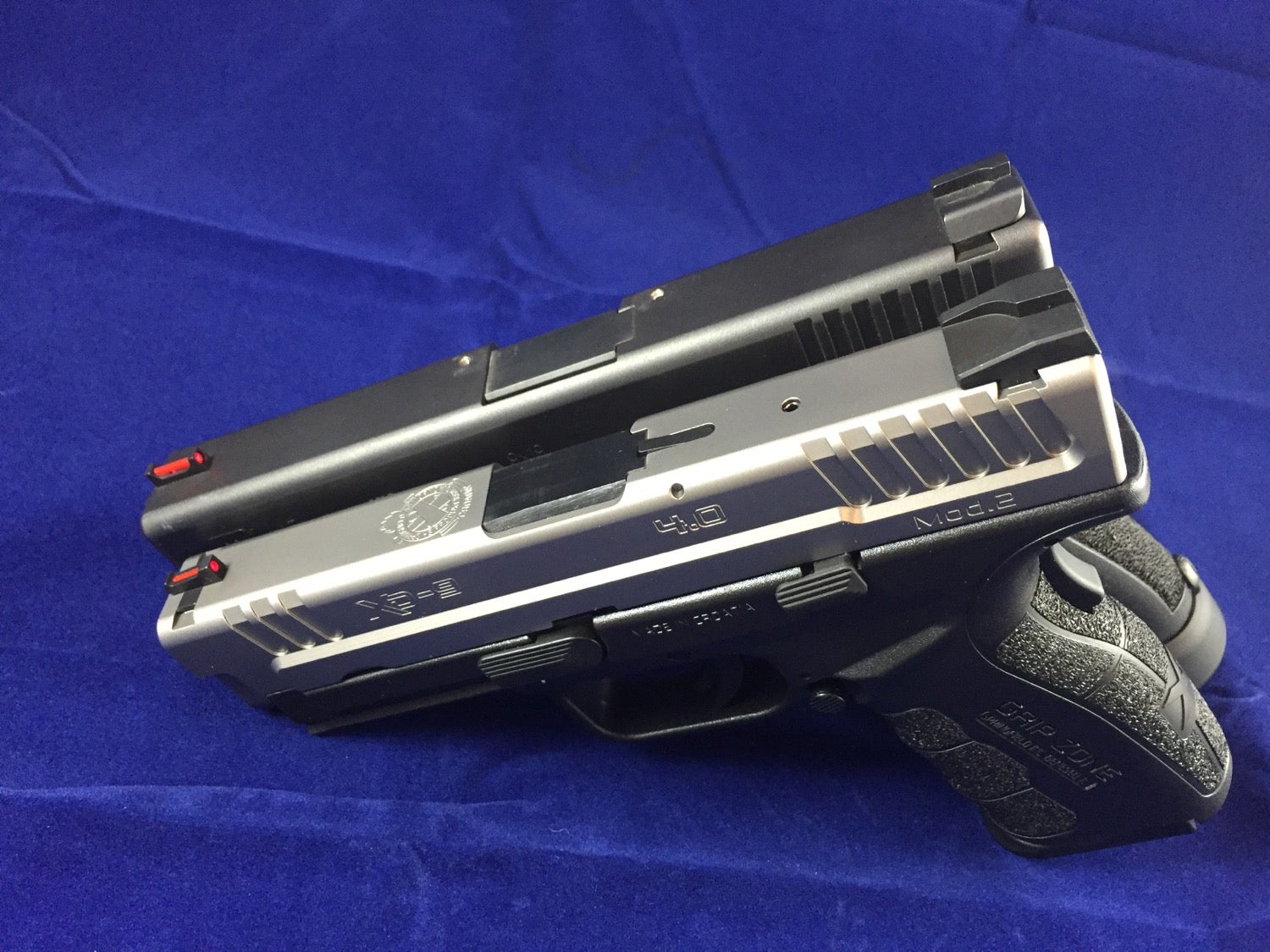 I'm not sure I would personally conceal this specific gun (since I have started carrying a sub compact quite a bit more), but it should serve well if you decide to. The controls and sights are all low profile and have smoothed edges to reduce snagging.
One last note: I thought the capacity was bit odd at 16 + 1. Not a big deal, but that is only one round more than my Glock 19 and this gun is definitely taller.
Conclusions
I mention this in a number of articles I write, and I think it bears repeating—I think the most important thing is to go to a shop and handle the guns and see the one the fits you best. It is even better if you can go to a shop with a range attached and test fire a few magazines.
Springfield has done a good job of creating a line of pistols that has something for everyone. I think it would be hard to argue that they don't have a pistol that will work for you in a price point that is not wallet killing. They have a decent amount of variation in styles and finishes that cover what most shooters need. Go to a shop that carries several of their models and try them out for yourself. I think you will find something that works, and with enough time, you may like most of them.