Seek Thermal's New Seek RevealXR Long-Range Thermal Cam & Flashlight – SHOT Show 2016
Russ Chastain 01.18.16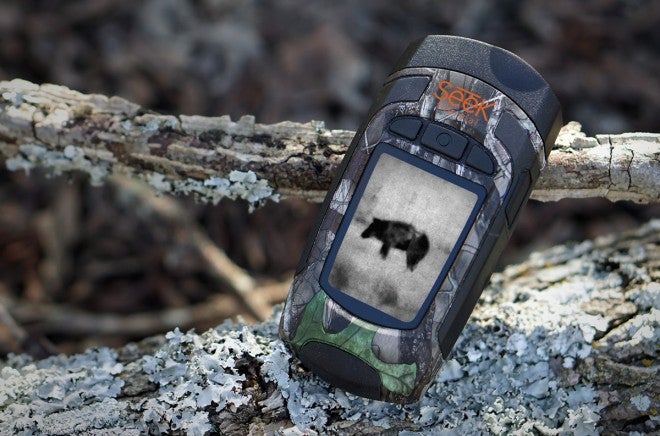 For several months now, I've had a borrowed Seek Thermal camera. I've used it some while hunting (when weather allows), but I've had a hard time convincing myself that it's worthwhile for hunting.
It's a small thermal camera that connects to a smart phone by plugging into the charging port. Use the Seek Thermal app to display the camera's feed on your phone's screen. Pretty cool, actually.
But the field of view is pretty huge (there is an extended-range version available now), and it's run by your phone's battery. When I used it on a loaner iPod touch, battery life was not good. It also hamstrings you by commandeering your phone and not allowing you to use a phone case.
Enter the brand-spanking-new Seek RevealXR, a handheld extended-range unit that has its own case, its own screen, its own rechargeable battery, and even its own bright (300-lumen) LED flashlight. You can capture still pictures with it or simply use it to view/detect heat sources.
They already have the Seek Reveal, which comes in blue and has a wider 36-degree field of view and a 500-foot range. The new model has an extended range (hence the XR in its name) that can reach out to 900 feet (300 yards), with a narrower 20-degree field of view.
The RevealXR will be available in black or True Timber Kanati Camouflage. I got to see it firsthand at the 2016 SHOT Show Range Day, and I'm really looking forward to getting my hands on one to review.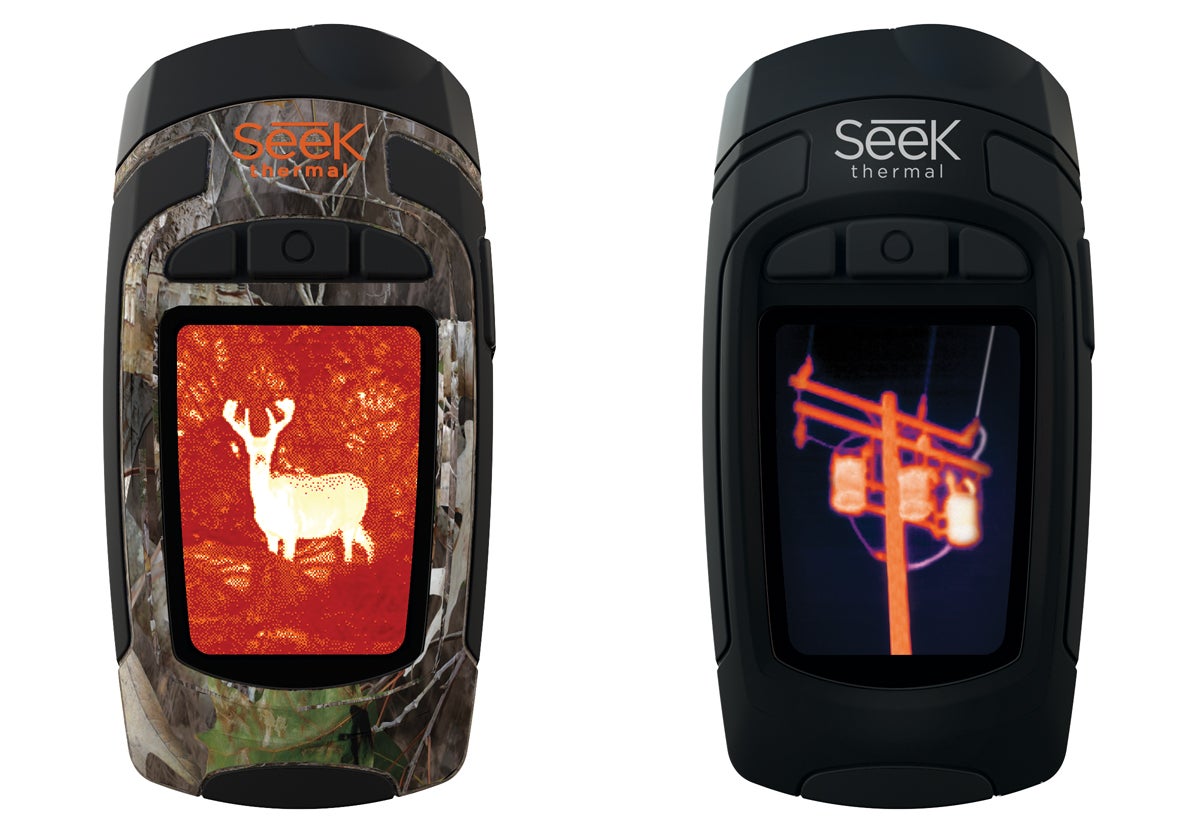 SHOP NOW
The light is pretty impressive, with a high-performance LED that can really reach out there.
Built for long-range detection and identification, the RevealXR features a 20-degree field of view and a detectable thermal imaging distance of up to 900 feet. Its rugged and innovative handheld design makes it easy to capture infrared images in outdoor conditions day or night, near or far. In addition, the RevealXR's powerful 300 lumen LED spotlight makes it ideal for situational awareness and safety, search and rescue, and recognition from a distance.
Seek Thermal worked with Brian "Pigman" Quaca in this project, and they quote Quaca as saying, "With the Seek RevealXR, I've got a handheld tool in my pack at all times to make me a more efficient and skilled hunter. Period."
Wondering why you need a thermal camera? Well, when there's nothing obstructing your view of an object that has warmth–such as a live animal, a dead-but-not-cold animal, or fresh-spilled blood–it shows up clearly on a thermal imager. This can help you detect animals that blend in well with the background and might just make the difference between recovering your game quickly or possibly losing it.
Whereas the extended-range model that plugs into your phone lists for $299, the new RevealXR will hurt your pocket more. It's got a suggested retail price of $449. But if you need/want a thermal imager that stands on its own, I'd say this is as good as it gets–unless you're looking to spend thousands.
The RevealXR features a color display and a 206×156 thermal sensor with a 9hz frame rate, allowing you to see and snap quality thermal images. Store, save and transfer these photos to your computer or tablet using the USB cable or microSD card provided. The rechargeable lithium battery included has a runtime of 11 hours, perfect for extending your time outdoors.

With a suggested retail price of $449, the Seek RevealXR thermal imager in pure Black and TrueTimber Kanati Camo will be available at thermal.com and Bass Pro Shops nationwide this spring in time for hunting season.

Reveal and RevealXR are water-resistant, not water-proof. The device is packaged in a durable, rubberized skin.
It's definitely worth a good close look.
SHOP NOW