Talon Grips: Simple and Effective Grip Enhancement – SHOT Show 2016
Russ Chastain 01.18.16

At the SHOT Show 2016 range day, I had the pleasure of meeting some guys from Talon Grips and got to try out their products.
They're simple products, and that's usually a good thing. In this case, it definitely is. Talon grips are pre-cut adhesive panels, which adhere to your firearm (or phone) and provide either a rubbery or a sandpaper-like surface to enhance the tactility of the surface to which it is applied.
I tried it firsthand on the range, firing three Glock 17 pistols. One was factory, with numerous little pointy bits on it to add texture. It didn't feel bad, and it felt about as good as any Glock when I fired it.
Next, I tried a G17 with a rubber Talon grip. Doing everything in exactly the same way, I immediately noticed less muzzle flip than before. The pistol was much easier to control.
The final G17 wore granulate Talons, and it's pretty rough stuff. If you have dainty hands, don't get granulate. But for those with calloused hands, and especially those who use their guns with hands that may be dirty and slick, this could be a good choice.
For me, the granulate grip provided about the same amount of control as rubber.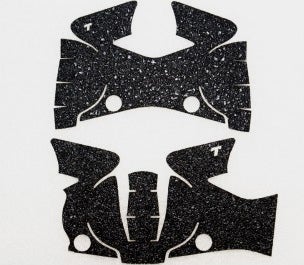 The rubber Talon Grip was my favorite, and in my opinion this simple upgrade makes a world of difference in the way a gun feels and handles. It was also demonstrated to me firsthand how much easier it is to hold onto a pistol while someone's trying to take it away. A Talon-less pistol slipped in my grasp and could have been taken from me, while the rubber Talon allowed me to keep it firmly in hand.
They're thin, at just a half-millimeter. They're made in USA. The adhesive is intended for this purpose (unlike skateboard tape). And they are one-piece wraps specially designed for specific firearms.
If you're concerned about someone trying to take away your gun (police officers have to worry about that), you should look into Talon Grips. If you don't like the feel, you haven't spent very much and they peel right off without leaving behind sticky residue. But I think you'll like 'em.
SHOP NOW