SHOT 2016: Witt Machine's Integrally Suppressed .300BLK Upper
Jon Stokes 01.20.16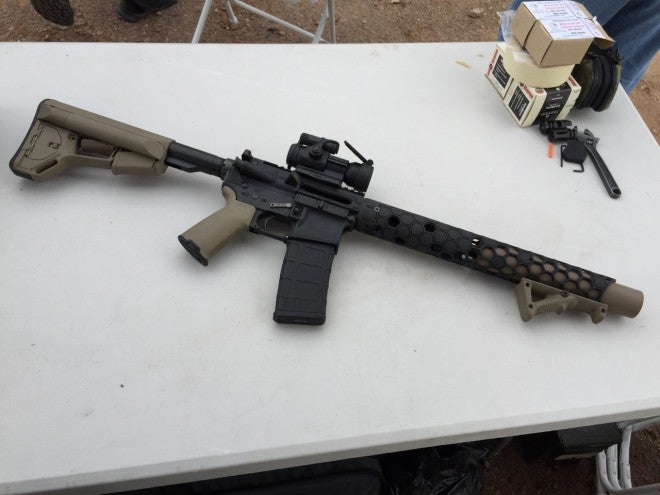 TFB has a really great writeup and video on a gun that I got some range time with on Monday, the integrally suppressed .300BLK AR from Witt Machine.
The receiver has a 16″ barrel with built in suppressor that spans about two thirds of the barrel length. The suppressor adds no extra length to the barrel and instead bleeds gas along the length of the barrel. The suppressor itself sits inside an attractive honey-comb style handguard, adding almost no bulk and no extra length to the upper receiver.

The suppressor is made with titanium parts and is user serviceable. Titanium keeps the weight VERY low and because it is an integral suppressor, the weight is distributed along the barrel, not hanging off the end of the gun ruining balance. The barrel sleeve is available with Polished Titanium, High Temp Graphite Black, or FDE Cerakote finishes.
I really liked this rifle; it was quiet, light, handy, and accurate. I really disliked the cute honeycomb and flame designs on the hand guards, but going by the TFB comments it looks like I'm alone there. Just give me a KeyMod hand guard and skip the bling, please.
In general I feel like there are more integrally suppressed guns showing up at the show this year. I wonder if people are hoping that the Hearing Protection Act will pass and are preparing to ship a ton of suppressed weapons if it does.
I certainly hope that act passes and the US treats suppressors the way that Germany and other European countries do, i.e. as an unremarkable bit of hardware that anyone can pick up at the store. If that happens, I think we'll see a ton of rapid innovation in this market and a flood of new products.