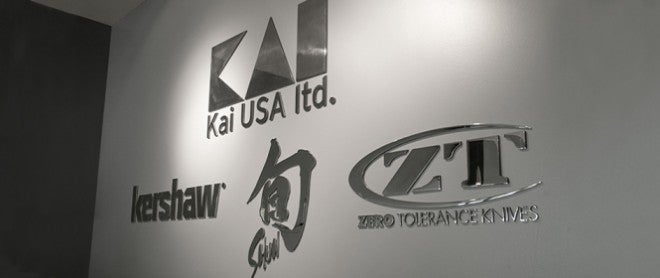 KAI USA is the parent company of three different cutlery brands–Zero Tolerance (ZT), Kershaw, and Shun. Shun makes kitchen knives so we won't touch on them here, but the other two have a lot of new stuff coming out in 2016. I am going to take them separately because they really do target different parts of the market and have completely separate line ups. Note that all images are courtesy of KAI USA.
In the past five years KAI, through ZT and Kershaw, has become something the cutlery industry has never seen before–a true full spectrum knife producer. They make knives that challenge any brand for least expensive on the market and they make knives that are as limited or more limited than some handmade blades. You can get a KAI for $15 retail or $1000.
Not only does KAI have the entire price spectrum covered, but they are also a huge company in a business sense. Almost all of the companies in the cutlery industry are small operations. Spyderco has around 30 full time employees and uses relationships with overseas manufacturers so supplement its very small knife making operating in the US. Benchmade is a bit bigger, but is still probably a medium sized company at best. KAI is different. When Kershaw was purchased by the Japanese company KAI, they became one of, if not the, largest company in the knife world (the only real rival in terms of on-hand capital and employees is Fiskars, which owns Gerber). KAI USA has leveraged this business force to get into virtually every retail outlet in the world that sells knives. From Wal-Mart to truck stops to high-end internet retailers–if they sell knives, they sell KAI products.
The final piece of information you need to know about KAI is that both from a sales perspective and a critical perspective, they have been unchallenged in the last five years. They make knives that sell better than any other (the Cryo is probably one of the best selling knives of 2014-2015), and they make knives that gear reviewers love. Sometimes those two things are in sync (the Skyline, for example, is probably their best selling manual opener and is a critical darling). All this is a lead in that establishes one fact: it's hard to dispute that KAI is the best in the business right now.
Will their 2016 line up continue that trend? Read on.
Kershaw
Two trends emerge from Kershaw's 2016 line up that solidify the direction the brand is taking–collaborations and budget focus. It used to be that Kershaw had a lot of mid priced knives and some less expensive overseas made stuff. There are no mid-priced, USA made offerings in the Kershaw 2016 line up, outside of the autos, which I will discuss separately below. Every knife in 2016 is an overseas made blade. Some will undoubtedly be mid-priced, but the days of the Skyline, the Knockout, and other knives of their ilk seem to be over.
This is not necessarily a bad thing, as some of the new 2016 blades are sweet looking, but it is a sign they are doing more to separate Kershaw from ZT. The Tilts and the Rubies of the world are going to be even rarer if 2016 is any indication. The other trend that continues is the use of custom makers. Todd Rexford, Les George, and Jens Anso (yes, you read that correctly, we have some KAI/Anso collabs this year) all feature prominently in the 2016 line up.
Kershaw has as many new knives for 2016 as some companies have in their entire line up. As such, I will just touch on a few. My favorite new knife is either the Showtime, a Todd Rexford design, seen above, with its 3 inch blade of 8Cr and a two tone finish on the blade, or the Induction, the first Hawk lock in the Kershaw line up. A lot of Kershaw's new stuff is variations on a theme: 8Cr, Chinese made, steel handled frame locks. They tend to be solid, if unspectacular, and a bit heavy for what they are.
The Pico, a design by Les George, also snagged by eye
Kershaw has a new penchant for combining a single tool and a knife. Want a knife + pry? Try the Barge. Want a knife + tweezers? Try the Decoy. Want a knife + screwdriver? Try the Payload. And of course there is the obligatory knife + bottle opener (the Hinderer Cinder). Other knives that caught my eye were the Intellect and the Pico, both of which look nicer than their MSRP would suggest.
Almost as a standalone line, Kershaw is expanding their offerings of autos. In addition to last year's Launch 1-3, they have the Launch 4, 5, and 6. The 4 is a California legal switchblade with a 1.9 inch blade. I have had the chance or handle a few Cali-legal blades and I can tell you that they make great EDCs. The legal issues associated with switchblades are going away, and as they do, it might make sense to buy a Dragonfly-sized auto. In that case, California resident or not, the Launch 4 looks promising. The Launch 5 is distinctly different. This is a real, tactical auto. It is larger than the other four and has lines very similar to an Emerson. The 6 is even more different still with very aggressive styling and design. Using a modified spear point blade made of CPM154, the Launch 6 is a surprisingly high end offering in the otherwise budgetized Kershaw 2016 line up.
ZT
2016 is the tenth anniversary of ZT, and boy have they brought the thunder this year. One caveat, though: ZT always saves a few uber-high end releases for Blade Show to help pump up votes for the Blade awards, so what we have here is probably not the full line up. I imagine we will see something totally insane at Blade if past history and the tenth anniversary are any indication.
The most important blade in this year's ZT line up is the ZT0220, a collaboration with Jens Anso.
This is the first knife from KAI designed by Anso, who is one of the most original and most sought after knife makers in the world. His prior collaborations with Spyderco, Boker, and Fox have all been well received, but the ZT0220 is a step above even those. This is a real Anso that is not just a mimic of a custom. It has elements of his Ziggy, but is larger and more conventional. It has his backspacer/lanyard point, and it has the curvy, hand pleasing shape he is known for. Running a 3.5 inch blade of S35VN, no knife in any company's line up has me as excited as the ZT0220.
But there are more hits coming. Dmitri Sinkovich, Russian knife maker, and designer of the legendary ZT0454, is coming out with a smaller 3.25 bladed knife running CTS-204P called the ZT0456.
The steel is Carpenter's CTS-204P, a USA Made powder metal steel similar to the European M390. This knife has some of the touches we see in Russian blades–clean looks, faceted handles, and beefy scales, pivot, and blade. The unconventional blade shape appears very utilitarian.
Some of the in-house designs (usually by the great and unsung Jim McNair) look amazing too. There is the ZT0095, a cool dark flipper with S35VN steel and a harpoon spine. The angular handle looks like it will be functional and the deep carry pocket clip looks excellent. It's hard to miss the similarities between the ZT0095 and last year's high end Kershaw, the Ruby–except this time there are no ugly logos all over the knife.
Rexford designed another blade for ZT, based on his Gamma. This knife looks very, very simple, like a well made fixed blade, but underneath the simple look is depth and complexity (a hallmark of Rexfords). The show side is a very unusual looking carbon fiber. This is a big blade too, with a 3.6 inch handle.
It's clear that KAI knows what the masses want and what enthusiasts want. The lineups are getting more separated, as the number of 8Cr knives is at all time high in the Kershaw line, both in terms of percentage and raw numbers. In contradistinction, ZT is really exploring new steels and new companies, which is a good thing. And finally, the segregation of assists to the Kershaw line almost exclusively (only the ZT0350 and ZT0770 are hold outs in the ZT line) prove that this is a feature for hoi poloi (yes, I am a knife snob…an insult in Ancient Greek is all the proof you need).
Overall there can be no doubt–KAI USA has the best 2016 line up of any company in the knife business. They continue to own the low end and the high end, and they compete well in the middle. The lack of true mid range knives in the 2016 line up with high value steels like 14C28N is a bit concerning, but it might not make sense to spend development money there when you have a knife as good as the Skyline. ZT continues to show that you can make enthusiast blades on a large scale. No one can match KAI right now, not Spyderco, not CRKT, and certainly not Benchmade. In the past five years KAI has always been competitive, but over the last three, they have really distanced themselves from the competition. 2016 is the year they will start and end as the number one company in the business.
Grade: A+
Instabuys: 6 (oh God, my wallet just had a heart attack; Kershaw Showtime, Pico, and Induction; ZT0220; ZT0456; and ZT0095)


SHOP NOW