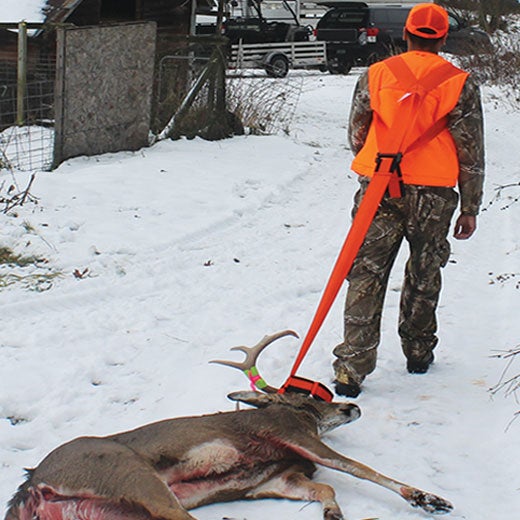 While walking the miles and miles of aisles at the 2016 SHOT Show, I saw something I liked. Well, I saw a lot of things I liked, but I guess this one hit home because I can still clearly recall my experience of dragging my first bear out of the woods last October. They call it the Deer Dragger, but I'm here to tell you it will help a lot for dragging other big critters.
The company is called Forearm Forklift, and they make heavy-duty lifting straps designed (and patented) to allow for easier lifting of heavy objects. Well, they've turned their strap-making know-how to making the Deer Dragger, too.
There are three options for the Deer Dragger. The ATV model contains one drag strap and one large carabiner (for attaching the strap to your ATV or UTV). The Bootin' model is for using pure manpower to do the job and contains one shoulder harness and one drag strap. The Value Pack contains one shoulder harness, one drag strap, and one large carabiner. Harness and drag strap are bright orange in color for good visiblity.


SHOP NOW
All drag straps are 7'4″ long.
The harness is made of strong webbing a full three inches wide. Let me tell you, the skinny strap I had to wrap around my waist when I dragged that 263-pound bear out of the woods really dug into me, but these wide straps wouldn't. Plus, this harness lets you pull with your shoulders.
The harness has two heavy-duty things made of plastic-coated steel. I guess you could call them buckles, but they're not really. You hook each one to the drag strap while you're wearing the harness, and off you go. Harness and drag strap are bright orange in color for good visibility. See the video below.
When using the ATV/UTV model, you use the huge carabiner to attach the strap to the machine, rather than to a shoulder harness.
This thing is well-made and heavy-duty, and I like it. And the next time I go hunting for big game, I hope to have a Deer Dragger in my pack.