MegaBOOM Lets You Make Exploding Targets Without Chemicals – SHOT Show 2016
Russ Chastain 01.25.16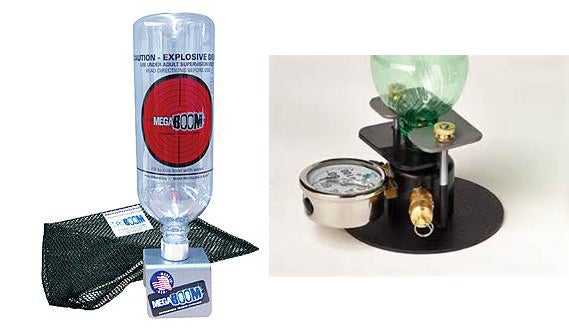 While patrolling the aisles at SHOT Show 2016, I noticed the MegaBOOM display and circled back for a closer look.
I soon ascertained that MegaBOOM is an adapter, to which you attach plastic bottles, such as 2-liter or smaller soda bottles, which you then pressurize with air and shoot to get a loud boom.
With the bottle charged with a minimum internal pressure and a solid enough hit, the bottle ruptures with a loud boom, which they claim is supersonic and thus is a sure-nuff sonic boom.
When pressurized, he said, the bottles aren't dangerous. They won't explode when dropped or tossed against something–nor even if pierced with a BB gun or underpowered pellet gun. A good hit from a bow, crossbow, or firearm will usually make the big boom. There are no explosives at work, and the adapter has a lifetime warranty–unless you shoot it instead of the bottle.
They also say this: "If you buy it and try it, and you don't think MegaBOOM gives you more boom for your buck, we will give you your money back."
Using the recommended hand pump takes a pile of work to generate the required pressure, so I would be prone to use an air compressor myself. After all, life is short.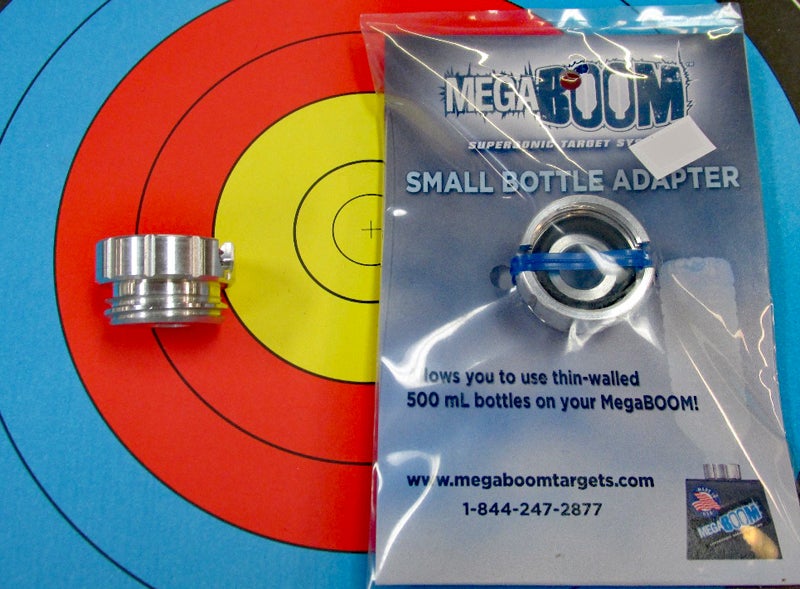 The MegaBOOM starts at around 25 bucks. Other options are available, such as a thread adapter for using smaller bottles or an adapter that can clamp a bottle on instead of using the threads.
Some poking around on YouTube showed another product called Big Blast, which used a simpler system that employed a needle like you'd use to inflate a soccer ball, but as near as I could tell, that is no longer available. Bummer.
The video below is intended to show how safe these targets are.
Looks pretty fun, and in the end considerably cheaper and less destructive than Tannerite.