Laser Ammo Interactive Multi Target Training System at 2016 SHOT Show
Rob Reed 01.26.16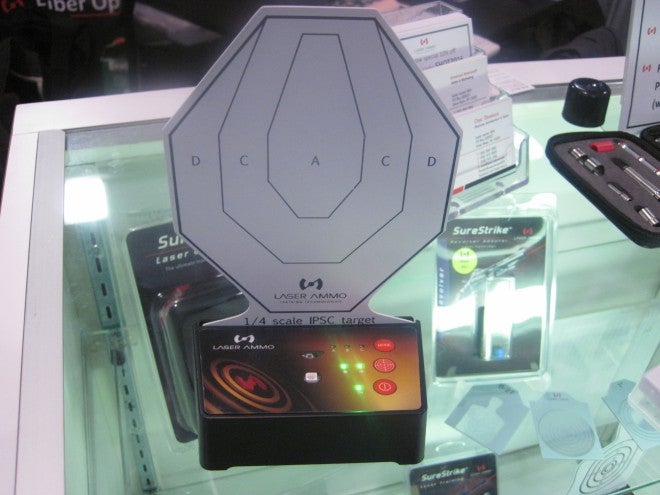 At the 2016 SHOT Show I made it a point to stop by the Laser Products booth to see if they had gone into production on a prototype target they displayed last year.
The new target series, the Interactive Multi Target Training System (i.M.T.T.S.), is finally ready for release and is even better than the early version I got a sneak peek at last year.
The i.M.M.T.S is set of interactive targets used with the company's laser products. Each unit consists of a plastic base with electronics and a slot for insertion of scaled down reflective targets. The target choices include 1/4 scale IPSC targets, bullseye targets, and silhouette targets.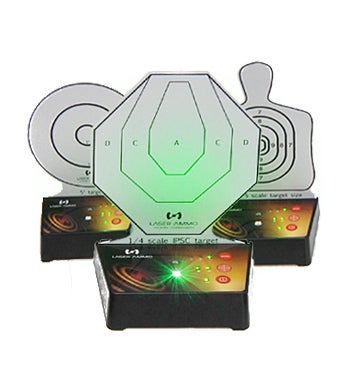 When the laser hits the reflective target, it activates the electronics of the base unit. This changes the colors of a light on the base to show a hit. That light is reflected up onto the target where it can be easily seen. The really neat thing is that the target bases are wirelessly connected which allows them to perform five interactive modes.
The modes are:
Mode 1: Stand Alone Mode
Mode 2: Steel Plate Shooting
Mode 3: Chase the Ball
Mode 4: Shoot/Don't Shoot
Mode 5: Double Speed Shoot/Don't Shoot
Laser Products also released a new airsoft attachment, The Spider, that allows airsoft guns to shoot lasers useable with the company's products.
The i.M.M.T.S current retail prices are $89.95 for one unit, $224.95 for a 3-Pack, and $314.95 for a 5-Pack.
The Spider airsoft attachment retails at $53.95 and requires a separate SureStrike Vibration Cartridge.
Watch the video for a demonstration of the various modes i.M.M.T.S system and Spider attachment.