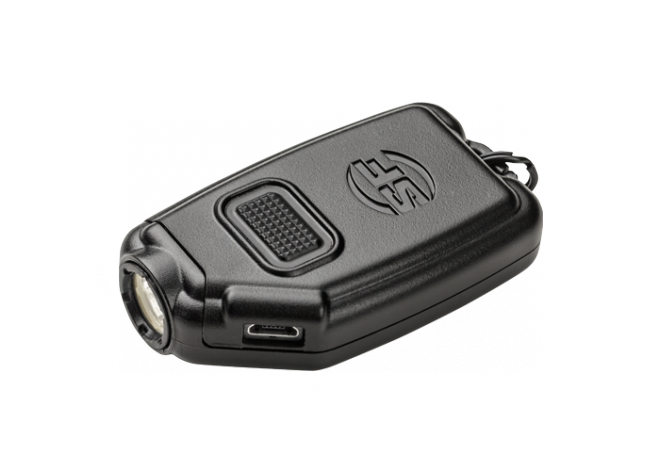 Lots of companies showed off gear at SHOT Show without releasing as much new stuff as the other brands I have covered thus far. Here are some of the highlights.
Kizer
Kizer is a Chinese knife company that, along with a few others, has started to produce very high quality knives for very good prices. I thought the Kizer Gemini was the best product of the year last year, and a survey of 232 readers from my site agreed. Their use of top flight materials, great collaborators, and amazing machining ability has positioned them very well in the marketplace. They are a real rival to the best American and European knife companies. It's not silly to mention them as competitors to Benchmade, Spyderco, and Lionsteel. The 2016 line up from Kizer is both large and intriguing.
Over the past few years they have been supplementing in-house designs with collaborations with very well known and very highly regarded knife makers. In the past they collaborated with Matt Cucchiara to some success. In 2015 they released three knives based on Ray Laconico's designs. This year they have added John Gray to the stable. And before the comments come pouring in, after some extensive research I believe there is no reason to think they stole Tim Britton's Tango design. For more on that see here.
This year they had a ton of nice stuff on display. John Gray has two new knives coming out, including a production version of his well-received custom called the Thuck. Matt Dagnon's Roach design is being put into production, as are a pair of Mike Vaganino customs, the Velox, which features a flipper tab that hides when the knife is deployed, and the Eliminator. The Vaganino/Laconico collab, the Lancer, is being upgraded for another release, this time with lightening holes a gold anodizing.
The biggest news out of Kizer is the release of their Vanguard line.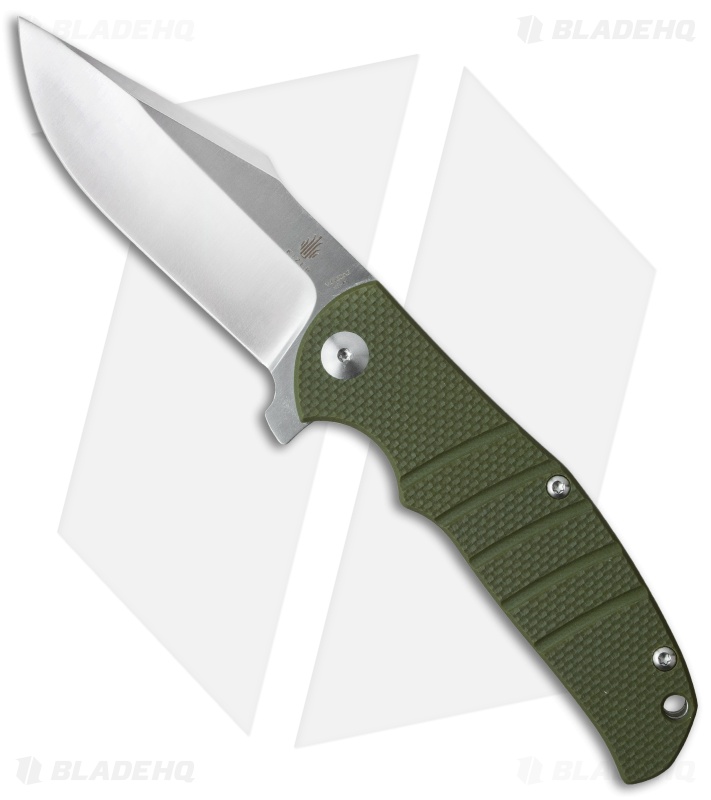 If you like their stuff but tire of one titanium framelock flipper after another or you want to spend a little less, they offer many of their new designs in VG-10 with G10 handles. These value oriented blades are identical in every other way. Well, not every other way; they are usually about $50 cheaper.
Grade: A- (good, unique designs from collaborators and brilliant move with the Vanguard releases)
Instabuys: 1 (Velox)
Surefire
Surefire's move to the EDC space is pretty striking this year. They have a purpose built keychain light, the Sidekick, that looks amazing and a cellphone battery pack with built in lights called Firepak.
This adds to the impressive selection of stuff from last year, including the Titan and Titan Plus. They also expanded the number of lights using the Intellibeam system that auto adjusts brightness on lights. There are a number of upgrades to tactical lights and bunches of new shooting accessories, but I don't have the expertise to meaningfully discuss these items here. In all, this is exactly the direction Surefire needs to be going–conceding the consumer market to Chinese companies and other US makers was never a good idea. With Surefire's technical prowess they can take anyone on in any segment of the market. 300 lumen light just slightly larger than a Photon with a rechargeable cell? Sign me up.
Grade: A
Instabuys: 2 (Sidekick and an Intellibeam equipped light)
Leatherman
Leatherman's banner year last year with the release of the Tread is hard to follow up, and usually, given the incredibly long product development times for Leatherman, they put stuff out a few years apart. This year they had a rescue variant of the Skeletool and a knife less version of the Rebar. Both looked good, but both are very specialized tools. As with all Leatherman stuff, if you want the features they offer, their tools are usually at the top of the market in terms of quality. I could easily see the Skeletool Rescue rivaling the Benchmade Triage as the mutlitool choice for EMTs.
Grade: NA (none of their new stuff is for me, hard to say if it is good or not)
Instabuys: NA
SOG
SOG is releasing a line of back packs, all of which have some potential. They look good, but as with most gear (and packs in particular), the fit and finish and materials are of crucial importance. Their semihard shell top does make the wearer look like a beetle, but if they are well made, it might be worth the trade off in terms of looks.
They also had a few new knives. There was a "high end" Zoom with S30V blade steel, aluminum handles, and carbon fiber inserts, but the knife's hideous and uncomfortable handles mean that this is DOA for me. It is notable as the first SOG to use S30V steel. This is a good thing in the abstract, but it is a sign of just how far behind the times SOG designs are right now. They also showed off two thin design knives (think SlimJim from a few years ago) called the Targa. They run VG10 and are assisted openers. Both also use an Arc Lock. Neither look particularly awful, which is a marked change from last year batch of junk blades, but they aren't terribly exciting either.
The final new knife they showed off was the Quake with its assisted opening swing guard (think Case Cheetah). It is one of the clunkiest, ugliest, and unnecessarily complicated designs I have seen in a long time. It looks positively awful, joining the parade of trash SOG put out last year. The last thing that SOG showed was the Reactor, their answer to the Leatherman Skeletool, a minimalist mutlitool. If the weight is right, it could be a real winner thanks to an innovative centered bit holder that allows you to used the entire tool as a screwdriver handle.
Grade: D
Instabuys: +/- 1 depending on the weight of the Reactor
Boker
Boker's push towards mainstream credibility continues. They debuted a series of American made knives that run 154CM and bear a striking resemblance to Cold Steel's Voyager. They also showed off some new updated versions of the Vox F3 and the Burnley Kwaiken. The F3 now runs S35VN while the Kwaiken has G10 that looks like wood grain and a bolster.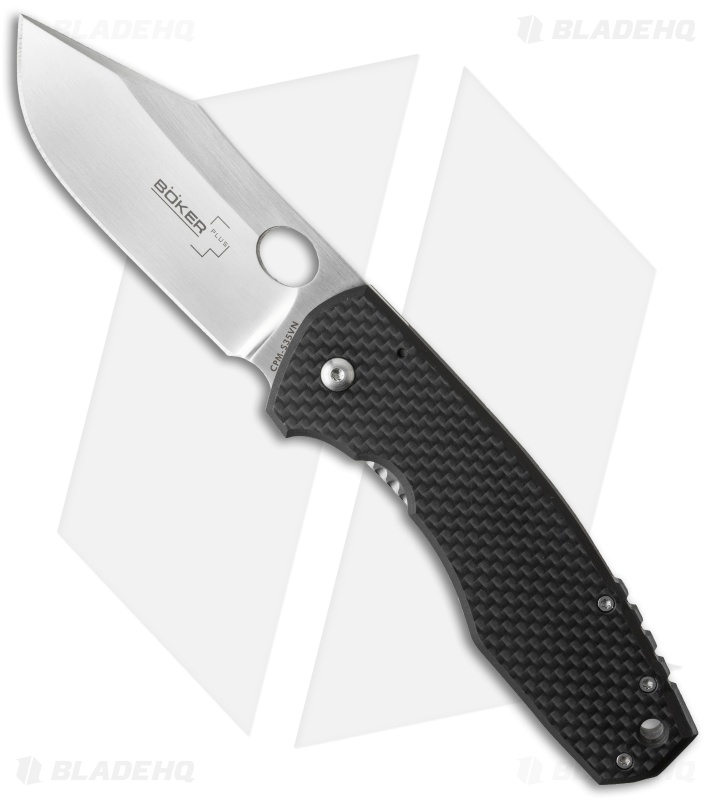 They also showed a titanium frame lock under the Real Steel name that looked very competitive, specs wise, with some of Kizer's knives. If only we could trust the fit and finish of Boker's stuff. The push continues, but they aren't quite there yet.
Grade: C
Instabuys: None, if you exclude the new Mini Kwaiken (already bought it)
Smaller Brands
Medford is a small US brand known for big and expensive knives. This year they continued that tradition but made some interesting in-roads elsewhere. The Marauder, one of their evergreen designs, was shrunk not once but twice, resulting in the Midi Marauder and the Dress Marauder. The Dress Marauder just might be my first Medford knife I review. Price wasn't disclosed, but so long as it is not too much, it might be the one. They also showed off the Burung, a folding karambit that looked, well, karambit-y. The Sherman and the Infraction were both shown off as well, but neither really caught my eye.
TOPS Knives showed off a wide array of normal TOPS knives–fixed blades made of 1095. One thing that did break up the monotony was their first folder, a large bushcraft focused folder called the Fieldcraft. It was one of two fixed blades they have in the works. They didn't reference any specs, but it is at least different.
Buck had an assortment of "primitive hunting" blades and tools including, ready for it, a trident. The only knife stuff they had was a pair of folding versions of their Selkirk fixed blade that debuted last year. One had an innovative adjustable tightness sheath. The other didn't. Both had 420HC and the brown and black handles of the original. It's a bad year when your most interesting item is a sheath.
Lionsteel had a sparse showing, perhaps because as a European maker they were saving things for IWA, which is usually in March or April. They did show off the larger version of the TRE, called the Kur. Being a Lionsteel it was both fundamentally sound and adorned with some BS gimmick–in this case a color change handle. Lionsteel just can't seem to resist the gimmicks, and they do hurt the brand as they have yet to be seen as a prestige brand on par with Chris Reeve or Strider, despite their possibly superior machining capabilities, good fundamentals, and excellent choice of materials. The Kur is more of the same, just a bit bigger.
Spartan is another small knife brand, known for very expensive, high end hard use knives. They showed off two knives, the Bill Harsey design and a knife called the Metis. The Harsey is big and Harsey-esque. It has a complicated handle shape, this time with finger scallops and a nice simple blade. The Metis is apparently an in-house design and it is smaller, a flipper with a bearing pivot and both run S35VN.
Gerber showed off a few items that were either rehashes of old stuff with crappy steel or new stuff, also with crappy steel. Their decision to bring manufacturing back to the USA is laudable, but their use of materials isn't. Premium prices without premium materials is not a good plan. But then again, this is Gerber and any plan is better than what they have been doing for the past few years–they are more likely to show up on a government recall list than a knife knut's most wanted.
DPx Gear had one thing on display, the first Kickstarter knife from a production company called the Urban HEST.  The knife is all American made, and it looks like a very good EDC sized knife.
The KS versions are going out soon, and the production ones are following shortly thereafter.
Conclusion
SHOT Show's debuts are so much fun to watch from afar. Eventually I am going to go in person. Until then, thanks to all of the makers that gave me sneak previews via the Internet, email, or overnighting me a bunch of product literature.
KAI won this year, basically lapping the field, but Kizer and Spyderco are definitely in the top tier as well. CRKT continues to hit the middle of the market and Boker is getting better. Benchmade seems to be losing ground both in terms of market space and design creativity to just about everyone. ZT kills them in the premium space, and ZT, Kizer, and Spyderco smoke them in terms of innovation. I hope they can turn it around and 2016 offers a few glimmers of hope. SOG and Gerber continue to slide in the enthusiast irrelevance as they both struggle to see who can out crapify the other. The Quake is the single clunkiest and ugliest piece of gear I have ever seen. Oh wait, Buck released a collapsible trident, never mind….