Auto-Ordance New 14″ Barrel Non-SBR Thompson at 2016 SHOT Show
Rob Reed 02.03.16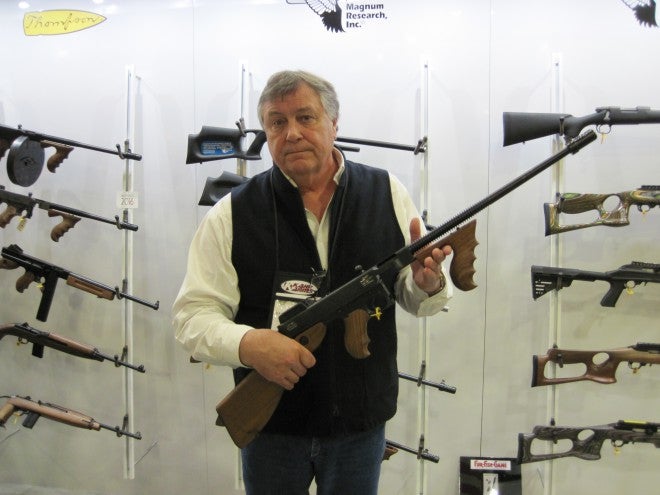 Auto-Ordance has been making semi-auto versions of the classic American Tommy Gun for years in both "Gangster era" configurations and World War II versions.
One issue with these semi-auto reproductions has always been barrel length. The original guns had barrels that were under 16″ inches, and while Auto-Ordance does offer Short Barrel Rifle versions, the required paperwork and $200 tax makes them a slow seller.
The new Thompson T114 attempts to make a more proportional looking "Gangster era" rifle by reducing the barrel length from 16″ to 14″ and then permanently attaching a 2″ compensator styled after the Cutts Compsensator found on the original Model 1921AC and Model 1928AC Thompson SMG's to bring it back up to the required 16″ minimum.
The original Thompsons had 10.5″ barrels that extended out to 12″ if a compensator was attached. While the 14″ T114 barrel is still 4″ longer than the longest original, it does look better than the 18″ overall length of the other semi-auto versions that have a compensator. If you want a "gangster era" semi-auto that looks good and don't want to go the SBR route, I'd consider the Auto Ordance Thompson T114.