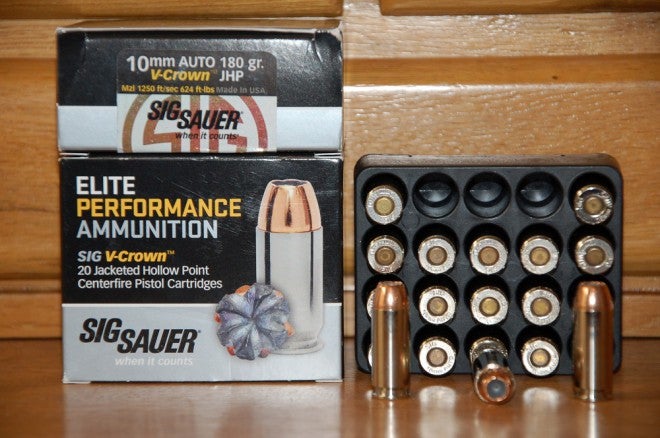 Sometimes surprising news comes out of the shooting industry. For example, the 10mm pistol round has not exactly been on the radar screen, ever. Very few pistol shooters have taken up with the 10mm, and thus it has languished on the verge of dropping off the radar altogether. That is until a recent blip popped up again.
This current blip came in the form of the announcement by SIG-Sauer some time ago to produce their exceptional P220 Match Elite pistol model in 10mm. The pistol itself is a beautiful piece of work, with its two-tone "reversed" color scheme. That means the slide is blued dark, while the frame is a subdued stainless steel. Unfortunately I have not gotten my own mitts around one yet, but I hold out for that opportunity.
It comes with a 5 inch barrel, 8+1 capacity magazine, unloaded weight of 2 pounds, 6.4 ounces to be exact, Hogue G10 Piranha grips, three-dot SigLite night sights, and packaged in a heavy duty plastic Kimberish slide lock gun case. It is one fine looking pistol on paper anyway. As this report is really not intended to be about the delivery platform of the 10mm, interested parties can study more specifics of this P220 on SIG's web site at www.sigsauer.com.
The 10mm has been compared to a .45ACP on mild muscle building supplements. I shoot the 10mm in a Kimber Stainless Target with target sights suitable for close range hunting, but I have not been overly distracted by the recoil or muzzle blast of the 10mm over a .45. I compare it to the 9mm sort of in terms of its apparent snappiness of recoil, but not at all abusive.
Of note, too, is the fact that SIG has also gotten into the ammunition business and will be bringing out new 10mm ammo for this P220. Their 180 grain offerings will come in two versions, one a FMJ bullet and the other a V-Crown JHP one assumes will be for hunting.
Alas, the P220's sights are not really intended for hunting, but could be in a pinch for short ranges. SIG says this ammo is for law enforcement, civilians, and hunters. The muzzle velocity on this round is cataloged at 1250 fps. That's pretty snappy.
So, if you are looking for something more powerful than a .45 ACP in a nice pistol package, give your dealer a ring about the P220 Match Elite.