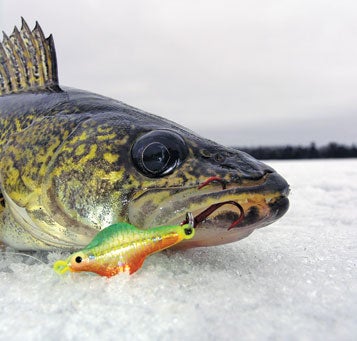 Ice fishing is as much a religion as a sport throughout much of the far North. And for some hard-charging ice hounds, the catching is even better when the water is hard, not soft.
Some of the very best winter walleye catches are made on classic hard-bottom sunken
bars where fall open-water fishing was hot many weeks earlier. Not only are walleyes still using such structures with ice on the roof, but many anglers are also familiar with the areas so pinpointing fish can be easier.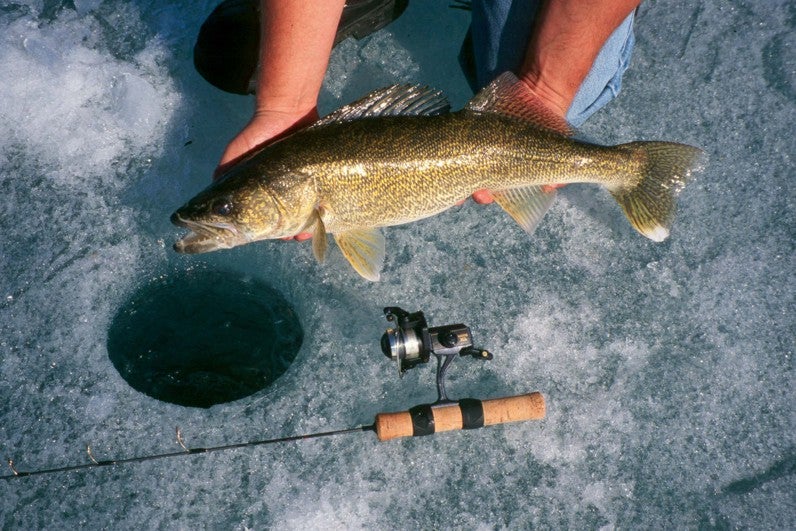 Walleyes typically move from deep to shallow water along a bar during low-light conditions. The first couple hours of dawn and dusk are prime, with the 30 minutes of twilight best of all. However, just to be sure, dedicated walleye ice addicts are wise to be fishing in the dark, well before first light and at least an hour after sunset.
Smart fishermen pre-drill ice holes over key structure elements (checked by through-ice sonar, and known well from open-water fishing) so they can set up fast and move to new areas quickly as the need arises. Having holes pre-drilled also allows fishermen to quietly set up as prime walleye feeding times approach to prevent spooking fish, which can be a problem in water shallower than about 10 feet.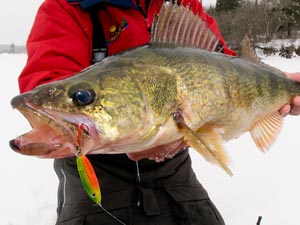 Live minnow baits are standard for ice walleyes, but jiggers score well, too, with lures such as the Cordell CC Spoon, Nils Master Jigging Shad, and Jigging Rapala (#7) popular. A jig head tipped with a live minnow may be the best offering, as it incorporates action and scent.


SHOP NOW