This 22-point Whitetail Buck is Trashy – For Real
Russ Chastain 02.25.16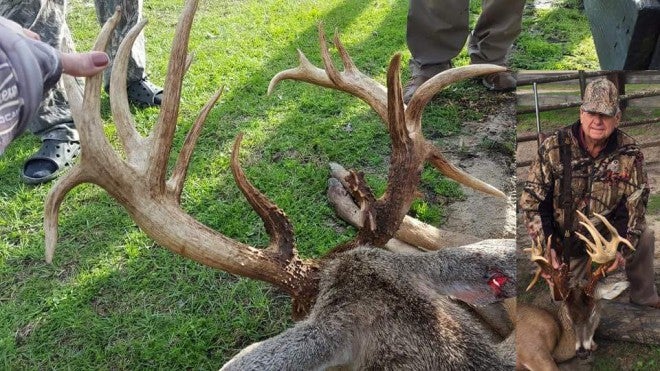 Warrenton, GA
Folks, this is awesome.
Yeah, that word is overused, but this tale really does inspire awe.
Back in the second week of gun season in the fall of 2015, a magnificent and freakish buck reportedly began showing up on a hunter's game cameras. Its antlers were huge and had a passel of points.
The hunter, C.E. Phelps Jr., called his son and grandchildren to see the photos, which were unlike anything he'd ever seen. His grandson immediately recognized the buck as a notoriously sly non-typical that had given the slip to numerous hunters. Due to the funky-looking antlers, the buck was known as Trashy.
C.E. studied the buck using game camera photos. He hunted every day without seeing the buck, but he continued to get photos, so he knew the limping old deer was still alive and kicking–and nearby.
'I hunted every day.' said C.E, 'and he stayed with me all season.'
The Georgia firearms deer season is long, beginning in October and running into the following year. To hunt every day of that season shows true dedication.
On the second day of 2016, C.E. was feeling poorly, but he headed for his stand that afternoon.
That's the day Trashy came to visit.
'I could tell he was real jittery. I think he knew I was there. I knew he wasn't going to stay long.'
Just as the buck turned to leave the scene, the hunter fired. He was unable to find the deer that evening, though.
What a night that must have been! I don't know that I would have slept a wink.
C.E. headed out the next morning with his dog to help with the tracking, and before long the hunter stood before his prey.
'I was just so excited I got him. I love hunting,' said C.E.
GON's report said the buck hadn't yet been measured, but there's little doubt that the tally will be impressive. More valuable than any score, though, is the accomplishment of staying with it and continuing to hunt, finally making the long-dreamed-of connection between predator and prey.
Nice going, Mr. Phelps.