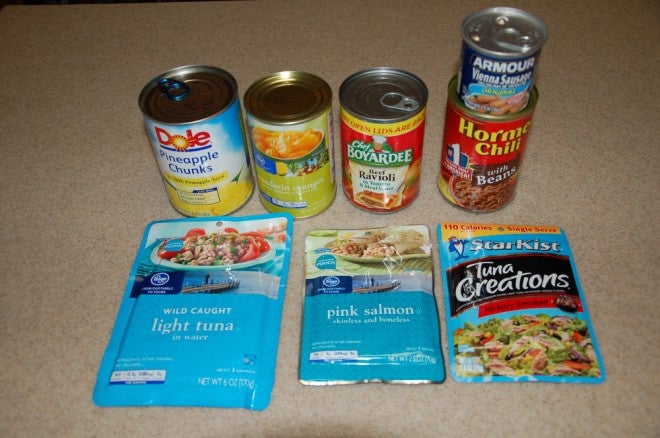 If you had your druthers, when you bug out would you rather eat pouch food or good ole American canned selections? Though these choices may only be a short-term situation, what kinds of food will you take for the first 48 hours, or first week or month?
My good prepping friend Gary constantly seeks my advice on a myriad of prepping questions, like I was a Cody Lundin or something. His prepping self-struggle is always about ammo, water, or food and which comes first. In that regard, what would you vote? If you put food first, what items would you pick?
Though my primary bug in fallback is a huge, constantly rotated selection of canned goods, I know that I might have to resort to a bug out option, and I have the location for that. And I know I will not be able to take much of the canned stuff simply because of the weight and the sheer volume of space needed to tote and store it all. Still, some canned meats and veggies would be good. Then just add rice or pasta. You like that contingency?
Anyway, Gary just bought a huge supply of a currently popular brand of pouched foods. When I asked how many he had sampled, he said none. Hope he likes the stuff. He bought breakfast, sorta-lunch items, and dinner menu selections. The standard fare. It was expensive, but now Gary is feeling safe that he has enough of something to eat for a couple weeks. Maybe he is ahead of the curve. What are your thoughts?
There is no doubt that freeze-dried foods are convenient. If they taste pretty decent, then they work. But if you or the family refuse to eat it, then the investment was a waste. Yeah, I know when you get hungry enough, you'd eat anything, but that is hardly a plausible plan. So keep that in mind when you go to order that 12-case of plastic pails of food ingredients. Sampling first is prudent.
Then, what canned foods to take? I like the one dish variety like cans of soup, chili, stew, Italian pasta items, beans, tuna fish, meats, and some vegetables. So, what food is on your prep list, cans or pouches or both?