Concealed in Plain Sight: A Pistol That Looks Like a Phone
Russ Chastain 03.07.16


Sometimes, the hardest part about concealed carry is concealing your piece. And even in places where it's legal to carry a gun openly, it's a good idea to keep your gun concealed. Why advertise? That just attracts unwanted attention.
Well, here's one way we might be able to carry openly and concealed at the same time! (Naturally, you should check local carry laws to ensure this is kosher in your area.)
It's called Ideal Conceal–a foldable pistol that looks like a smartphone. And contrary to what you may have seen on Facebook, it's not something designed by criminals to fool cops.
Apparently, the rumor mill was kicked into overdrive by a silly Facebook post alleging that this product will be bad for police somehow, so much so that Snopes has even weighed in on it.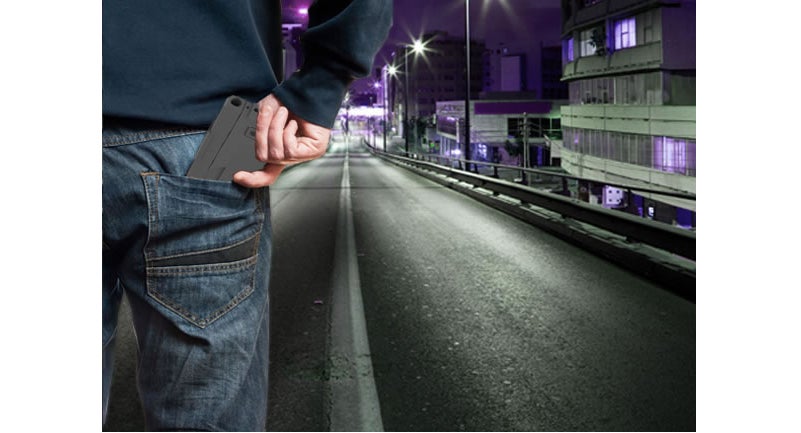 So, what do we know? Well, that it looks great and is super-cool as a concept. And right now, that's about it. But don't feel bad; the company itself doesn't seem to know much more than that.
The thing we're seeing in photos is not a production model, nor is it even a working prototype. It's just a 3D model. The company is reportedly planning to have their first prototype ready this May and are hoping to be in production by summer of 2016.
As they say:
We aim to deliver a high quality handgun that can be deployed very quickly for the defense of you or your family.

The idea for Ideal Conceal follows the present-day demand for handguns that people can carry on a day to day basis, in a manner that makes carrying a gun easy to do. From soccer moms to professionals of every type, this gun allows you the option of not being a victim.

Our mission is to promote security and public safety by designing and manufacturing innovative and unparalleled products engineered to protect.
The plan is to make a good little gun that is better than nothing and doesn't stand out. It will basically be a two-barrel derringer that fires 380 ACP ammo.
From the manufacturer:
Ideal Conceal pistol is a carefully engineered double barreled derringer. Cunningly designed to look like a smartphone when folded up, one click of the safety and you're ready to go. This product is a defensive weapon designed with the utmost safety in mind.
Some manufacturer specs:
Light one piece frame
Simple trouble free design
High velocity .380 caliber for great stopping power
Hammerless firing system for ease of use and added safety
There's no way this thing can replace a more-powerful semi-auto pistol in a gunfight, but that's not what it's for. If you need a gun for defense, you usually need to get it quickly, and things will happen at close range. This is more of a "belly gun," to be used to fend off nearby threats. If those two shots don't do the job, let's hope you can run!
I think it's a really cool idea. What do you think?