Review: XLR Industries Tactical Lite Carbon Remington 700 Chassis
Major Pandemic 03.08.16

From my perspective, the XLR Industries Tactical Lite Carbon chassis is the most beautiful aftermarket Remington 700 chassis you can buy that still delivers everything a tactical, LEO, competitive, or Military shooter could want.
The main question everyone will ask is, "Why go to the trouble and expense to move from a factory stock to a billet chassis system like this XLR Industries Tactical Evolution stock or a premium target stock?"
There are a number of reasons to upgrade, but the most popular reason is consistency and improved accuracy due to a platform that is not affected by weather and humidity and provides the same positive and precision grip/bedding on the action from shot to shot.
These higher end chassis also free-float the barrel for the best possible accuracy from your Remington 700 barreled action, and in most cases they feature positive mechanical bedding, which further increases accuracy and negates the need for the mess of resin or epoxy bedding the action.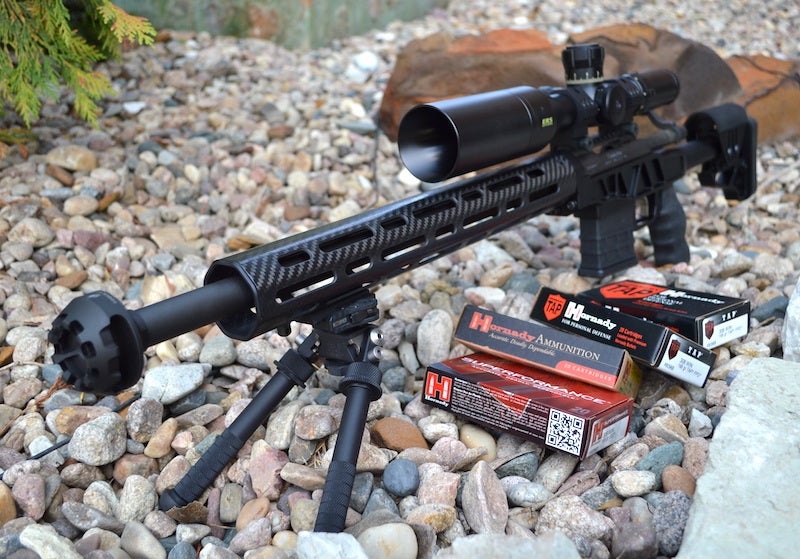 Accuracy Improvement
That barrel free floating and mechanical bedding systems delivers an accuracy improvement. Every billet Remington 700 chassis I have tested has shown to deliver about the same 15% accuracy improvement over the factory Hogue stock.
For example, this reduced my best 100-yard .65"-ish groups went down to just over .5" and my more typical .8"-.9" groups down to the .7"-.75" mark. Not transformational, but it is an improvement that could make a huge difference at 800-1000 yards. I can only speculate based on my experience, but this stock in combination with a match trigger upgrade could increase accuracy by as much as 30% depending on your trigger.
Magazine fed Conversion
Most of the aftermarket chassis, including this XLR stock, also have integrated AICS style box magazine compatibility, which saves you around $200 for a "bottom metal" AICS compatible magazine adapter for your factory stock. So instead of just a three or four round floor plate style magazine, you can feed your precision beast with 10-rounds at a time and gain the ability to quickly reload or conveniently unload the rifle without "dumping" your rounds on the ground. AICS obviously makes various capacity magazines but ALPHA, Magpul, and MDT all also offer great options as well. The ALPHA are my favorite simply because they are a very compact double stack design.
Comfort
Yet another benefit of these chassis are that they are typically optimized for ergonomics and stability for prone or benchrest shooting positions, which makes for more long term shooting comfort behind the gun over long periods of lying or sitting down.
Most find there is a world of difference in comfort and fit when they get behind one of these chassis. If you want the best accuracy possible from your Remington 700 Action and additional features, then it makes sense to look at one of these chassis systems. Of course the obvious point I should make is that these target and sniper chassis are usually pretty heavy and are not really for field rifles that you are going to lug around for miles or use for a brush/walking stalk hunt. The purpose-built chassis are designed for the most part to be supported with a bipod or sandbags and give you the kind of stability that increases long-range precision.
Adjustability and Customization
XLR are the newer kids on the block when it comes to billet Remington 700 chassis, but people are going a bit nuts over them due to the impressive comfort, adjustability, and the huge breadth of chassis offered for various guns as well as customization options.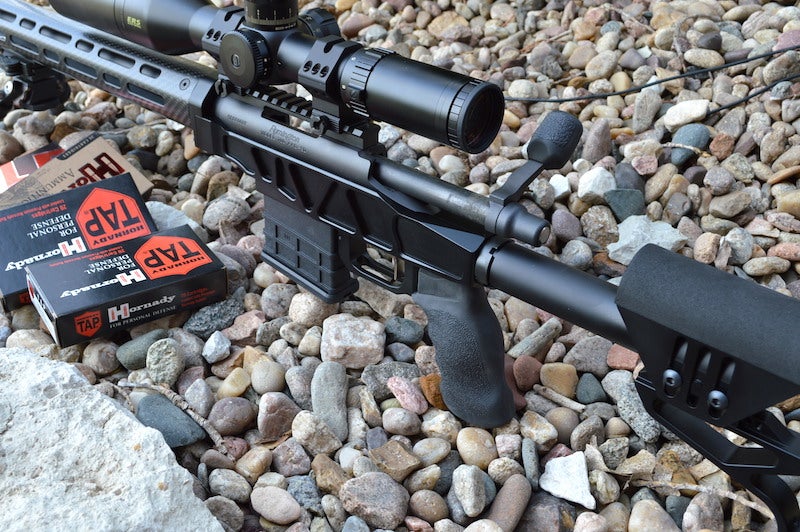 All the XLR buttstocks are fully adjustable for cant, cheek rest position, cheek rest height, length of pull, and buttpad height. You can get insanely comfy behind this rifle. About the only thing it is missing from a comfort perspective is a memory foam pillow. The base of their buttstocks are angled to work with sandbags for elevation adjustments when prone or on the bench.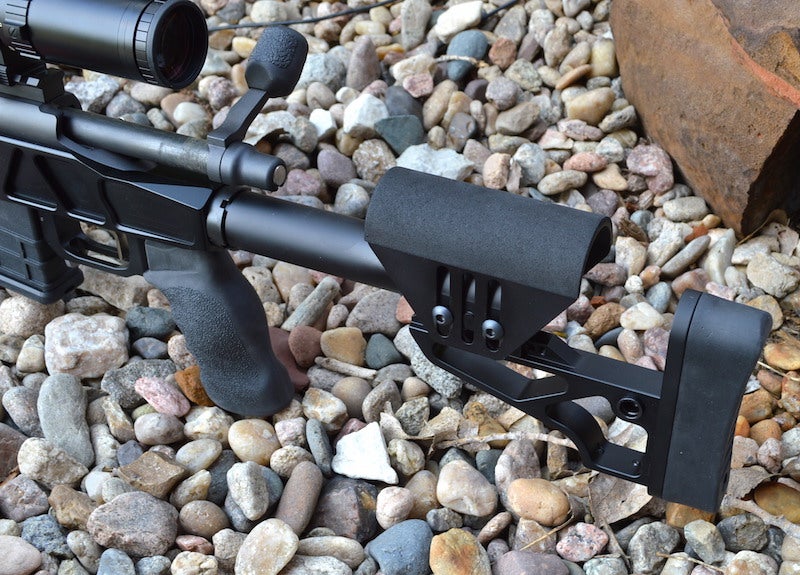 Easy Upgrade
Among the many different bolt actions XLR offers billet chassis for, the Remington 700 short and long action are of course by far the most popular. Shooters get a drop-in stock replacement that delivers everything the professional and amateur shooter could ever want in a precision stock, with literally every aspect of the stock is adjustable all while remaining completely backward compatible with off the shelf Remington upgrade components.
This Build
Remington 700 SPS AAC Tactical barreled action
Brownells Steel Remington 700 SPS scope base
Weaver Tactical 34mm High rings
Bushnell Elite Tactical 34mm scope
Timeny Match 2lb trigger
Strike Industries Cookie Cutter Brake
KRG Bolt Lift bolt handle.
Fit, Finish, Features, Feel, and Function
The quality is stunning. Made from 6061 T-6 US sourced virgin billet, and as with all the XLR industries chassis, the Carbon series is available with any of XLR's own billet buttstocks. In this case I choose their Tactical Lit stock, so this chassis I am testing is called the Tactical Lite Carbon. If I had selected the Standard buttstock, this model would have been the Standard Carbon. Hopefully you get the idea of their naming convention of the models.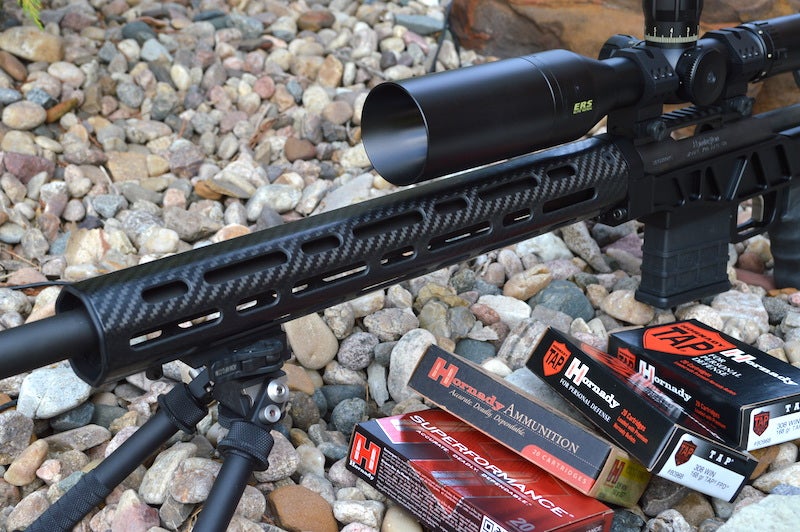 XLR stocks all accept AR15 grips, but it comes with the best one I could ever come up with to put on a rifle like this. The grip is a soft rubber santoprene style ergonomic grip. It feels awesome. XLR's chassis can accept "some" AR15 buttstocks, but why would you go there when XLR's are better, more adjustable, higher quality, in some cases lighter, and less expensive starting at only $180. XLR's folding $115 stock adapter can also be added to any of the stocks.
The Carbon chassis has been lightened via a milled skeletonizing, which according to XLR does not reduce strength or rigidity.
I would fully expect one of their chassis to appear in a Bond film at some point due to amazing looks. Admittedly XLR's Carbon is the most eye catching of the XLR line with the hexagonal carbon fiber forend that provides many picatinny rail mounting options. The carbon fiber forend is fully free-floated and provides all the advantages of carbon fiber to the shooter. The primary advantages are light weight, duribility, and a stay cool heat dispersion. Plus, you know, it just looks freaking awesome. The XLR Carbon chassis is one of the lightest billet sniper chassis systems on the market.
Where the XLR Element and other similar open top chassis allow you to just drop in an existing Remington 700 setup, the Carbon Chassis has that front forend and receiver trunnion to contend with. In my case, I had to swap out both the extended length Xtreme Hardcore Gear 30MOA base and their gorgeous billet rings I already had used for testing on the other sniper chassis. The base was too long and hit the forend trunnion, and the rings were too short and didn't allow the scope to clear the forend. Thanks to Brownells for coming to the rescue with a steel base and tall Weaver 34mm rings for the new very premium FFP (First Focal Plan) Bushnell Elite scope I used for testing. That fitment ended up changing the entire build.
It was a a bit of a pain in the butt to need to re-order and buy all new parts, so this would be the potential notable downside of this chassis. If you are building up a precision rifle with this chassis or any enclosed forend style chassis, I would forewarn you that great attention should be paid to the required base and ring height before you start buying items. This is where XLR's other upen top Element chassis design makes things a bit easier during setup.
The Carbon chassis is not a two minute chassis swap like the XLR Element. The Carbon stock needs to have the forend and trunnion removed for installation of the action. Once I dropped my Remington 700 SPS AAC .308 action in, the forend is re-assembled back on the chassis. It's not a long or involved process, but it does take about 15 minutes versus the two minute swap on the Element chassis.
While I had the action apart and was waiting on the new base, rings, and optic to arrive, I added a few upgrades to the action. I did add a really cool looking and great performing Strike Industries Cookie Cutter Brake. It works well and adds an awesome look to the build. My Timney Match Remington 700 trigger also arrived. The factory Remington trigger is pretty good, but the Timney trigger is still worlds better. This coupled with the high end Bushnell Elite Tactical optic upgrade and XLR Carbon chassis swap did deliver a bigger improvement than other stocks when compared to my stock Remington. This setup delivered about a 30-40% improvement in groups. It's likely the extra accuracy was thanks to the Timney trigger and upgraded Bushnell scope.
Final Thoughts
By far my favorite XLR chassis. Considering the stunning beauty of this chassis and craftsmanship, extra milling, and carbon fiber, the Carbon Tac Lite is XLR's most expensive at $900. It is a deal, wrapped up in a attractive design that actually, you know, performs as good as it looks. This chassis represents everything I could want in one chassis.
Specs
Carbon Fiber Forend
6061 T-6 billet action block
Type 2 Class 2 anodized finish
12 inch or 14 inch hand guard
Ergo overmold tactical AR grip
Right or left hand configurations
Fully adjustable stock
Sling ready
Single shot or DBM setup
No gunsmithing required
Made in U.S.A
MSRP $920 + Optional $115 Stock Folder Adapter