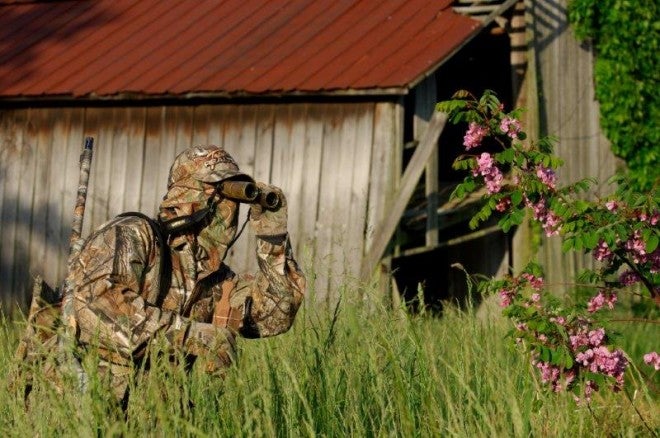 Turkey hunters who spend plenty of time scouting are not likely to spend much time hunting. That's because gunners who pay their dues before season opens usually know where and when to get birds fast when the guns roar.
There's no such thing as over-scouting, but it's wise to scout quickly and efficiently to cover as much country as possible.
The following tips help.
Trail cameras aren't just for deer. They work well for turkeys, too. If you've got cameras, set them up before turkey season in places you know turkeys gather, like field corners, hardwood ridges, old logging roads, and food plots or sources.
Never give up scouting, because you can't have too many birds in too many places pinpointed. You may have two or three or more birds locked in at several great hunting spots. But don't be smug. Check new places, get up-and-out before dawn, and locate a new ridge or roosting draw.
Use your wheels to cover ground quietly and fast when hooting and locating birds during a pre-dawn scout. Logging roads, county dirt roads, and backwoods trails all can be traversed with trucks, ATVs, even mountain bicycles in wild areas. Stop often, listen, and hoot–with the motor off.
Pool your scouting resources. Many turkey hunters have several good friends with whom they hunt. Scout widely varied areas and share the inside scoop with your close buddies.
Be a road hunter–meaning take careful note of sand, mud, and dirt lanes, looking for fresh tracks, droppings, and feathers that may lead to toms. Right after a spring rain is a choice time to be out. But even when it's dry, turkey "dusting" spots in woods roads can tip you off to toms. And wing-drag marks are like heaven-sent turkey gifts.
Get high for pre-dawn scouting, trying to listen for birds in the highest spot with the most open areas for birds at long range. In ridge country this is easy. But even in flatlands of the South and Midwest, there are places where land relief is a little better than other sites, and thus more conducive to "listening." Clear-cuts and farm fields are good places to scout and listen for toms in flatlands.
Don't be optically challenged. Bright, fog proof, waterproof, and high-magnification binoculars and spotting scopes may be a turkey scout's best piece of equipment. Use the best you can afford, and never leave them home. Never.