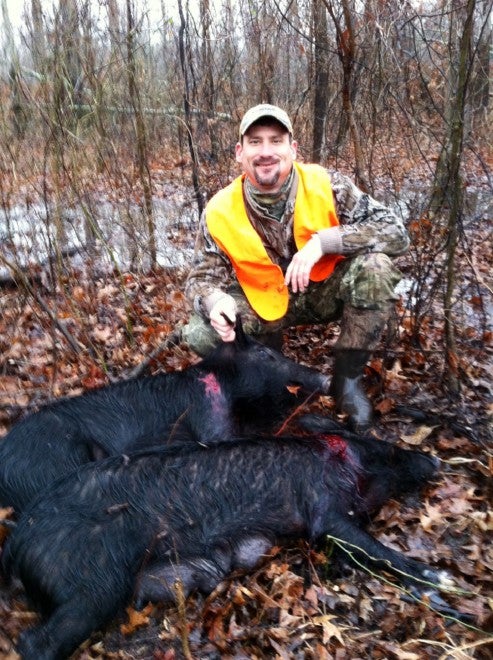 Kerry has been, well, not-so-patiently awaiting the opening of the annual bow hunting season. He has been capturing photos of a several nice bucks in his food plot and one huge 8-point in particular. He nearly visibly shakes when he just talks about this buck. I've seen the photos, and I agree it is one heck of a buck.
The trouble is what else has been showing up on Kerry's trail cameras. Wild hogs. So far, three of them. Unlike turkeys or small game, hogs and deer do not get along in the same vicinity. Typically when hogs appear in a field where deer are feeding, the deer exit immediately. The hogs have a tendency to take over. This fact has not eluded Kerry's attention.
The woodland pigs not only run the deer off, but they also can quickly and completely decimate a food plot. I have seen the damage they can do. Where their snouts have dug into the soft food plot earth, it looks like an old fashioned single blade plow has been dragged across the entire field.
With the furrow laid open, the pigs eat all the fresh, soft, moist roots of everything growing there. If the crop happens to be a root type vegetable, every morsel is eaten. This goes for peanuts, potatoes, sugar beets, radishes, onions, turnips or whatever. It is all gone.
Bow season is open here, so Kerry is careful to spray down with scent killers and sneak quietly into his hunting stand. The landscape here is bone dry. It's been the driest year since 1924. This makes the woods and trails noisy. Trees are dropping leaves early due to the drought, which complicates trying to move down trails or in the woods.
He is on private land, so just in case the hogs show up, he carries his trusty 7mm Magnum rifle along with his bow. Yesterday it happened. Several does and a couple young bucks were in the food plot late in the afternoon. All of a sudden the deer heads went up all together. Then they busted out of the field. Two small hogs came into the far end of the plot.
A minute later, momma pig showed up. She quickly set her plow nose to the dirt and began to unearth the plot. Kerry took one head shot, dropping the pig in its furrow. It weighed out at 200 pounds with two-inch tusks. It's at the processor now. In deer country where hogs are taking over, hunters need to be ready to target these additional collateral opportunities.