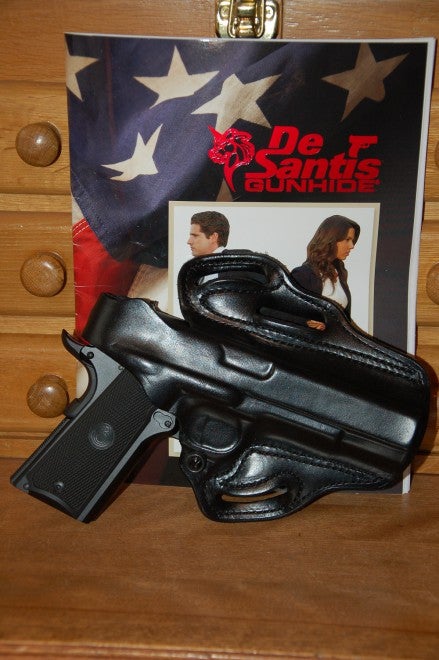 For many concealed carry proponents and individuals wanting to carry a substantial gun for personal protection, toting the classic 1911 pistol can be problematic. Despite really big guns like a Desert Eagle in .50 cal, a standard 1911 Colt .45 ACP or one of the hundred clones weighs in at around 38 ounces unloaded. That's a pretty hefty waist carry gun, but the power it packs is well worth the effort.
That's 2.375 pounds lugging on the waist. If you intend to carry a pistol the size of a 1911, even a short slide model, you will need a special holster for concealment. Such a holster has to keep the pistol tight next to the body, but in a ready draw position. Ideally this holster would create as minimal an imprint as possible to keep the carry discreet even under an over shirt or jacket.
The candidate I have in mind for this set up is the DeSantis Thumb Break Scabbard. The minute I slipped a full sized, 5-inch slide, 1911 into this holster, I had the idea right away this one was going to be perfect for carry under a classic Hawaiian type shirt that is worn outside the pants.
In use I have also found it perfect for carry on the pants belt or an over belt rig while riding an ATV around my bug out camp. Easily reaching down to grab the grip is essential in a carry like this, but the DeSantis Thumb Break Scabbard rides high thus positioning the pistol grip at just the right forward cant for a quick yet firm retrieval.
With very little practice the reach becomes virtually second nature, as it should. You certainly don't want to be fooling around with drawing your weapon when time is of the essence. As with deploying any weapon, I recommend practice in all aspects of using it, so with any holster, be sure it rides right where you want it and your draws are comfortable and flawless.
In this holster's case, too, the thumb break feature adds that extra element of security to weapon retention. The thumb break holding "flap" is held by a secure snap. Some models also have adjustable tension. Available in black or tan, smooth or weave, it retails from $76.95 to $107.95 depending on gun model, www.desantisholster.com.