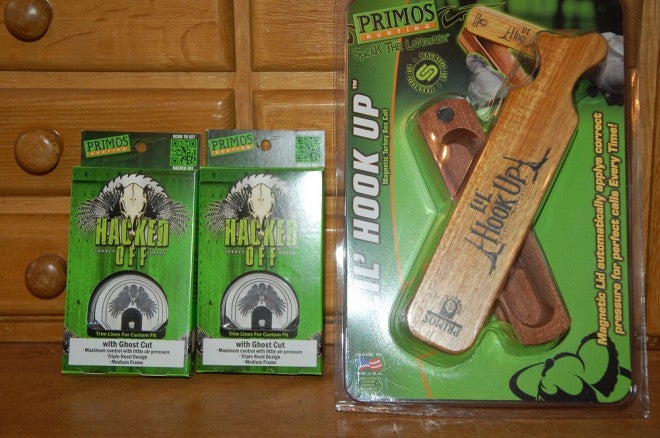 Despite the lousy spring weather we have been having given the multiple storm fronts bringing torrents of rain and then a couple of cold snaps, turkey season is underway. I have already gotten reports of birds gobbling, and a few have been coaxed to the shotgun so far. As April approaches we really expect the action to pick up.
Primos Hunting is a Mississippi born company. Will Primos has been making and selling game calls for years now. They got their start with turkey calls and since have produced many types and varieties of gobbler getter calls. Fresh this year they are introducing three new calls with enhanced design features.


The Primos Tac-Ops Pot Call was developed to better fit the hands of the turkey hunter by creating a unique ergonomic design. The edges are sort of scalloped so that a hunter can better grip the pot for a secure, no slip hold when making calls. There is also an all-weather surface to better hold onto regardless of the environmental conditions during a turkey hunt.
The Tac-Ops pot is an anodized aluminum disc that includes an all-weather striker, again developed to work well under adverse conditions. The call pot surface has been pre-conditioned to make it ready for use despite what the turkey hunting day might bring. The Tac-Ops call retails for $24.99 at your local hunting supply dealers now.
New for 2016 is the Primos Lil Hook Up box call. One look and you will notice the unique design of the paddle lid handle. The finger holding and working lip end is shaped for easy manipulation to make perfect hen calls including crisp cuts, smooth purrs, and a full sound range of yelps from soft to loud.
The most exciting part of the Lil Hook Up call is the box lid is held in place by a strong magnet. This holds the paddle at just the right angle for perfect calling. This also allows the paddle to be removed for silent carry. This new call retails for $28.95
Also new for 2016 is the Hacked Off mouth call with ghost cut. This call allows maximum control with little air pressure with its triple reed design. This call can also be customized by cutting the size down for a personal fit. The medium frame is ideal for all types of turkey calling. This one retails for $13.45.