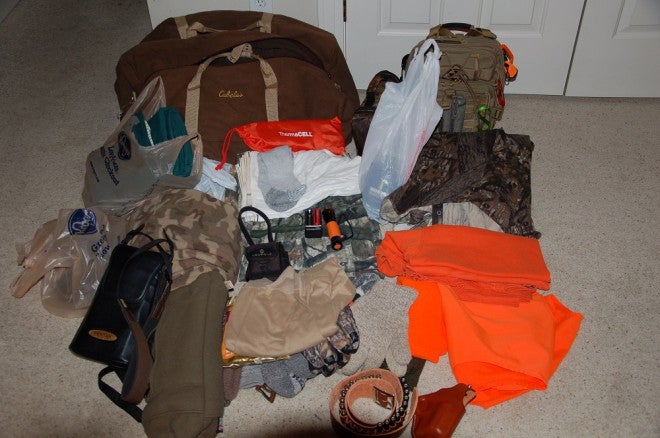 Survivalists and preppers that are also hunters have it made. That is, in particular, these two endeavors can cross-share much of the gear, hardware, tools, and implements. Whichever way you started out, just look at the materials you have accumulated that can serve many of the same purposes.
Preppers are first and foremost gun people. First on their list of acquisitions is usually a battery of weapons for self-defense and protection. If selected purposefully, these same firearms can be used for almost all kinds of hunting from small game pursuits to large. If you have been a long time hunter, then you likely already have everything you might need in the gun safe.
For basics all you need is a good mid-range caliber deer class hunting rifle equipped with a quality scope. Add to that a 20 or 12-guage shotgun with interchangeable choke tubes, and you can hunt anything from rabbits, squirrels, quail, or wild turkey to ducks, geese and other birds. Put a good magnum revolver in the lineup and you can still fill the roles needed for self-defense and protection of home, bug out camp, and family.
Now go beyond the weapons to all the other gear you have. This list will include clothing and boots for all ranges of temperatures, plus support garment items like socks, hats, gloves, belts, insulated underwear, and rain gear. Whether camouflage or earth toned does not matter.
Check off a whole selection of hardware items including knives, hatchets, flashlights, tools, backpacks, ammunition carriers, slings, and web gear. Don't forget the electronics and optics including scopes, binoculars, spotting scopes, rangefinders, wind meters, GPS, communication radios, and weather notice radio. All this is useful for hunting and survival work.
Other items you might use for hunting could include all kinds of camping equipment from tents to sleeping bags, camping stoves, lanterns, and such. Lots of hunters also incorporate camping into their hunting plans. This equipment and the skills to use it all makes for a great basis to create a bug out camp or temporary housing away from a SHTF natural event.
Just the function and knowledge of hunting can give survivalists an extra edge when it comes to supplying extra food during any SHTF occurrence. These two pursuits just naturally go hand-in-hand. Certainly, if you are a survivalist, it is prudent to be a hunter, too, and the gear works both ways.