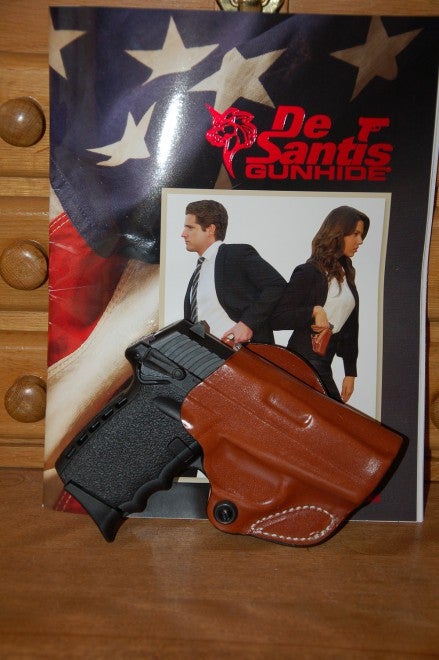 DeSantis holsters are the Chevrolet and Ford of handgun holsters. You might throw in a little Cadillac and Lexus as well. What I mean by those comparisons are simple. Chevy and Ford are the workhorses of the automobiles and trucks in America. They work hard, get the job done, and last forever if maintained well. Then the other two brands exhibit the flash and beauty of a product. DeSantis holsters embody all of these attributes.
Since I acquired a SCCY, 9mm pistol as a Christmas present from Vernon and Helen Graves of Renegade Sporting Goods for helping them work gun shows, I have been searching for just the right carry holster for it. I did not want a common nylon cheapie or any type of a custom made holster that came with a payment plan. I wanted a good, solid leather holster I could carry on a belt. I shopped long and hard because I was in no rush.
Then a magazine ad caught my attention and I began to study the DeSantis Gunhide web site at www.desantisholster.com. I followed that up with a visit to my bud's gun shop. He carries DeSantis holsters but did not have a model in stock to accommodate the new(ish) SCCY pistol. So, I got on line to look further then order one.
I selected their Mini-Scabbard model, which I had seen and inspected at the gun shop. DeSantis makes this holster for virtually every small pocket type pistol produced, including the SCCY pistols. This holster is high quality leather, but without too many bells and whistles. It can handle belts up to 1 ½ inches wide and comes in black or tan, unlined. It has a tension adjustment screw to flex the pistol fit.
So far in my practical carry of this holster, I know I made the right choice. It rides in just the right spot for me, and the holster cant puts the grip of the SCCY in an ideal position for quick access. The holster rides great on a pants belt without undue weight or sag. Using a second belt, I can slide the holster back off my hip as well. Under a shirt or jacket it can easily be concealed for CCW carry. Retailing for $61.99, I think a lot of shooters will want to check out the DeSantis Mini-Scabbard.