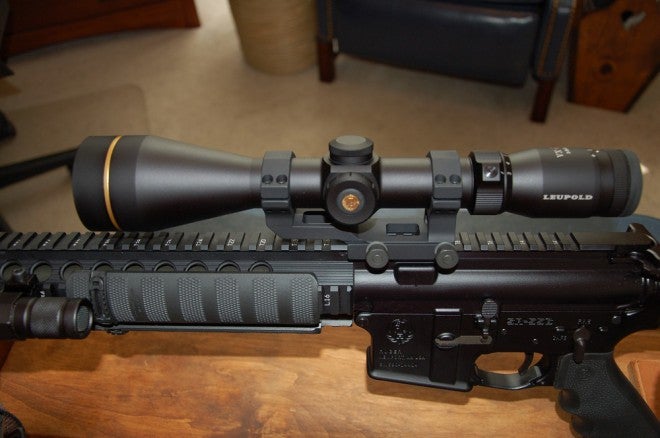 The single biggest attractive feature to the AR rifle platform is its ability to be customized. Big in this regard is choosing one of the many rail optional accessories available in the marketplace. Many ARs come from the factory equipped with a variety of rail formats already installed. Other AR owners can shop a wide variety of aftermarket accessory suppliers to find just the right combination of parts to outfit their rifle to suit their own needs.
There are now two basic forms of rails for attaching accessories. The most common and widely available model comes with Picatinny ridges and slots. The name Picatinny comes from the Picatinny Arsenal in New Jersey. This military arsenal was charged with evaluating rail systems for adaptation into military use via the Mil-STD-1913. The military specifications for rails for the M4 AR rifle were adopted in 1995.
The Picatinny rail accepts Weaver type attachment designs to fit a threaded rod or square pin with end threads down into the rail slot, then a rail grabber end part is screwed down tight with a bolt nut or knurled knob to hold the Weaver attachment mount in place. These Weaver-type attachments are designed into the various accessory items to be mounted on the rail.
The other type of rail attachment format is known as the Key Mod or Key Mod Handguards. This design offers a series of mounting holes with lock-in slots. The mounting accessories will have matching studs to fit into the Key Mod holes then slid back to lock in place. This system is becoming more popular, but it is not nearly as common as the Picatinny rail type.
AR rails can be 2 or 4 sided, meaning there can be mounted handguards covering the barrel on four sides, right, left, top, and bottom, or other configurations. The 4-sided rails are the most common. Handguard sides not being used to mount accessories can be covered with rail covers to protect the hands from the sharp rail edges.
A myriad of accessories can then be easily installed on the rails to suit the user. These can include scope mounts, red dot sights, BUIS sights, flashlights, lasers, sling attachments, bipods, vertical grips, hand stops, and other accessories. The best strategy is to customize your AR platform with useful items while being mindful of the weight you add.