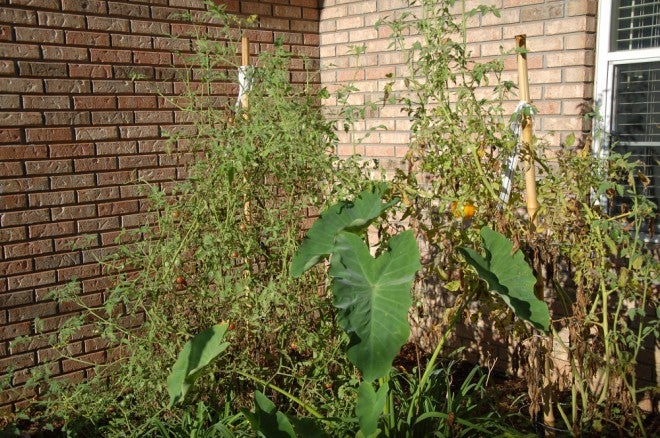 With any dirt around your living space at all, you can grow things to eat. You're thinking, yeah, but I live in an apartment house or a residential neighborhood with no garden space. Well, preppers, just look around. It only takes a little dirt to grow some vegetables, even if it is in buckets or flower planters.
Hopefully, my next door neighbors never noticed the garden growing next to the house. This summer we tried three kinds of tomatoes, cucumbers, green peppers, and two mounds of watermelons. It's a small effort for sure and partly a steep learning curve. However, what I discovered is that with a little planning, a very small garden spot can produce some items to supplement the family diet, especially during a SHTF event.
So again, look around the house. If you can find several isolated spots of unused turf even sized 2×2 feet or long strips of dirt against a wall, you can plant some goodies to eat. First, clear the area of grasses and weeds that have encroached. Using a heavy hoe or garden shovel, turn the dirt, mix it up, and break up the clods. You might have to add a bag of store bought planting mixture to get a good plant or seed bed.
Pick vegetable plants that typically grow well in your area. A visit to a big box spring or fall garden department will show you what to buy. Go for tomatoes, green onions, squashes, peppers, cucumbers, and such. Try to pick plants that will continue to yield fruit over a longer period of time. You can crowd in extra items like the onions in between other plants.
Dig your plant holes according to the recommendations on the plant tags. Plan to mix in some simple fertilizer like a Triple 13. Plan ahead to have stakes or baskets to prop up taller plants like tomatoes as they grow. All this procedure applies too if you are using pottery planters or even plastic buckets for growing. Make sure all these have drain holes in the bottom.
Going the mini-garden route will yield several positive results. Even if a SHTF event does not occur during the gardening phase, it will produce fresh stuff for the family table. Then if things should get tight after some event, you'll be the one enjoying the fruits of your labors.