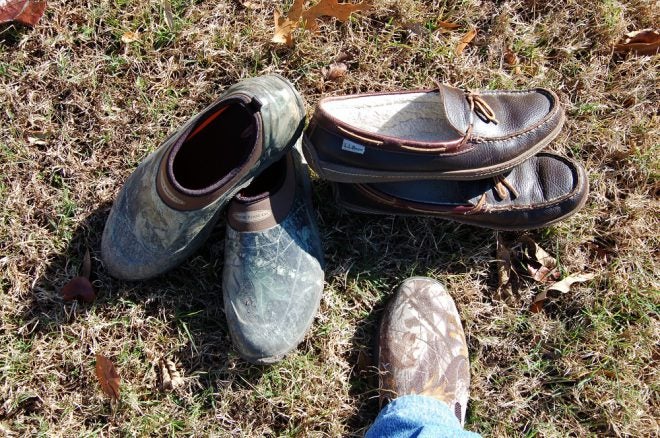 Never underestimate the value of comfortable camp shoes and slippers. Whether you are a prepper, survivalist, hunter, angler, camper, or general outdoor enthusiast, little can replace the value of a good pair of light shoes after work or a hard day in the field.
Usually within minutes of returning to our bug out escape SHTF camp, which also serves as our deer camp, or even when getting home from work each day, I pull off my boots or street shoes in favor of my L.L. Beam leather moccasin slippers with the fleece lining. Immediately the relaxation mode begins. It is amazing what effect a simple change of shoes can mean to tired feet.
The same goes for walk around the house, yard, or camp shoes after the heavy work or hunting boots come off. If it is true that a hat is an essential tool for keeping the entire body warm, then I propose that a pair of really comfy camp shoes or slippers contributes greatly to overall foot comfort.
The brand of kick around slippers does not really matter so much as long as they fit right with enough room for the foot and toes to wiggle and breathe. I favor the L.L. Bean slippers because the upper leather never wears out and the gum rubber type bottoms last me about two years wearing inside and out. I keep two pairs for back up rotation as they wear out and go on sale.
For heavier, everyday camp wear, I use two types of shoes. One is the Muck Boot low cut shoe model with the soft elastic upper rim that fits around the ankles. These shoes have a gripping sole that is great for slick, muddy, wet conditions or even mud puddles after a rain blows through.
The other general purpose camp shoe I find comfortable and reliable is the slip on shoe by Bass Pro Shops. These shoes have the camouflage nylon upper material sewn onto a mid-soft sole with an aggressive tread pattern. These shoes are easy and quick off and on to retrieve the mail, walk the dog around the yard, or general light work around camp.
Outdoor activities can be rough on feet. After a long day of hunting, hiking, or surviving, it just feels good to put on a nice pair of warm slippers to ease the burdens of the day.