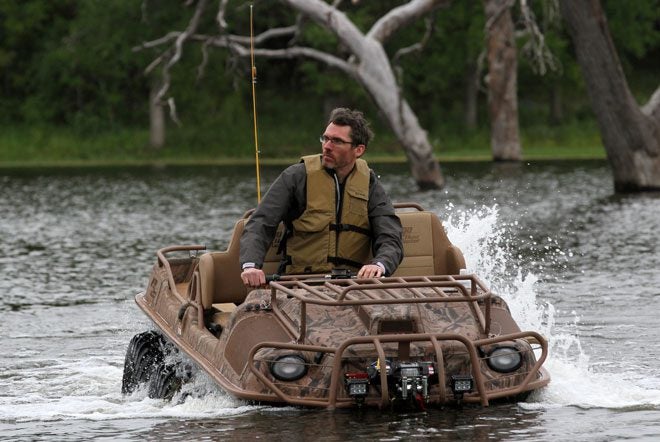 Modern ATVs and UTVs are endlessly useful tools for hunters and other outdoorsmen, but for do-everything and go-anywhere utility, they can't compete with the Argo. I had a chance to spend some time in the Outfitter 8×8 recently, which is the biggest, baddest, most rugged machine the Canadian manufacturer produces.
Argo has been making amphibious off-road machines since 1967–far longer than any current ATV manufacturer. While the new LX Series is targeted at recreational riders (you can read about that on our sister site, ATV.com), the Outfitter 8×8 has no such illusions. This machine comes ready to work and will take you just about anywhere you want to go.
Go Ahead and Get Wet
The hallmark of any Argo is its ability to float. Not only can you cross shallow streams and plow through mud holes like a normal ATV, but you can ride out into deep water without fear of sinking. Its bulbous tires act as propulsion in the water, though speed is limited to just a few miles per hour. For that reason, we would recommend caution with faster moving water unless you have the optional outboard motor installed. But if you want to cross a small lake to get to your hunting ground or just do a little fishing, the stock Outfitter 8×8 will take you there.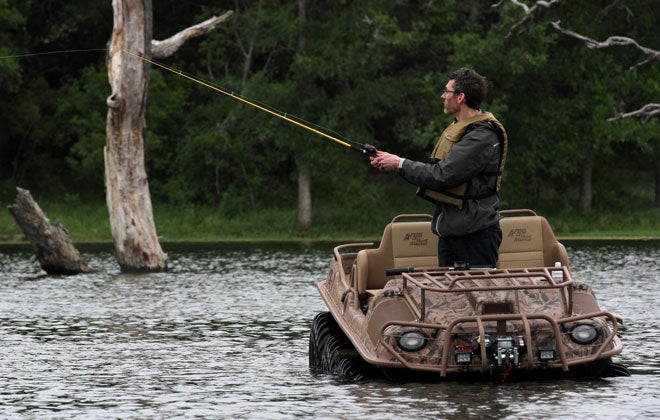 Outfitter Extras
The Outfitter is built around a tubular steel frame. A robust front brush guard is designed to absorb impacts and protect the front end of the machine while a removable steel hood rack provides extra carrying capacity. A 4,500-pound WARN winch is found on the front end and comes with a 30-foot tow strap, snatch block, mounting plates, and winch guard. Lighting comes courtesy of dual front LED headlights and dual floodlights. The Outfitter also comes standard with a dual bilge pump, should you take on water or heavy rain.
In the rear of the Argo you'll find an angle-mounted four-gun Sure Grip rack. There is also room for multiple passengers in the back, though Argo suggests only a driver and single passenger for use on water (more on this later). Up front is seating for two with new high-back seats. The driver has a handlebar and a view of a wide array of gauges and switches, while the passenger has a T-shaped grab bar that we think is superior to passenger handholds in the rest of the Argo lineup. Both driver and passenger benefit from heated handgrips.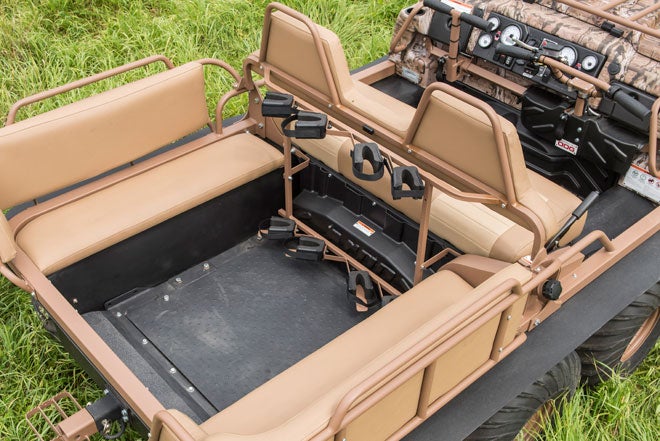 Top speed on the Outfitter 8×8 is 17 mph. It has a towing capacity of 2,000 pounds and a load capacity of 1,275 pounds on land and 775 pounds on water.
The Ride
Before you drive an Argo, throw away almost anything you may know about handling an ATV. It requires a bit of effort just to step into the Argo, though a rear dual entry step is helpful. Interestingly, the handlebar is located on the right side, which felt odd to me the entire day.
Steering is the biggest difference on an Argo. The wheels don't turn right and left when you turn the handlebars. Instead, the wheels on one side slow down, much like a tank. This allows the Outfitter to essentially spin in circle, which is great for turning in tight confines. However, trying to turn at speed takes some getting used to as the response is immediate and occasionally jarring. Truthfully, it's pretty fun to turn on a dime in such a substantial vehicle, but if you've got passengers you'll need to make sure they're holding on tight.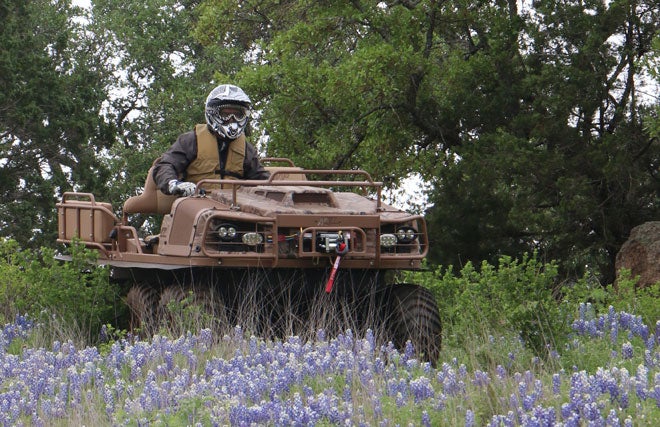 As Argos don't have shock absorbers, the only thing cushioning the ride is the tires. Tire pressure is fairly low, which helps absorb some of the rough ride, but I wouldn't call the ride smooth if the trail isn't. The new LX Series can run far lower air pressure in the tires due to its beadlock wheels, and that ride is much nicer as a result.
As for water riding, the Outfitter 8×8 happily supports a driver and passenger. Other 8×8 Argos can hold four people in the water, but the Outfitter is more than 400 pounds heavier than any other model, so you are better off with two. I'd recommend one up front and one in the back, as the front end likes to dip a bit in the water.
Not knowing the specific limitations of the Outfitter, I and three other editors took one for a spin and crossed a pond. We were sitting pretty low in the water and when we tried to drive out we hit the shore at a bit of an angle and couldn't make it. After backing up we started lolling left and right and began to take on water. I think we would have been just fine, but another Argo came by and one of the rear passengers jumped out of our machine and into his. This led to a lot more water coming in and the other two riders made a break for it. I decided to stay tight and waited for somebody to winch me out.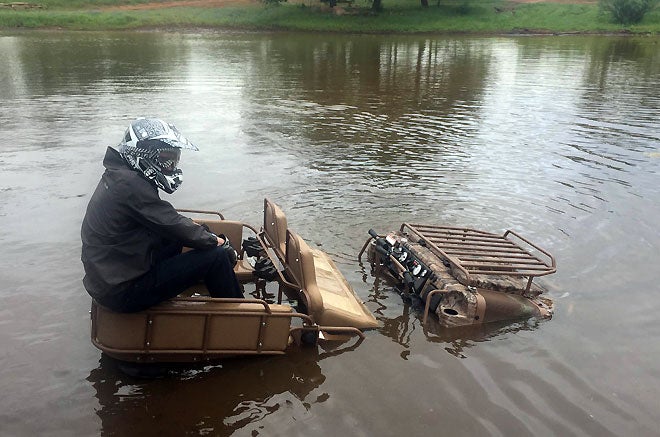 Despite most of the front end being submerged and almost the entire machine filled with water, the Outfitter never stopped running or floating. Once the machine was pulled up onto shore, we pulled the drain plug and ran the dual bilge pumps for maybe 20 minutes to get rid of the water. After that, it was good to ride again. I was impressed.
After our water-logged adventure, I had enough confidence in the Outfitter to take it out into the lake and did a little fishing. The Outfitter 8×8 didn't skip a beat. With just me onboard, the Outfitter gamely climbed out of the Lake and up a steep, wet bank without hesitation.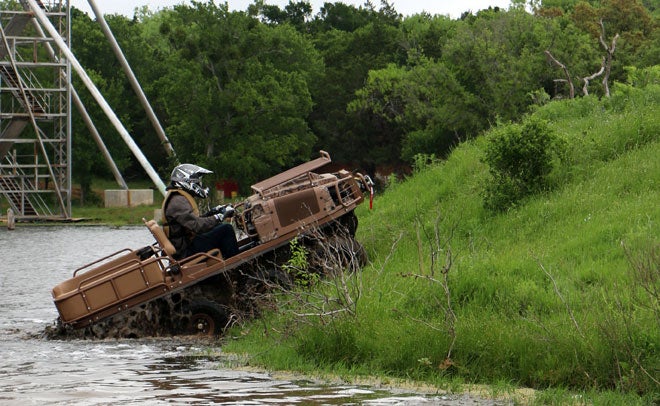 Having spent a day riding the Outfitter and other Argo models around, I'm convinced they can climb up and over just about anything you'd need them to. And if you do get yourself into a tight spot, the standard winch should be able to get you out.
If you are in the market for a vehicle to go where no other ATV, UTV, or truck can, the Argo Outfitter 8×8 is worth looking into. However, this is Argo's flagship hunting model and it doesn't come cheap with a price tag of US$34,995.
Fear not if that price moves it out of your comfort zone. Argo has more affordable hunting-specific options in the Huntmaster 8×8 ($27,795), Scout 8×8 ($22,195), and Scout 6×6 ($17,895). Visit ArgoXTV.com for more information.