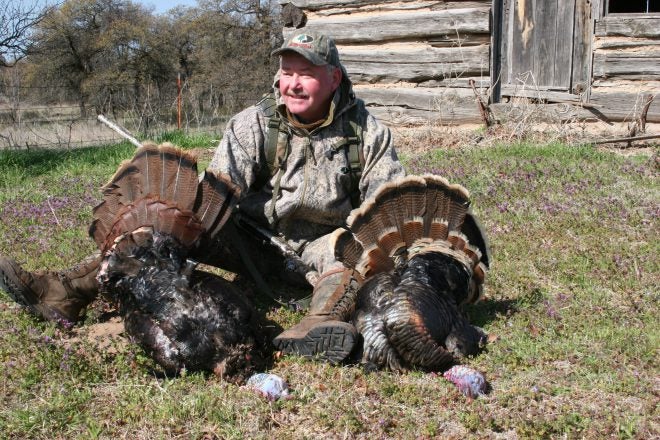 Too many hunters only eat the breast meat of wild turkeys. But the legs are excellent for making gumbo. I use the recipe of Delores Markris, who makes the best gumbo this side of the Louisiana Delta. Here 'tis with some short cuts I use.
4 cups of chopped onions
2 cup of chopped green onions-approx 1 bunch.
2 cup of chopped bell pepper
2 cup of fresh finely chopped parsley
1 cup of chopped celery
2 tablespoons of chopped garlic-fresh
2 tablespoons of Worcestershire sauce
Salt and pepper to taste
Louisiana hot sauce to taste
2 tablespoon of Old Bay Seasoning
1 can of diced tomatoes
Gumbo file to taste
2 cup of Okra
2 gallon of chicken stock or water
With the oil and flour make a roux in an iron skillet, and when it's ready, add chicken stock a little at a time until all is added. Then let it simmer for about 10-15 minutes.
Meantime start adding tomatoes and seasonings to a stock pot. After the vegetables have simmered in the roux, add the stock and let this cook for ½ hour then add the turkey meat. After all is added let simmer for 15 minutes and then shut heat off.
Here are my additions for turkey gumbo.
I cook two pair (4) of turkey legs (freeze until you have enough). Stew them for most of a day, then put in a refrigerator. The next day when cool, stir around, and by hand, take out all bones, cut very tender leg meat into 1-inch or less chunks.
Stewing takes a good while to do right. 4-6 hours on medium low heat in a big pot (mine holds 5 gallons), with lid on. To the stew pot water I add several big cloves of garlic, half a sweet onion, several bay leaves, and some big sprigs of fresh thyme, Rosemary, basil, and kosher salt. Cover, cook, remove vegetables and discard old veggies from the cooked stock broth, but keep the seasoned broth. You'll add more veggies later.
I also add about 1-pound of good smoked Conecuh sausage sliced very thin to add some spice and flavor. I use a lot of frozen sliced okra, about 2-3 lbs., and a couple pounds of frozen mixed gumbo vegetables. Fresh would be better, but I'm lazy.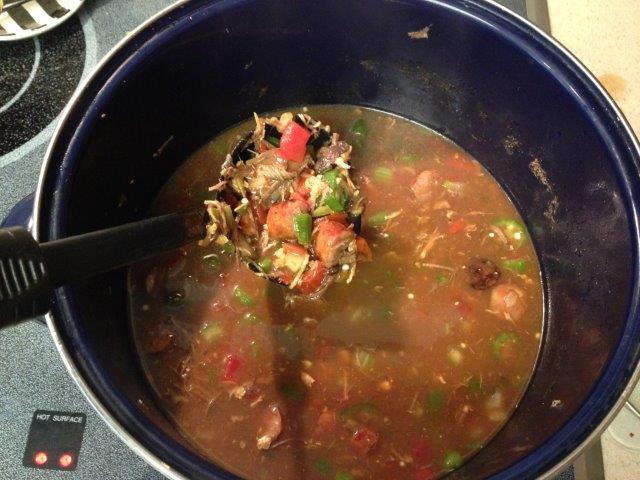 I make a pot of turkey gumbo that feeds about 25 folks, then freeze it in zip lock bags to feed 2 people at a time. Make white rice, ladle in individual bowls, pour hot gumbo over the rice. Serve with good, fresh, crusty multi-grain bread.
This superb gumbo recipe can be used for everything from squirrels, rabbit, pheasant legs, and ducks, to fish, shrimp, doves, almost anything. I use Tony Chachere's instant Roux, which I get via Amazon as local groceries don't carry it.
As they say in Dixie, this gumbo is so good, it'll "make you slap your momma!" That is a thing of endearment, really.