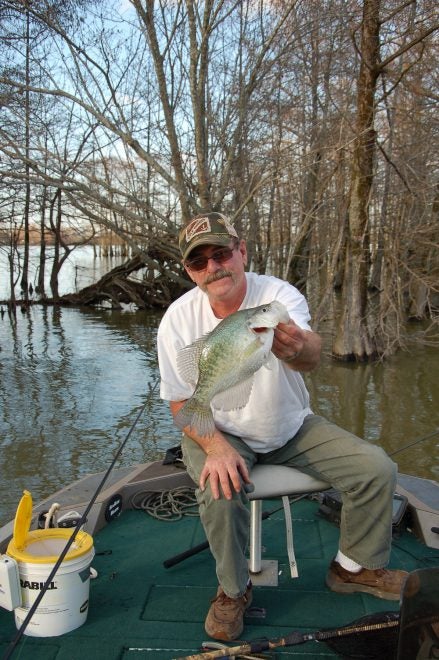 As with many things in this world, new ideas, techniques, products, and such are created as much by accident as anything else. It seems a local crappie angler here in Mississippi might be onto something. Since I was never able to track this guy down, I won't try to mention his name, but will just report the crappie fishing technique I read about in a local story.
Using a sort of modified spider rig set up with multiple fishing rods out the back of his crappie fishing boat on both sides of the engine, he discovered that when making a turn in the lake, the outer rods started catching fish. It all happened at once. He thought it rather odd, so he tried making some turns on purpose. Same thing. The outer rods started catching fish with as many as three rods bouncing at once.
Working the technique the fisherman ended up calling it the "wildcat" like a move in football. The strategy calls for making a series of "S" turn zig-zags to make the rods go up and down during the turns. This action draws the attention of the fish when the bait falls down like a dying shad, for example. This causes the fish to start biting the bait.
If you think about it, it really makes sense. It is sort of like jigging the rods up and down by hand, which is a common crappie fishing mode, but in this manner by turning the boat with several rods out, the outer rods on that turn all 'jig" at the same time.
Rods set for such a tactic have to be configured in advance. Using at least three different lengths of rods helps, too. So, have several rods in 8-10-12 foot lengths for extending off the rear end of the boat, some on each side of the motor. Keep each set of rods appropriately separated so they don't get tangled.
Then if you have help to work the set-up, put some longer rods on each side of the boat. This will take rods in the 14 to 18 foot lengths. Again, I have worked spider rigs for crappie fishing and if the fishing is hot, you are going to get worn slap out trying to work every rod with a fish on, taking it off, getting it on ice, then rebaiting and setting it out again. Try out the wildcat turning method to see if it works for you.