Springfield Armory's Limited Edition Chris Kyle 1911 Legend Series TRP Pistol
Russ Chastain 05.04.16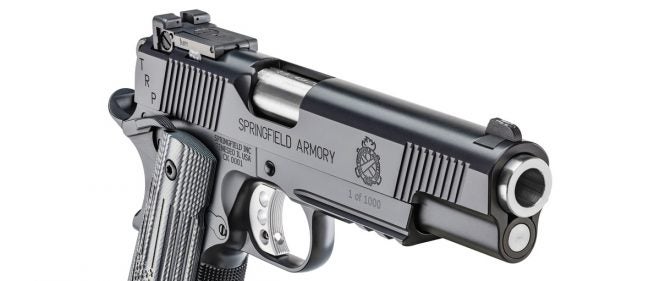 Springfield Armory is bringing out a limited edition 1911 pistol and will donate an unspecified portion of the proceeds to the Chris Kyle FROG Foundation.
While in combat, Chris chose the Springfield Armory® TRP™ for its reliable performance and toughness. In his best-selling book, American Sniper, he credits the TRP™ with saving his life.

'In 2004, I bought a Springfield TRP™ Operator®, which used a .45 caliber round. It had a 1911 body style, with custom grips and a rail system that let me add a light and laser combo. Black, it had a bull barrel and was an excellent gun – until it took a frag for me in Fallajuh. I was actually able to get it repaired – those Springfields are tough.'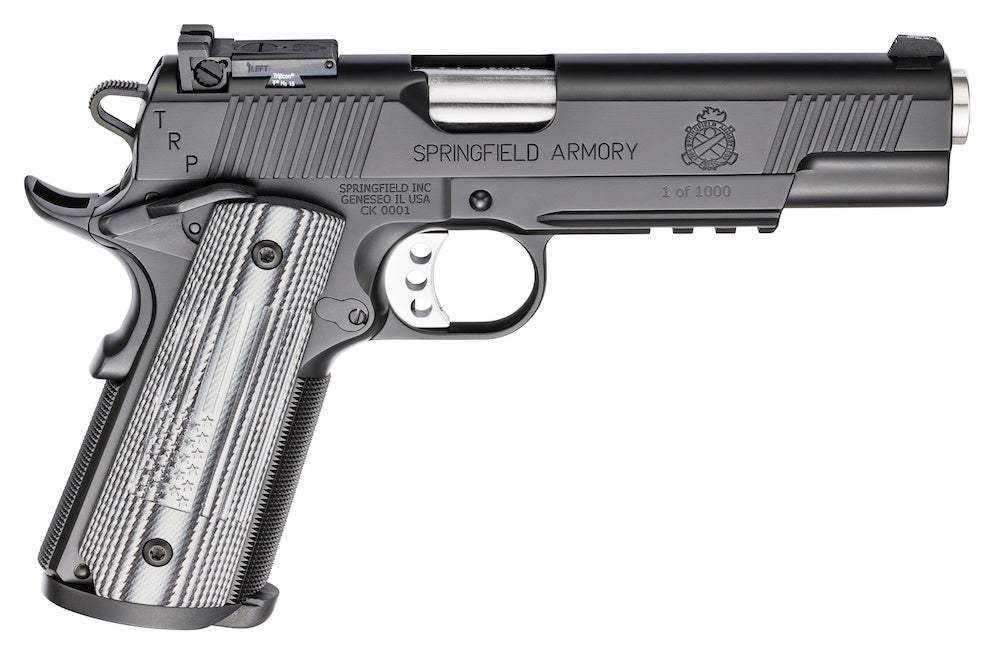 (Photo: Springfield Armory)
These pistols will be upgraded TRP Legend Series models, but with the following specs:
Caliber: 45 ACP
Height: 5.7″
Length: 8.6″
Weight (with empty magazine): 45 ounces
Magazines: 2, 7-Round, Stainless Steel
Barrel: 5″ Stainless Steel Bull
Sights: Fully Adjustable 3-Dot Tritium
Frame: Forged Carbon Steel
Slide: Forged Carbon Steel, Black Nitride finish
Recoil System: 1 Piece N.M. with full length guide rod
Grip Panels: Black G10
Each of the 1,000 pistols will have a unique serial number ranging from CK0001 through CK1000. They also say, "Separately, the company will laser engrave each pistol identifying its placement in the series." ("1 of 1,000," "2 of 1,000," etc.)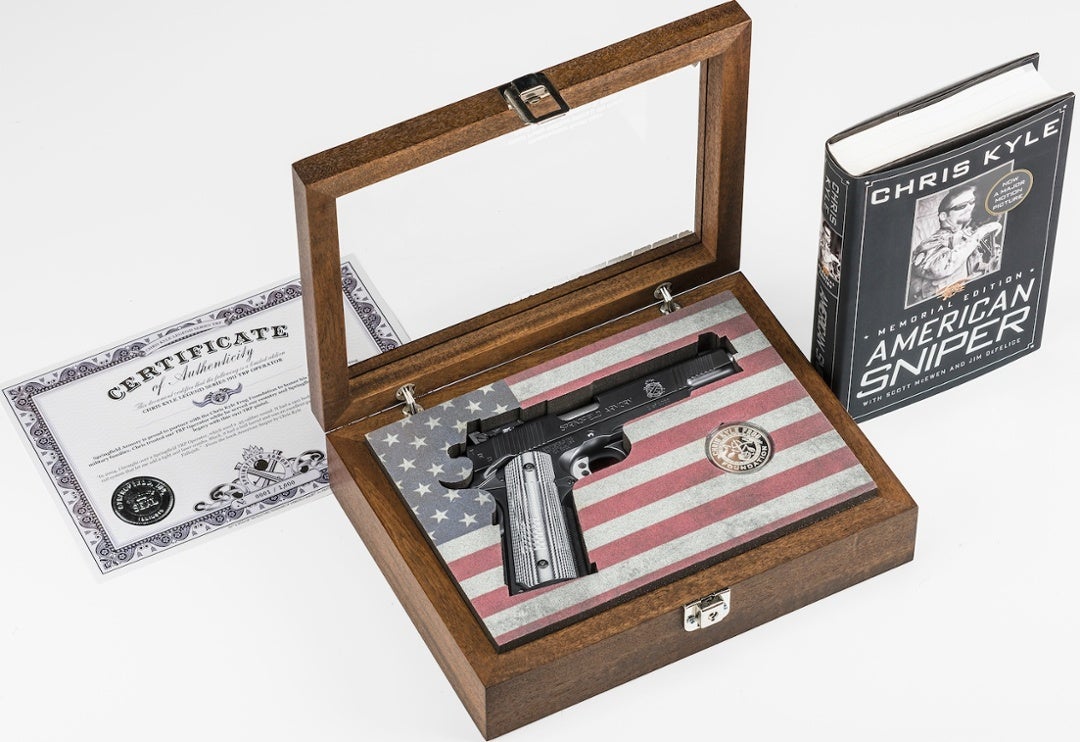 Each one sold will come with a mahogany presentation case, also serialized and containing a spot to display the included .999 pure silver Chris Kyle limited edition challenge coin. Also included: certificate of authenticity and a copy of "American Sniper" signed by Chris Kyle's widow, Taya Kyle.
Number one in the series will be auctioned off at the 2016 NRA show, with all proceeds to benefit the Chris Kyle Frog Foundation. It's also listed online currently on GunBroker–and as I write this, bidding has already exceeded $15,000.
The other 999 of these pistols can be purchased by Springfield Armory dealers and carry an MSRP of $2,499.