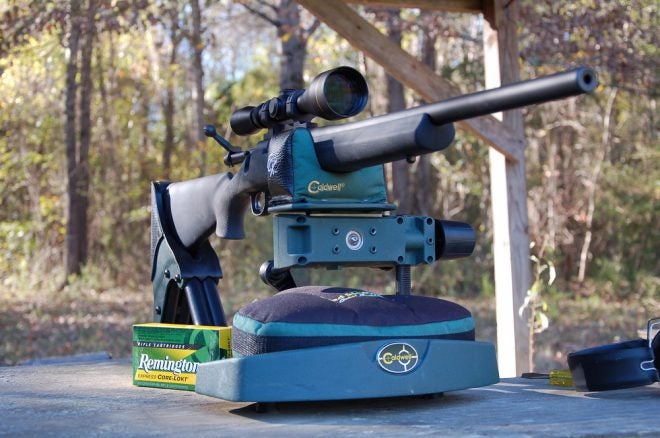 Some shooters are finding it helpful to use a rifle rest at the gun range. Among the very best benchrest shooting rests on the market are those marketed by Caldwell Shooting Supplies. There are a number of different models available to suit the needs of different shooters for a wide variety of shooting set ups.
The particular model I have field tested for over a year now is the Lead Sled Fire Control FCX version. The most notable features of the FCX model is the heavy base supplemented with a sand or lead shot bag up front to keep the rest from moving around. The bag itself is heavy duty and custom made to fit into the front tray with a hand carry strap.
Other features include an elevation adjustment knob on the side to raise or lower the platform supporting the rifle rest bags up on top. Once adjusted, having the rifle on target there is another knob that locks the elevation position. A really neat feature unique to Caldwell rests is the control arm handle that can precisely move the resting rifle into the exact sighting point on the target.
This control arm handle takes some practice to get used to. The tension on the handle can be adjusted for fine movements as well to move the rifle's scope crosshairs up and down or right or left on the target. This allows for very precise alignment of the rifle-scope to the target.
The rifle sits in dog-eared sand bags on top of the adjustment platform as the buttstock sit into a contoured rear support. This support has a height adjustment foot on the bottom to raise the rear of the stock up or down. This support is attached to a rear frame support that can be slide adjusted to change the overall length of the rest.
I have used the Caldwell FCX Lead Sled now on numerous occasions to sight in hunting rifles, varmint rifles, and several ARs. Once boresighting is done and close range "on target" printing is accomplished at 25-yards, then work on the 100 yard range bench is greatly facilitated with the FCX rest.
Using the control arm handle to make minute adjustments of the crosshairs on the target cuts the precise sight-in effort down to nothing saving time and ammo. The Lead Sled does not move around in the process either. You have to try a Caldwell Lead Sled.