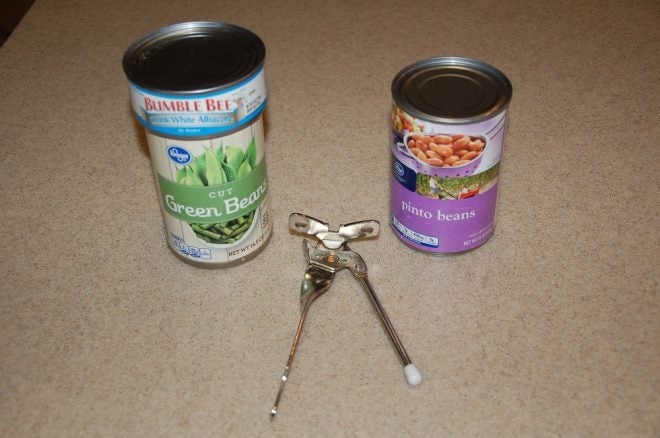 Some prepper topics seem way too simple to even bring up or discuss. One of these occurred to me recently in a bug out practice session. That is, what happens if some of your cached canned goods are not of the newer zip-off ring-top opening variety? The power grid is down so that electric can opener in the cabinet is dead. What are your options now?
Every prep home and bug out camp should have several manual old fashioned can openers. I prefer the ones with a good grip handle and not the old metal twist handle with two holes. These can be hard to use and will wear out your thumb.
Once you get caught out in the wilds of a bug out without a suitable can opener you will vow never to be without one again. Sure, you can always have on hand and use one of the simple military can openers like a P-38 or a P-51. They are made of lightweight aluminum and do work.
These are simple stamped metal implements with a sharpened fold out can punch that is inserted into the edge of the top of a can and worked up and down cutting the lid as you go around the perimeter of the can. Like I said, it works, but trust me you will want a better one over time.
Also, in the dire straits of a SHTF event you can always take your Bowie knife or other sharp tool and punch a hole in a can to get it open, then pry around the lip to open it up enough to extract the contents. If you are hungry enough, you might even take to a sealed can with a hammer or a screwdriver. Necessity is the mother of invention after all.
The handheld crank type can openers common to campouts or extended camping trips have a lever handle that opens so a sort of can gripping gear and cutting edge can be placed over the can. The lever is squeezed together with the opposite can opener handle. This punctures the can lid so the twist handle on top can be rotated. The gear drives the opener around the can and viola, open can.
These field can openers require little maintenance, but a good soapy cleaning and maybe a drop of oil on the rotating gear won't hurt. When you bug out, be sure to have a can opener.