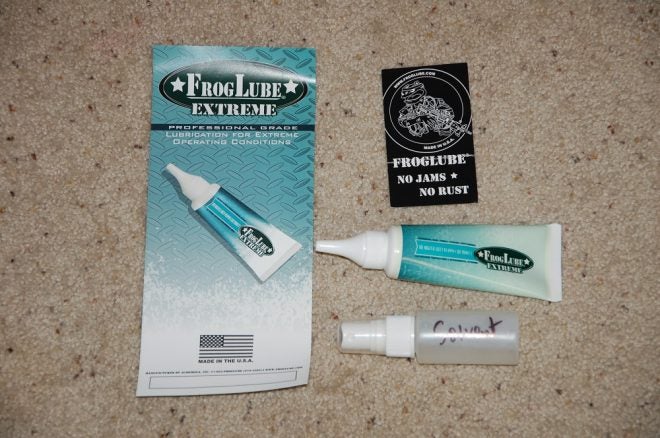 Who says that old dogs can't be taught new tricks? I was the kid that oiled his bicycle chain so often that it dripped spots on the ground. Of course, with that much oil on the chain and gear, it picked up a ton of dirt, sand, and debris, which ultimately caused other problems. The moral of the story on lubrication is to only use just a small amount for the job.
Now I am reading the guidelines and suggestions for using a new lubrication available for gun owners and shooters. This guide says "Remove any petroleum, lubricant, fouling, or residue from your weapon using FrogLube Solvent prior to applying FrogLube. DO NOT mix lubricants in the same weapon." Well, hush my mouth. Apparently I have messed up again by not paying particular attention to what lubes I am using or mixing on the same weapon. Let that be a lesson to you.
FrogLube is a part bio-based, non-petroleum, non-toxic, non-flammable, environmentally friendly system designed for military and law enforcement use, fully complying with the U.S. Army directive on weapons lubrication specifically for cold weather operations. This lube is not only best for cold weather use, but the better news is that it does not evaporate or burn off during high heat, which I take to mean repeated firing of the weapon.
The maintenance instruction guide provided with each tube of FrogLube is the most comprehensive I have ever seen for a weapon lubrication. It covers prep, solvent use, rifle bore cleaning, CLP (cleaning, lubricant, and protectant) application, cold temperature use, use in hot and dusty conditions, storage, and long term care. Everything you need to know about lubing your weapons.
So far in small, judicious applications of this lube on a couple new firearms that were new out of the box, I can already tell there is a slickness to this lube I have not noticed in conventional lubricants for guns. The slides work noticeably easier. I anticipate good results at the range, too, after some heated use of these firearms.
I am also looking forward to seeing if FrogLube will be the solution to one particular AR rifle I have in .308. I have run this rifle wet and dry, and the bolt hangs up in either case, worse when run dry. I will report on this trial later.
FrogLube has been around for a while so it is not really new. I recommend you try it. Contact FrogLube at www.froglube.com.