Review: Magnum Research's Desert Eagle 1911U
Pat Cascio 05.09.16

Many 1911 makers have tried their hand at manufacturing a compact 1911 on the order of the Colt Officers model. Some had success, but many have failed. There are a lot of different dynamics going into making a 3-inch barrel .45ACP 1911. Much more goes into it than simply cutting the barrel and slide back from 5-inches to 3-inches and reducing the length of the grip frame. There is a real balancing act to make these little compact 1911s function reliably.
I received one of the very first Magnum Research Desert Eagle 1911U compact 1911 .45ACP pistols to hit the market, thanks to my persistence and many e-mails, hounding the good folks at Magnum Research for my sample.
Fit, Finish, Features
A quick run down on the Desert Eagle 1911U is in order. The barrel is 3-inches in length, and the barrel is throated to feed just about any bullet configuration your might want to put through the gun. The feed ramp is nicely polished, too.
The gun sports a heavy bull barrel that helps with accuracy and tames recoil.
The frame is made out of anodized aluminum to keep weight down to just 25.8-ounces unloaded. The front strap of the frame is nicely checkered at 30 lines per inch for a better hold on the little gun.
The slide is 4140 carbon steel, nicely finished in a matte blue to match the frame. The grasping grooves on the slide are nicely angled for a sure grip when chambering a round.
Front sight is dove-tailed into the slide and the rear likewise, but the rear sight is adjustable to windage and elevation. The original press release said the sights would be of the white three-dot variety, but sadly, such is not the case. They are all black–my one major complaint!
Moving back down on the frame, the main spring housing is also checkered. The grip safety is of the popular beaver tail variety, and it has a "speed bump" on it for a sure release of the safety with a proper grip. Strangely, like its siblings from Magnum Research, the grip safety is stainless steel. This offsets the look of the gun. I don't quite know if I like it or not, but the grip safety was expertly fitted and released about 1/3 of the way down as you gripped the gun.
A combat hammer is also added, as well as a combat manual safety that snicked on and off with authority.
The 1911U, with the "U" standing for "Undercover," comes with two 6-round magazines. The magazine is slightly beveled to aid in fast magazine changes, and the magazine release is slightly extended for faster magazine changes, too.
The match-grade trigger is perfectly fitted and released at 5-lbs dead-on, with no slack or sloppiness.
The Desert Eagle 1911 series of guns in all sizes are of the series 70 configuration — no added levers/safeties that make the trigger pull funky or mushy, as is found on many 1911s. This should be welcomed by 1911 purist, to be sure. The bull barrel is bushingless, and there is also a full-length guide rod with a double recoil spring set-up.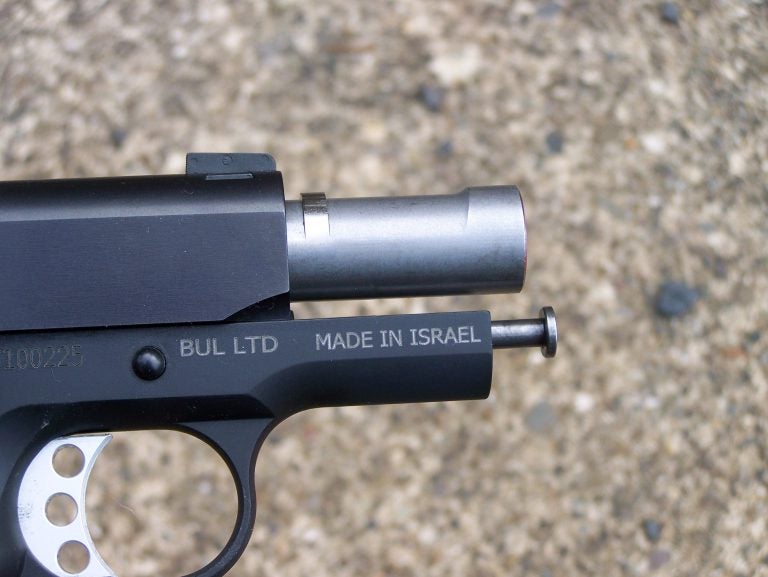 Whew! This little 1911 has all the features you could possibly ask for, other than the aforementioned lack of 3-dot white sights, and I'd sure pay the extra money to have night sights on this little gun.
Other than my "druthers" I can't think of anything this little concealed carry 1911 would need. You'd pay an easy thousand dollars or more to have all these features added to a plain-Jane 1911, and in truth, it wouldn't be any better than this gun is out-of-the-box. I've owned some pretty expensive "Officers" type of compact 1911s over the years, and none were any better than this Desert Eagle 1911U. And some that cost a lot more but weren't half as well-made as this little gun is.
Making Some Changes with Crimson Trace Grips
I can always find something that I want to change on a 1911 when I get it, and I don't care who makes the gun. I just feel a real need to change "something" when I get my hands on a 1911. The only change I'd make to the 1911U from Magnum research is the grips. I had a couple pair of Crimson Trace laser grips to test on this little gun. Now, that's saying a lot if the only thing I wanted to change were the grips. There was nothing "wrong" with the beautifully checkered grips that came on the gun, but I thought I could improve the performance on this little gun for concealed carry.
I had the standard wrap-around, front-grip-activated laser grips made out of hard black rubber with their newest green laser, and Crimson Trace has overcome the problem some other makers have had with green lasers not working below freezing level. The green laser is much easier to see in bright sunlight, too. I also had a pair of the 1911 "Masters Series" grips, with the red laser, for testing. The Master Series line of grips are made out of G10 laminate, and my sample were blue/gray with black streak in it–very, very attractive.
If you're new to Crimson Trace laser grips, they are instinctive in that you simply have to grasp the handgun naturally, applying a slight pressure to the grips, and the laser turns on. There's nothing to think about, ever! There is also a manual on/off switch, but I don't ever recall turning a pair of their grips off.
Both sets of grips fit the 1911U perfectly, and it took all of about two minutes to switch out the factory grips for either pair of the Crimson Trace laser grips. After experimenting, I settled on the green laser grips, because the laser is much easier to see in all lighting conditions, bright sunlight or dark of night. I predict that green lasers will replace red lasers in the coming years. However, I did like the look of the classy Master Series grips better, but it came down to functionality. The green laser won out, hands down!
Testing at the Range
Normally, with a short barreled 1911 like the 1911U, I'd do my testing for accuracy at 15-yards. However, I had a lot of confidence in this little gun and did my testing at 25-yards.
Everything on the gun was tightly fitted, and the slide rode smoother on the frame, too. The trigger pull was about perfect for street carry. Some folks like a 3 1/2 pound trigger pull, but for most folks a little heavier pull is better as it helps prevent accidental discharges.
As is my usual case, I used a rolled-up sleeping bag as a rest over the hood of my SUV for the accuracy testing portion of my testing. I've never used a Ransom Rest as I feel it doesn't give real world results in the accuracy department. None of us can hold a gun as solidly as the Ransom Rest does.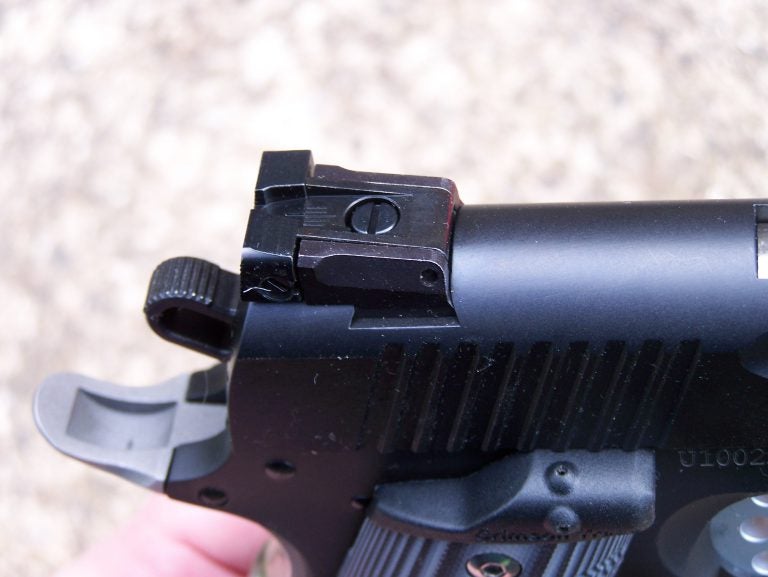 I warmed-up with 100 rounds of Winchester 230-gr FMJ white box USA brand ammo to see how the little gun would function. I had one round–the very first round I chambered–fail to fully feed from the magazine. A slight tap on the bottom of the magazine chambered the round, and I had no other problems of any sort. The little 1911U chewed through the 100 rounds of Winchester ammo in short order.
I then went to the Black Hills Ammunition 230-gr FMJ and their 200-gr lead SWC load. I'm sad to say I used up the last few rounds of this later load, which is always extremely accurate in any 1911 I've put it through. I need to beg for some more from Black Hills.
From Buffalo Bore Ammunition I had their 160-gr Barnes all-copper TAC-XP low recoil load. It's always very accurate, and as the name implies, the recoil is low, allowing for faster follow-up shots. I had their same 160-gr load in their +P, and it isn't nearly as bad in the recoil department as you'd think it would be. I had the same Barnes bullet in 185-gr–again the TACT XP in a +P loading, and this one was a bit stout, to be sure, when firing. I really like the Buffalo Bore 200-gr JHP +P load and fired that one; it caught my attention. And last up was their 230-gr FMJ FN +P load; this one will get your attention every time in even full-sized 1911s.
The Desert Eagle 1911U was a pretty consistent shooter with most loads going in about 4-inches if I did my part. Every now and then, I'd pull a shot way away from the center of the target, and it was me, not the ammo and surely not the gun.
Hands down, the winner in the accuracy department was the Black Hills 200-gr lead SWC load, and that didn't surprise me, as this load has always performed well in any 1911 I've run it through. I could pretty consistently get my groups below 4-inches, if I worked hard at it. Next load for accuracy was the 185-gr Barnes TAC-XP +P load from Buffalo Bore, and it would just barely get my groups to cut that 4-inch circle.
I believe for serious self-defense work I'd carry the Buffalo Bore 160-gr Barnes all-copper TAC-XP +P load. I could get back on target a bit faster with this lighter bullet than I could with their same load with the 185-gr bullet in +P, and the accuracy difference isn't worth the added recoil of the slightly heavier bullet in 185 over the 160 grain load. If I wanted to punish myself, I'd use the Buffalo Bore 230-gr FMJ FN load. It really, really gets your attention when you touch it off in a light-weight gun like this 1911U. However, if I were out hiking the logging roads in my area and thought I might come across a black bear, I'd stoke this little gun with this load. It penetrates deeply and will get the job done, and it will easily penetrate the skull of a black bear or most of the dangerous game you might run across.
When out shooting to test my skills against a paper target, I love the Black Hills 200-gr lead SWC load. This load cuts nice clean holes in a target, and the recoil is more than manageable, too. This load also wins shooting matches all day long!
And, lest you think the Winchester white box USA 230-gr FMJ load is lacking, it performed right up there with the rest of the loads I ran though this gun. I usually use the Winchester white box USA loads for function testing in most of my guns; it's a great target load, too. And, best of all, it's fairly economical. If you want to just plink, it's hard to beat the Winchester USA white box loads. It saves you money!
Conclusions
I wish I could find fault with the Magnum Research Desert Eagle 1911U. Try as I might, I just couldn't find fault in the gun's performance. It just perked along through over 400 rounds of .45ACP in various bullet shapes, bullet weights, and in low recoil loadings and +P loadings. The gun was fun to shoot, and most of the "fun" factor comes from the accuracy and 100% reliability of the gun.
Now, for the good news: full retail is only $946.00 on the Desert Eagle 1911U, and this is hundreds of dollars less than similar guns from other makers. Odds are, you can find the 1911U for less at many gun shops once they start getting them in stock. You could pay more for similar guns, but you probably won't get as many features as the little Desert Eagle comes with. The 1911U is made by BUL in Israel, and the gun companies in Israel make very good firearms.
So, if you're in the market for your next 1911 and you want a small concealable .45ACP, take a real close look at the Magnum Research Desert Eagle 1911U. I think you will be blown away by the quality and features of this little gun.