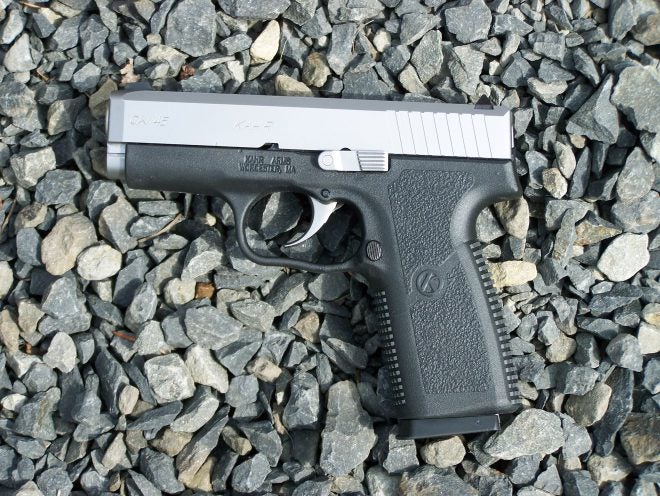 Kahr Arms has a fairly wide selection of small, concealable handguns in various calibers, including my favorite, 45 ACP. Of the many models they offer, my favorite is the CW45.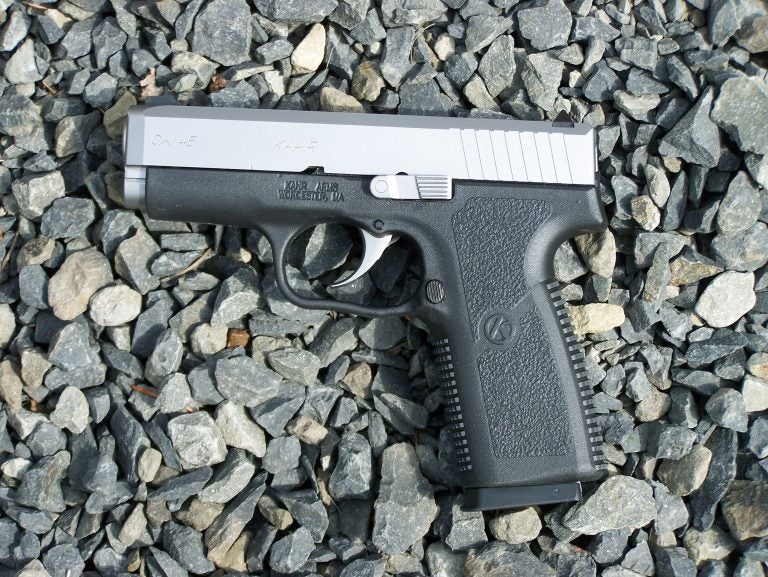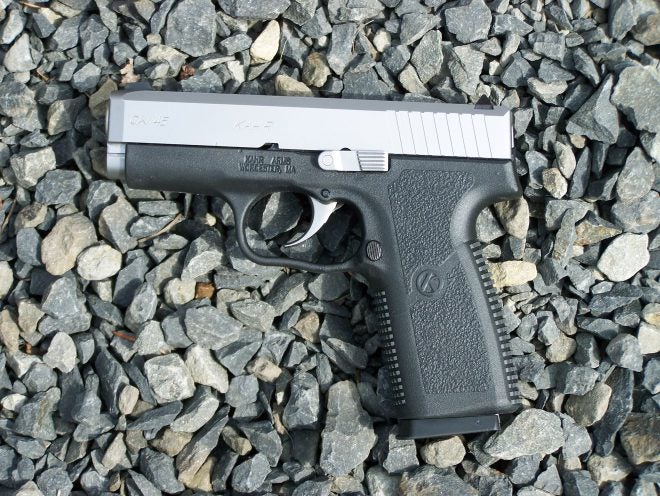 Here's a quick glance at the CW45's stats:
Weight: 19.7 ounces without mag
Frame: Polymer
Slide: stainless steel
Rear sight: Drift-adjustable combat with white bar in center
Front sight: polymer with white dot
Barrel: 3.64 inches
Overall length: 6.32 inches
Height: 4.8 inches
Slide width: 1.01 inch
Magazine capacity: 6 rounds
Safety: none
Action: DAO (double action only)
The trigger pull on every Kahr I've ever tested–quite a few–has been long but smooth. There is no magazine disconnect, so if you have a round in the chamber and the magazine is out of the gun, this pistol can still be fired. The CW45 is striker-fired, so there's no hammer.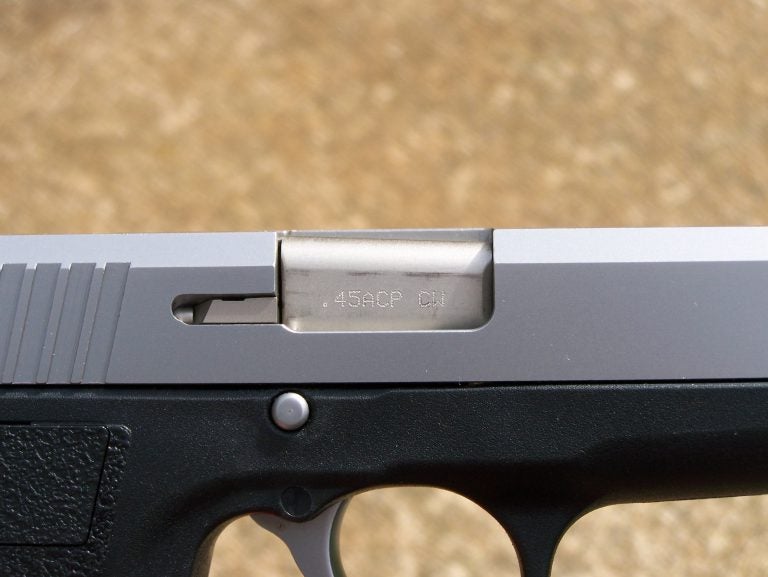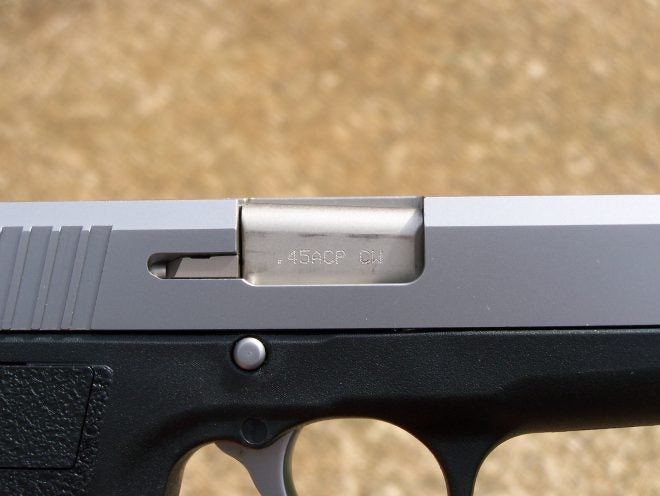 Of all the Kahr handguns I've tested over the years, I've never needed to adjust the sights–they shoot dead-on from the factory with the loads they were designed around. Naturally, this may vary when using lighter or heavier bullets. But these are not target guns; they are designed for concealed carry, and are to be used up-close and personal.
I was fortunate to have a good selection of  45 ACP ammo on-hand for testing:
Winchester, USA White Box 230 grain FMJ
Black Hills Ammunition

 

230 grain FMJ
Black Hills 200 grain SWC
Black Hills 185 grain Barnes TAC-XP hollow point
Buffalo Bore Ammunition 185 grain FMJ FN low pressure
Buffalo Bore 160 grain TAC-XP Barnes hollow point low pressure
Buffalo Bore 160 grain TAX-XP Barnes hollow point +P
Buffalo Bore 200 grain JHP +P
Buffalo Bore 230 grain FMJ FN +P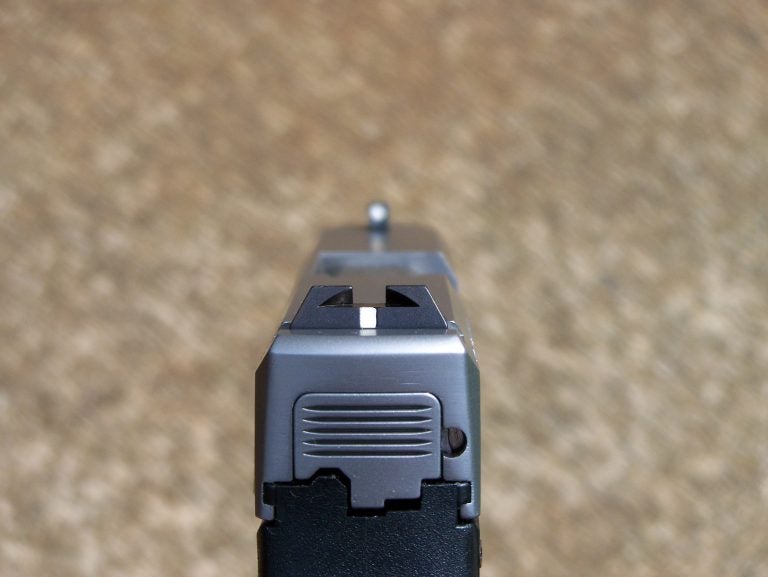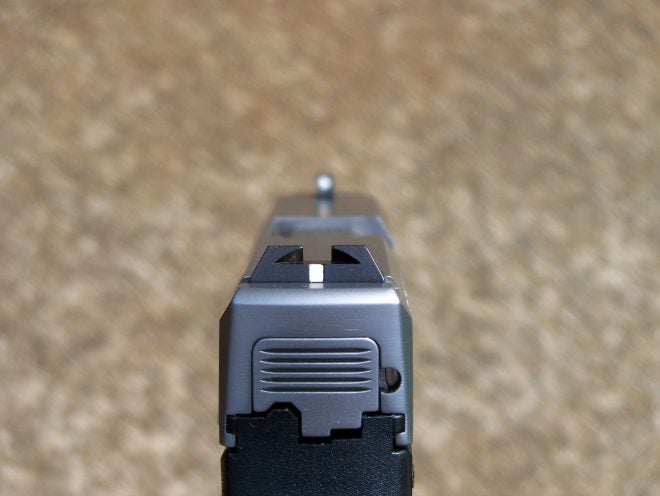 All my accuracy testing was done at 15 yards, and the little Kahr can shoot. I didn't have any groups larger than 3 inches. The round that shot best for me was the Buffalo Bore 160 grain TAC-XP low pressure load. With it, I was able to shoot groups smaller than 2.5 inches, and it was a pleasure to shoot in the CW45. The 230-grain +P stuff in my spare mag, though it's not a load you want to shoot all day long.
The Buffalo Bore 160 grain TAX-XP +P load wasn't as bad as I thought it would be. It had sharp recoil, but wasn't nearly as bad as other +P loads I tried.
I was surprised to find that the CW45 had no trouble digesting the Black Hills semi-wadcutters (SWC). Many guns, especially carry guns, won't handle SWCs without modification, but the CW45 didn't choke once.
Kahr recommends firing at least 200 rounds through a brand new Kahr pistol to break it in, and I've had to do that on some of their guns before I trusted them with my life. On this CW45, though, the gun operated without any problems with all of the ammo I tried. The only "problem" was not with the gun: while the CW45 handled +P loads just fine, my hand didn't! You sure don't want to shoot many +P loads with this little pistol.
The Kahr CW45 retails for $485.00 and it only comes with one magazine, so you'll want to pick up a spare. If you ever have a malfunction with a semi-auto pistol and the magazine is the culprit, you might be up the creek if you don't have a spare mag.
For me to carry the same handgun for more than a year, only swapping it out when testing another handgun for an article, is saying quite a bit about the CW45. I like it–a lot!